A video book library of children's stories read in sign language
Solution

Videobooks

Organization

Canales Civil Association

Country of Implementation

Argentina

Region

Latin America & Caribbean

Subregion

South America

Start Year

2011

First published

31.01.2020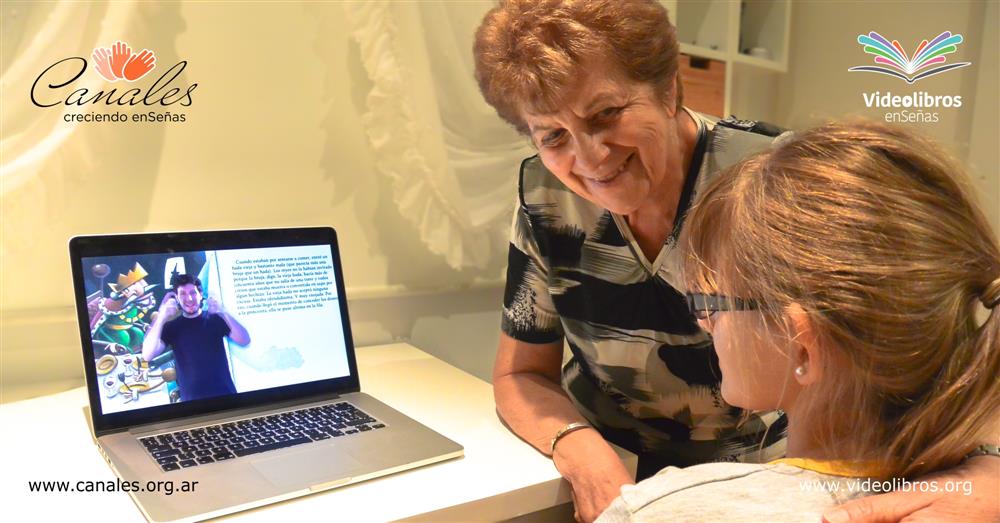 "They were voiceless, invisible, excluded deaf children who did not know traditional children's stories. Today, these children enjoy video books, books read in sign language." Silvana Veinberg, Executive Director, Canales
Canales – a Buenos Aires-based NGO that supports access to education for deaf children – has created Videolibros enseñas, the first virtual video library of Spanish-language children's literature available in several sign languages. The videos are accompanied by voice-over so that deaf children can read stories with their hearing parents or with teachers and peers in the classroom even if they do not know sign language. Since its creation in 2011, the virtual library has been used on average more than 3,000 times every month.
Problems Targeted
More than 90 per cent of deaf children in Argentina have hearing parents and teachers who cannot communicate in sign language. Further, 80 per cent of these children are at risk of becoming functionally illiterate in adulthood because they have limited access to literature in their native language.
Solution, Innovation and Impact
Videolibros enSeñas is a free online library of 'video books' – videos in which stories are presented in sign language. Every video book in the library presents a Spanish-language story in three formats: through written text and illustrations, a presenter signing the text in one of the available sign languages, and a voice-over of the text. This combination allows deaf children to be exposed to literature while sharing the reading experience with hearing parents, who in turn also become more familiar with sign language. The project started in 2011 with 15 video books in Argentine Sign Language, and by 2019 the number had quadrupled. Today, the library also includes stories in Uruguayan and Paraguayan Sign Language. Each video book is produced by a team of deaf and hearing persons. Most users are based in Argentina, but the library has been accessed by users in another 40 countries.
Funding, Outlook and Transferability
Some video books are funded by UNICEF and others through company and school sponsorships, as well as donations from the Government of Argentina and international cooperation partners. In 2016, Canales created a video book production protocol, which any individual or organization can use to make similar video books. Videolibros enSeñas has been included as a resource for teachers in the national Connect Equality programme of Argentina's Ministry of Education and is being used by UNICEF and Canales as a model for improving deaf children's access to literature internationally. Canales plans to expand its video book library, to further streamline its production process to reduce the time and cost of making a video book, and to train local teams and sign language interpreters in other countries (Nicaragua and Mexico initially) to produce video books in other sign languages.
Pictures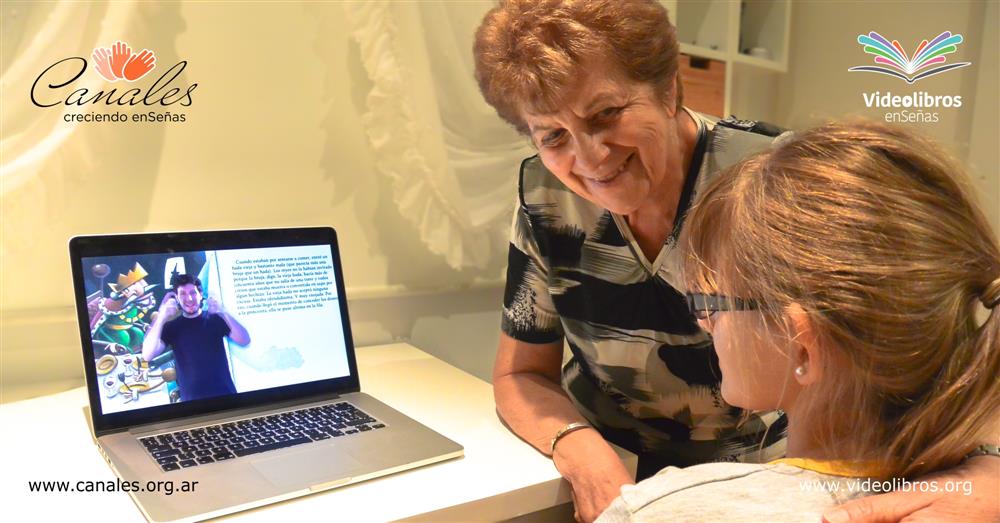 The book is told in sign-language and voice-over text so that the deaf child can follow the story and share it with parents, grandparents, or teachers, even if they do not know sign language.
Videos
Downloads