The Zero Project Technology Forum
ICT solutions pitch to potential investors and partners
1 Day invitation-only event
prior to the Zero Project Conference
---
29 global ICT-innovators from all over the world
selected as Zero Project Awardees or promising technology for disability inclusion
---
IT-multinationals, NGOs, Public Funders, and more
e.g. Google, Microsoft, Atos, WHO, and world Bank
---
Photos from Zero Project Technology Forum 2023
"The Zero Project Technology Forum is an innovative laboratory and an important source of inspiration for companies, organizations and politics to get early access to the latest innovations for persons with disabilities. As a pioneer in accessibility and services for people with disabilities in all of Europe, it is very important for us to be a partner of the Zero Project Technology Forum in order to remain as an innovation leader at the forefront of technological developments."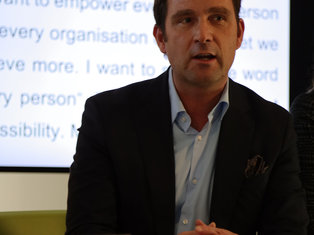 Outstanding innovations, ready to scale and deploy
Here are some of the ICT solutions that were invited to pitch at the Zero Project Technology Forum 2023.