A programme that creates neurodevelopmental profiles and customized education
Organization

Mom's Belief

Country of Implementation

India

Region

Asia & Pacific

Subregion

South Asia

Start Year

2017

First published

31.01.2019
"We firmly believe that a mother knows her child best and there's nothing more powerful than her belief in her child." Nitin Bindlish, Founder & CEO, Mom's Belief
Problems Targeted
Parents in India often face challenges when it comes to addressing the needs of children with developmental disabilities due to the lack of professional medical services and individualized support.
Solution, Innovation and Impact
Mom's Belief home programme focuses on children with autism spectrum and communication disorders, attention deficit hyperactive disorder, and Down syndrome and learning disabilities. Once a parent has subscribed to the programme, Mom's Belief assigns a psychologist to the child's case. After completing a neurodevelopmental profile, the psychologist writes an interpretive report, creates an individualized education plan (IEP), and customizes teaching tools and techniques to support the child's IEP. The tools are then delivered to the family's home where parents are trained in weekly one-hour sessions. Training can also be taken at the organization's research centre or by video call. The programme continues in this way with regular training and monitoring, a new IEP and teaching tools provided each month, and a comprehensive skills assessment every three months. Since its introduction in July 2017 the programme has provided support to more than 800 families. Additionally, the organization has partnered with a chain of 63 pre-schools and has supported seven special-needs schools to provide Inclusive Education using professional guidance and resources.
Funding, Outlook and Transferability
During the development and start-up phase the programme received $1 million in funding from private donors. Monthly user fees vary, but a typical six-month subscription is $500 per month. The company aims to be self-sustaining in the future. Over the coming 30 months, Mom's Belief intends to hire and train more than 600 professionals to support some 10,000 families. Families in the United Arab Emirates, the United Kingdom, and the United States have signed up to the existing Indian version are already using the service despite no marketing in these areas, and plans are underway for formal replication through new clinical teams and adapted country-specific resources. Partnerships are being established to formally expand Mom's Belief to Kuwait and the United Arab Emirates, with plans for Oman shortly thereafter, over the next 15 to 18 months. In addition, Bangladesh, Malaysia, Singapore, Sri Lanka, and Viet Nam have also been identified for possible replication.
Pictures
A Mom's Belief child psychologist demonstrates the "Wear Your Emotions" training tool.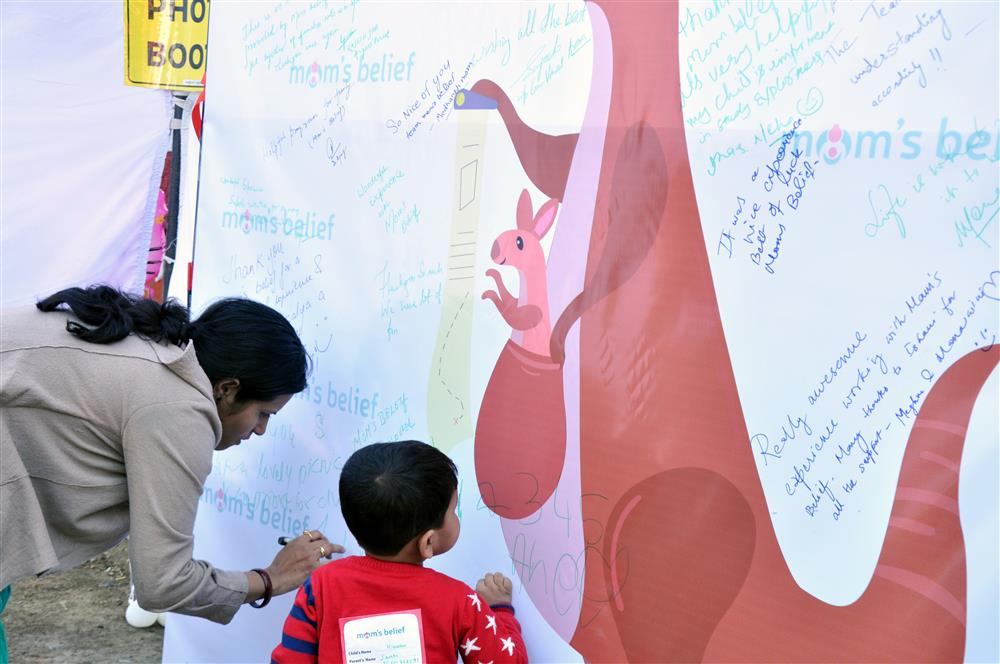 Videos
Downloads