Inclusive Post-Earthquake Reconstruction
Organization

Action on Disability Rights And Development-Nepal

Country of Implementation

Nepal

Region

Asia & Pacific

Subregion

South Asia

Start Year

2015

First published

31.01.2018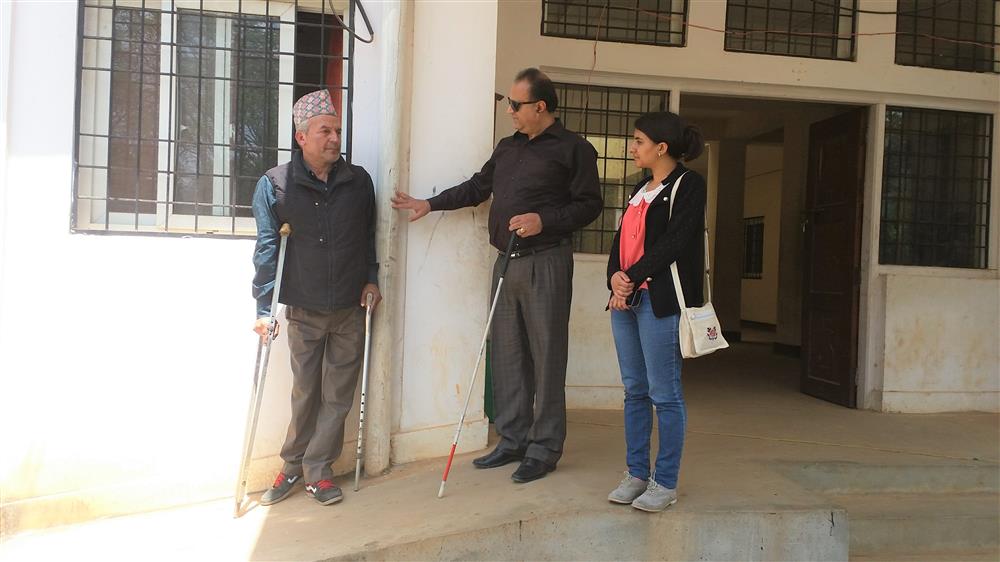 People
Birendra Raj SHARMA POKHAREL
"A remarkable number of persons with disabilities benefitted from state services during post-earthquake reform." Dr. Birendra Raj Pokharel, Chairperson, ADRAD
Problems Targeted
In April 2015 a strong earthquake struck Nepal, injuring and disabling around 3,000 people. This also led to the destruction of private houses and public buildings, including education and health facilities. Notably, former post-earthquake reconstruction failed to result in more accessible public buildings.
Solution, Innovation and Impact
Of the 31 most affected districts of Kathmandu, the government prioritized and classified 14 as "severely affected." ADRAD then mobilized persons with disabilities in their local communities and got them involved in planning, monitoring, and advocating a disability-inclusive approach to the reconstruction process. At the same time, the organization was engaged in co-drafting the national post-disaster reform framework. Accessibility and disability trainings were established for construction workers and designers, and advocacy meetings with concerned authorities were held regularly to ensure inclusion. The project led the government to implement new accessibility standards when building schools and public places. (The provision of accessible schools is included in the newly adopted Inclusive Education Policy of January of 2017.) At the same time, the parliament amended the Disabled Persons Protection and Welfare Act of 1982 and brought it in line with the UNCRPD such that the act now covers accessibility measures in all public places. Since the start of the programme, 780 persons with disabilities have been trained for mapping and monitoring the accessibility standards and have become leaders on a local level to guarantee accessible reconstruction. To date, 87 public buildings – including health facilities,schools, and public toilets – have been made accessible during the post-earthquake reconstruction process.
Funding, Outlook and Transferability
As a result of the Inclusive Post-Earthquake Reconstruction initiative, the government has assigned representatives of DPOs to plan and design accessible public places. Newly developed municipalities are adopting the accessibility standards laid out by the government, and the project is being replicated in other districts. The mapping of accessibility measures and post-disaster reconstruction includes new legislation, directives, and relevant government documents. The project has the potential to be executed by other governments and local bodies as part of a monitoring mechanism to implement accessibility standards in line with the UNCRPD. Elsewhere in Nepal, local bodies have funds for making accessible public places, thus the project could potentially be replicated throughout the country. The project was funded by the public (56,000 US Dollars), by civil society (46,000 US Dollars), and through other kinds of non-financial support.
Pictures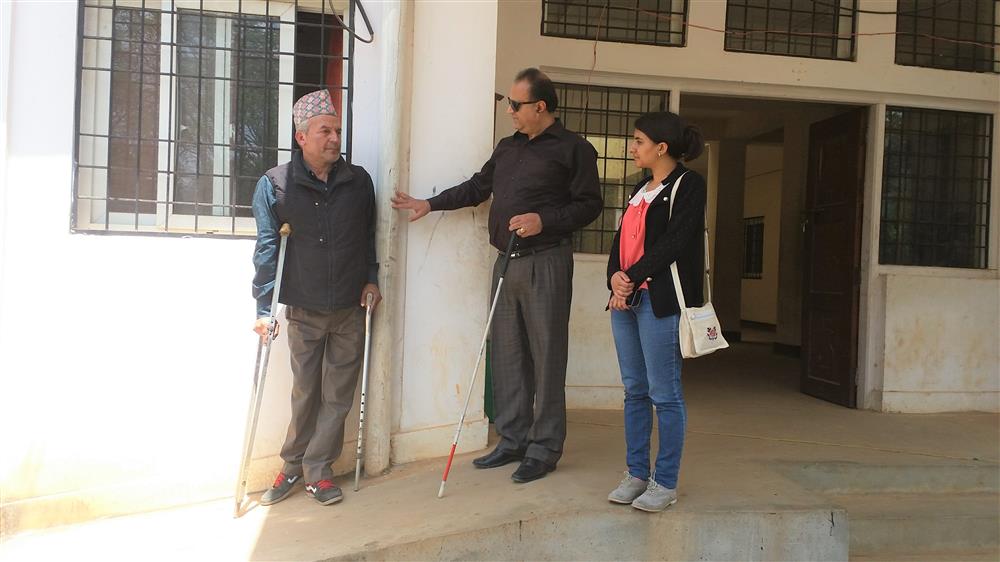 Reconstruction is guided by persons with disabilties. © Copyright unter Comments in einer anderen Sprache?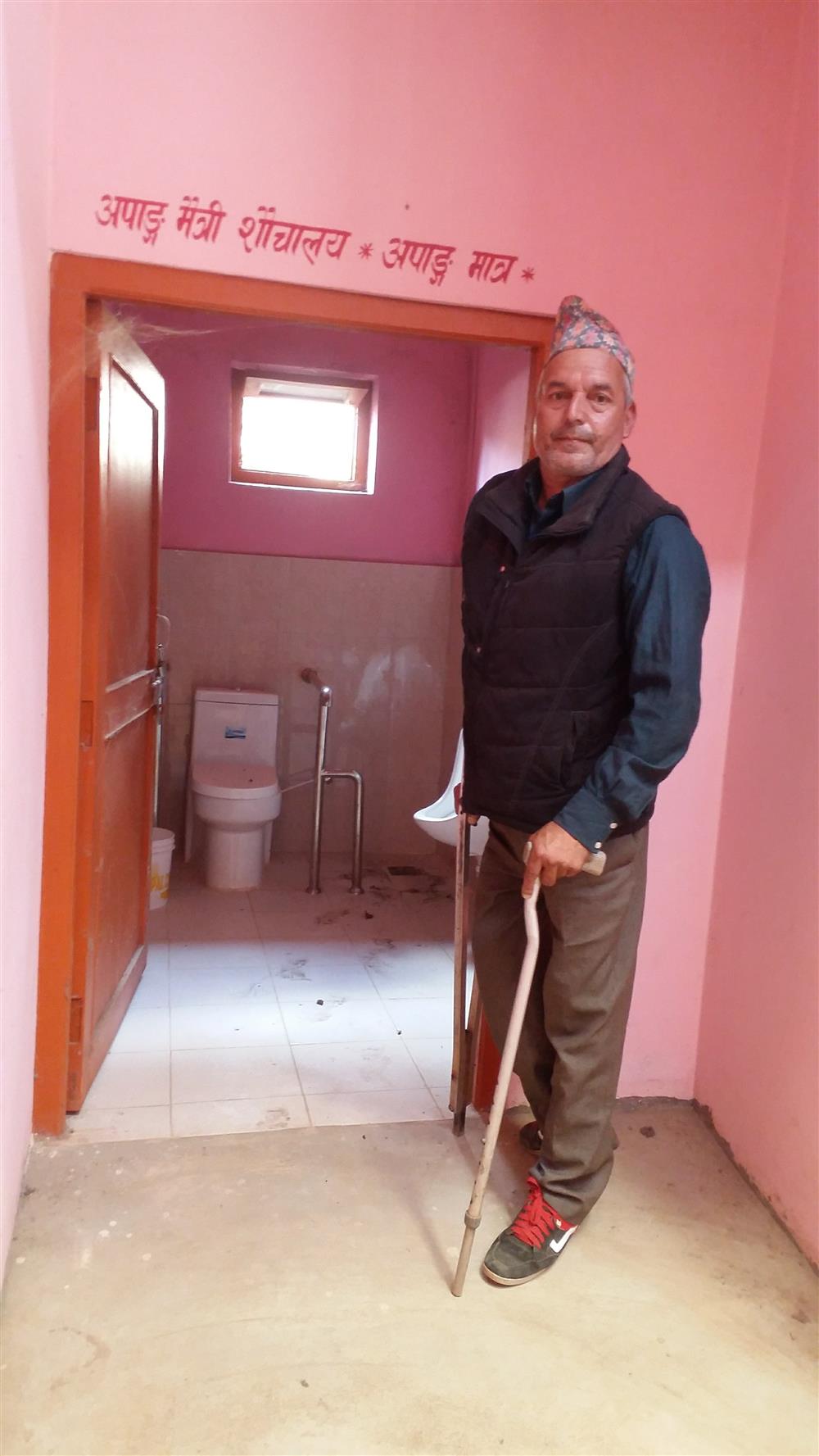 Videos
Downloads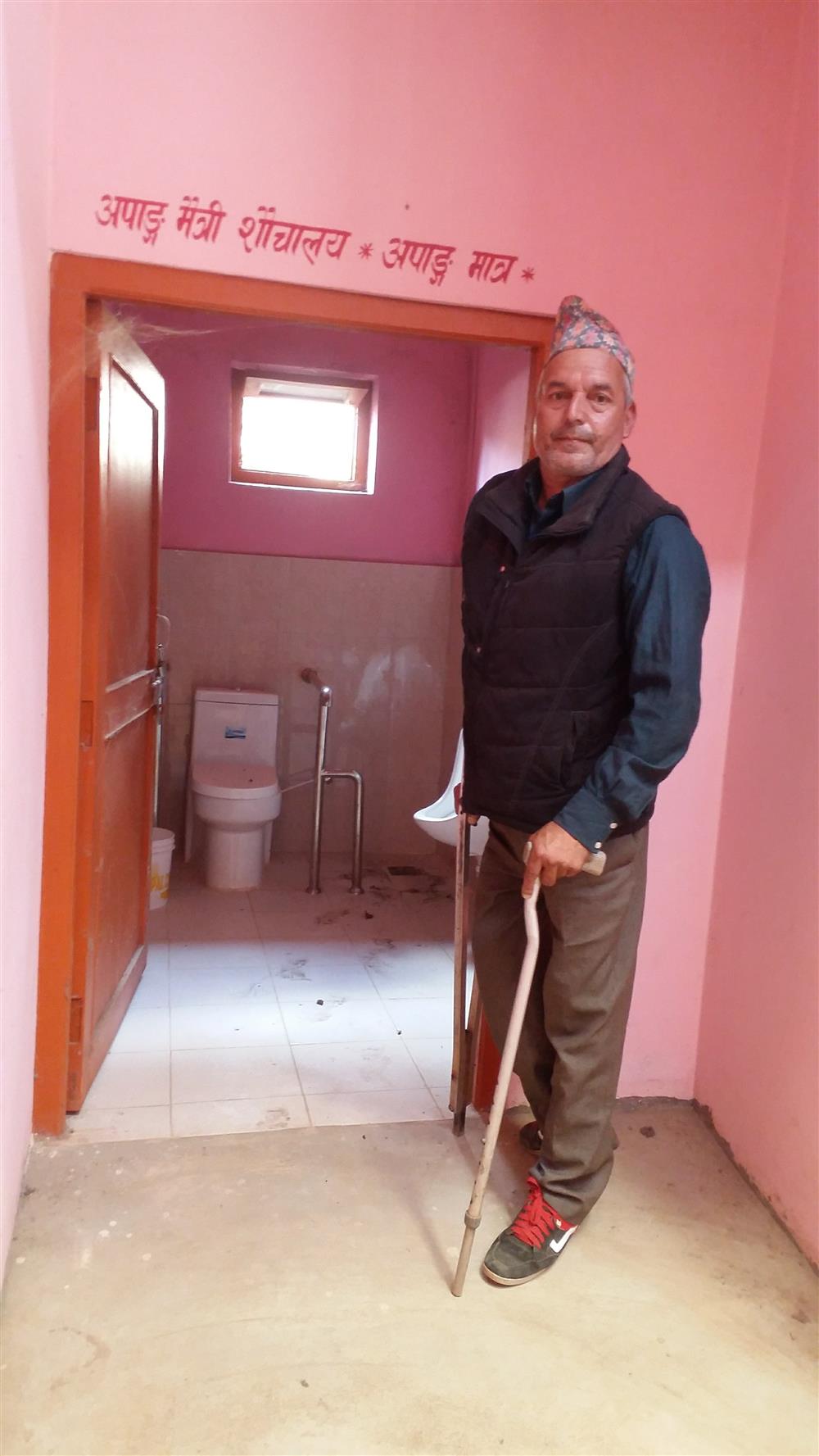 THE STORY OF GUNARAJ KHATIWADA, COUNSELLOR FOR ACCESSIBLE HOMES
"Wheelchair users are now participating in local planning processes."
I am Gunaraj Khatiwada, residing in the rural community of Dhading, one of the most earthquake vulnerable districts in Nepal. I was not prepared for the unexpected, and I have seen both of my houses collapse in a flash. I am now living in a temporary shelter with my seven-member family, including my elderly mother and my children. Despite my hardship, I have been featured in an episode of Classic FM radio, and the story of my engagement in supporting persons with disabilities touched thousands of listeners. I was privileged to participate in the "Inclusive Post-Earthquake Reconstruction: Public Building Safe and Accessible for All" project of the non-governmental organization Action on Disability Rights and Development, which is supporting thousands of persons with disabilities to utilize state services and benefits. Currently, I am engaged in rehabilitating persons with disabilities in their own communities, helping to construct their accessible houses through government schemes. I am particularly pleased to see many wheelchair-user-colleagues participating independently in local planning processes in the District Development office, which, like many public places, has been made accessible during the post-earthquake reform process. I am now being encouraged by the local community to represent them politically, and I have devoted myself as a paralegal to supporting persons with disabilities to enjoy their rights and secure dignified lives in an accessible environment.