Free relay service with sign language interpreters, also on phone and Whatsapp
Solution

Centro de Relevo – Relay Centre

Organization

FENASCOL - National Federation of the Deaf of Colombia

Country of Implementation

Colombia

Region

Latin America & Caribbean

Subregion

South America

Start Year

2001

First published

13.01.2021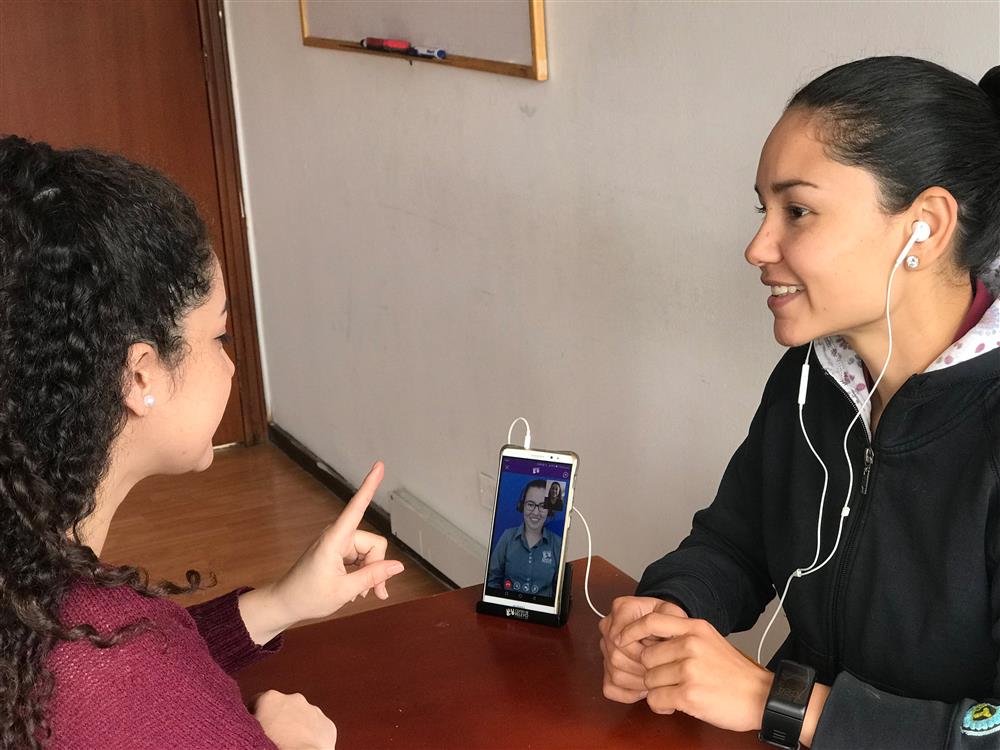 "Using the Relay Centre allowed me to become independent and to participate in job interviews." Julian Luango, a Relay Centre user
Federacion Nacional de Sordos de Colombia (FENASCOL) is an NGO founded in 1984 and is based in Bogota, Colombia. In 2001 it initiated a project called Centro de Relevo (Relay Centre), with the support and funding of the Ministry of Information and Communication Technologies, which enables a channel of communication between deaf and hearing people via Colombian sign language interpreters. It is free for users and available 24 hours. From 2009 to 2020 the relay centre has serviced 54,000 people.
Problems Targeted
About 80 per cent of people with hearing disabilities in Colombia require an interpreter to communicate with hearing people.
Solution, Innovation and Impact
Centro de Relevo is an interactive online platform that acts as a bridge between deaf and hearing people and helps them communicate via Colombian sign language interpreters. Deaf people can access the platform in three ways: a telephone call, a virtual online interpretation service, and a Whatsapp message box in Colombian sign language/voice. The interpreter completes the communication loop by converting the signed message into spoken word for the hearing person and signing back to the deaf user. Moreover, people with hearing disabilities can find an interpreter, either via a text message or the centre's website. Through this service, they can communicate with friends and relatives, and can also book appointments and meetings. Additionally, Colombian deaf people who live outside the country can also use this service without cost. The project has won multiple awards and was recognized by the Colombian President in 2015. The relay service has approximately 40,000 communications per month in various contexts, such as work, personal/family, and health-related communications.
Funding, Outlook and Transferability
The annual budget of the Relay Centre is US$611,000, of which 95 per cent is financed by the Ministry of Information Technologies and Communications and 5 per cent by FENASCOL. In 2013, Paraguay replicated the Relay Service; and FENASCOL provides consultancy services to Ecuador, Guatemala, and Mexico in 2020. The Relay Centre works with 60 interpreters scheduled to cover 24/7, and employs eight deaf people to constantly evaluate the service. By 2025 the Relay Centre aims to increase the number of sign language interpreters to 80 and to offer more communication time.
Pictures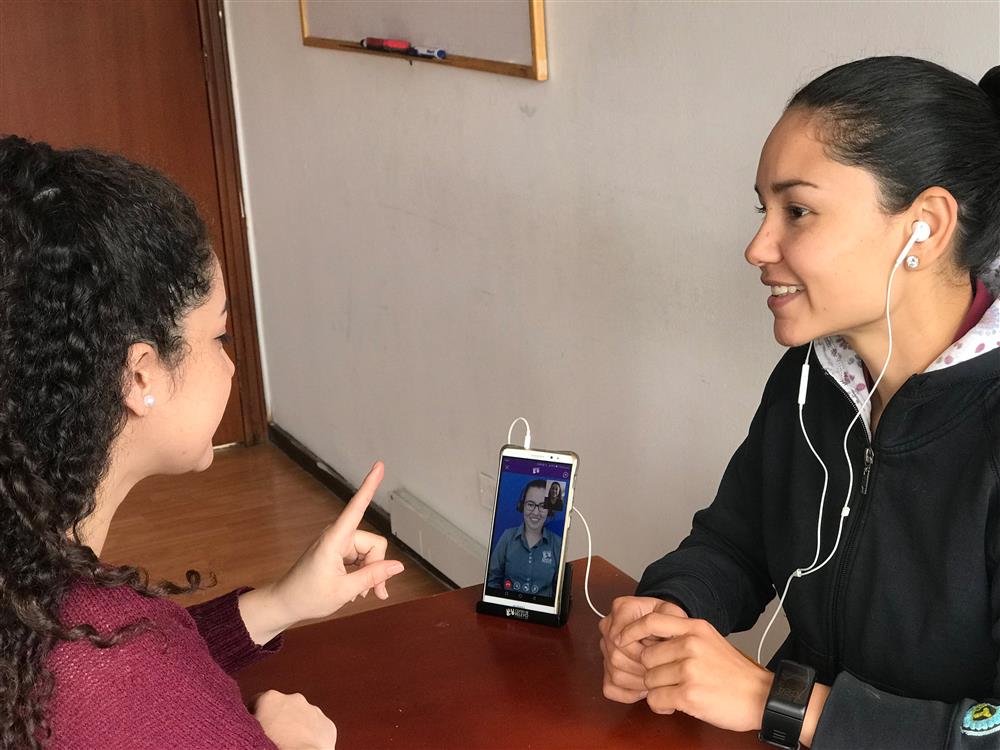 Two young women using the FENASCOL service
Videos
Downloads