Free learning tool for visually impaired persons to improve their computer skills
Solution

Educate Yourself Easily (EYE) Tool

Organization

Enable India

Country of Implementation

India

Region

Asia & Pacific

Subregion

South Asia

Start Year

2015

First published

13.01.2021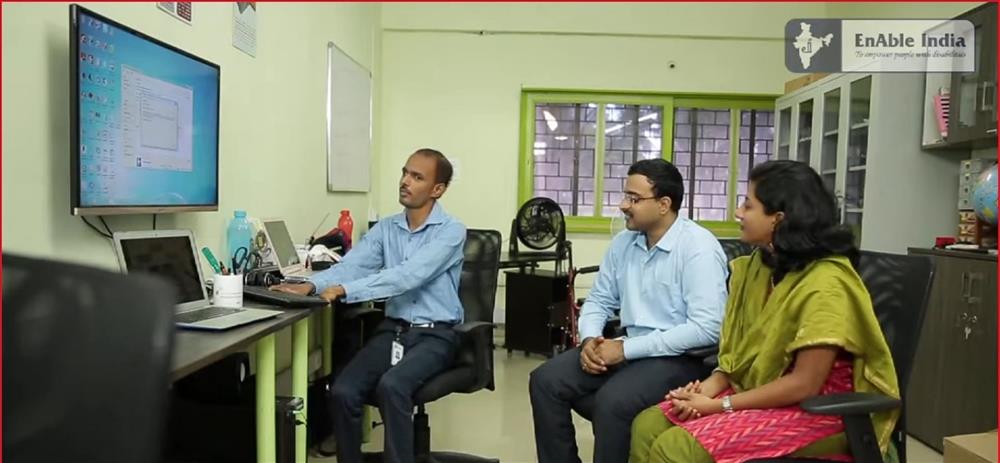 "By practicing scenarios, I handle situations in real time and manage people's perceptions." Rajeshwari, digital literacy training student
EnAble India is a large Indian NGO, headquartered in Bengaluru. Its Educate Yourself Easily (EYE) Tool is an open source self-learning platform that supports persons with visual impairments to learn job-critical computer skills. Users can choose from over 400 exercises to develop skills, take part in job simulations, and test their progress. From 2015 to 2020, the tool had over 10,000 users, 90 per cent of whom have reported that their computer efficiency has improved significantly.
Problems Targeted
Computer skills are critical in the modern job market, and people with visual impairments in India often do not have accessible training tools.
Solution, Innovation and Impact
The EYE Tool is a training platform offering exercises on job-relevant skills, such as editing, and data management. Exercises support people with visual impairments to increase the speed and confidence with which they use computers and understand the more visual aspects, such as common document layouts. It can be downloaded to a desktop or accessed via a server, and is compatible with screen readers and magnifiers. The tool has two modes: a 'Learning' mode gives instant feedback on errors so the user can make corrections; and a 'Test' mode allows users to test their progress. For those working with a trainer, trainers can also access their students' scores. The EYE tool is targeted at individual users with visual impairments, trainers of people with visual impairments, as well as parents, employers, and volunteers. It is available in English, Hindi, Tamil, and Kannada, and content can be easily added. About 95 per cent of EnAble India's trainers have visual impairments and are involved in its design.
Funding, Outlook and Transferability
The EYE Tool is free and is an open source technology. Development is funded by donations from companies and foundations. The long-term strategy is to integrate the tool into existing software packages, for example, from Microsoft or Google, and to develop a licensing model for corporate customers. Strategically, scaling to date has focused on India, with over 500 trainers trained in using the tool. EnAble India already has users in 15 countries and plans to scale further internationally. Next steps are upgrading the web tool, developing an Android app, and exploring opportunities for Artificial Intelligence features within the tool.
Pictures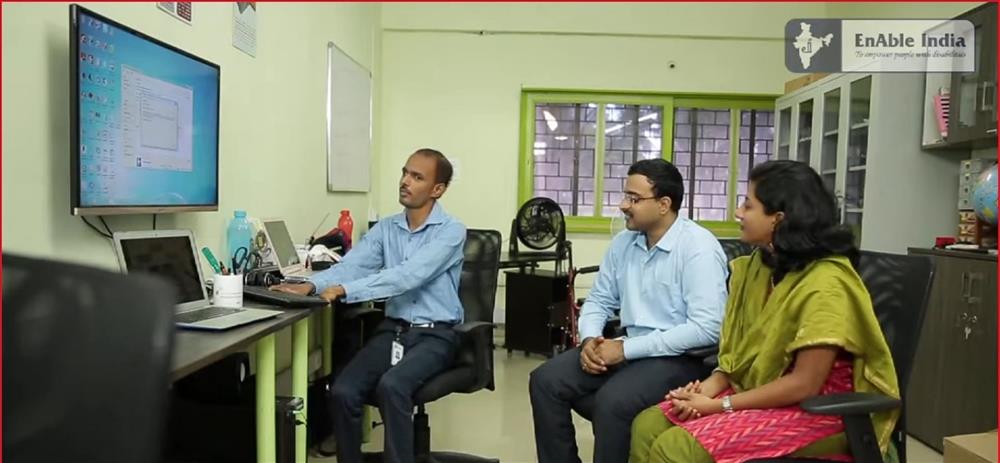 An instructor demonstrates the EYE Tool.
Videos