Fast-growing café chain with a majority of employees with disabilities
Solution

MITTI Café

Organization

Mitti Cafe

Country of Implementation

India

Region

Asia & Pacific

Subregion

South Asia

City

Karnataka, West Bengal, Orissa

Start Year

2017

First published

13.01.2021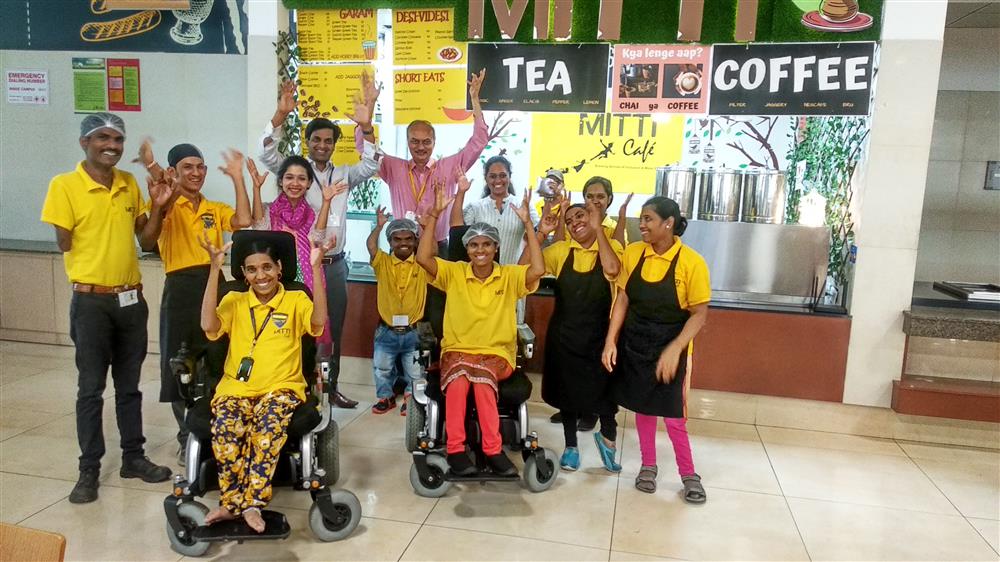 "Development is inclusive when people have sustainable livelihoods and a life with dignity." Alina Alam, Founder, MITTI Café
MITTI is an Indian social enterprise that provides hospitality and catering training as well as employment opportunities for adults with disabilities. It runs accessible cafés established on the premises of educational institutions and private sector companies in Karnataka, West Bengal, and Orissa states. As of 2020, there are 13 MITTI Cafés that are managed and staffed by 116 employees with all kinds of disabilities. The organization is constantly looking for partners to open up new cafés.
Problems Targeted
Persons with disabilities in India have limited employment prospects and few opportunities for social inclusion.
Solution, Innovation and Impact
In MITTI Cafés employees acquire hospitality skills such as food handling, billing, and customer service. Employees, who are usually the sole earners in low-income households, are paid more than the minimum wage, receive workers' insurance, and are provided with accommodation, food, medical care, and assistive devices as needed. In addition to its 116 current employees, from 2017 to 2019 a total of 318 people were trained and supported to find positions in the hospitality sector. Cafés are accessible and designed to facilitate interaction between employees and customers with and without disabilities. There are tills with audio features and menus in Braille for employees with visual impairments, and flicker lights alert employees with hearing impairments to customers' needs. MITTI only opens cafés on the premises of educational institutions and private sector companies that commit to an active and long-term partnership to promote inclusion.
Funding, Outlook and Transferability
MITTI's partners provide space for the cafés rent-free or at a reduced rate and cover the set-up costs. Cafés are only opened where there is high customer traffic to ensure an attractive location and economic viability. Generally, cafés become financially self-sustaining within a month of opening. This model has been used to set up 13 cafés and can be further replicated. Once a memorandum of understanding is signed with a host organization, MITTI has a standardized process for setting up a café, informed by its experiences to date. MITTI is looking to expand further, and in the next five years plans to employ 1,000 adults with disabilities.
Pictures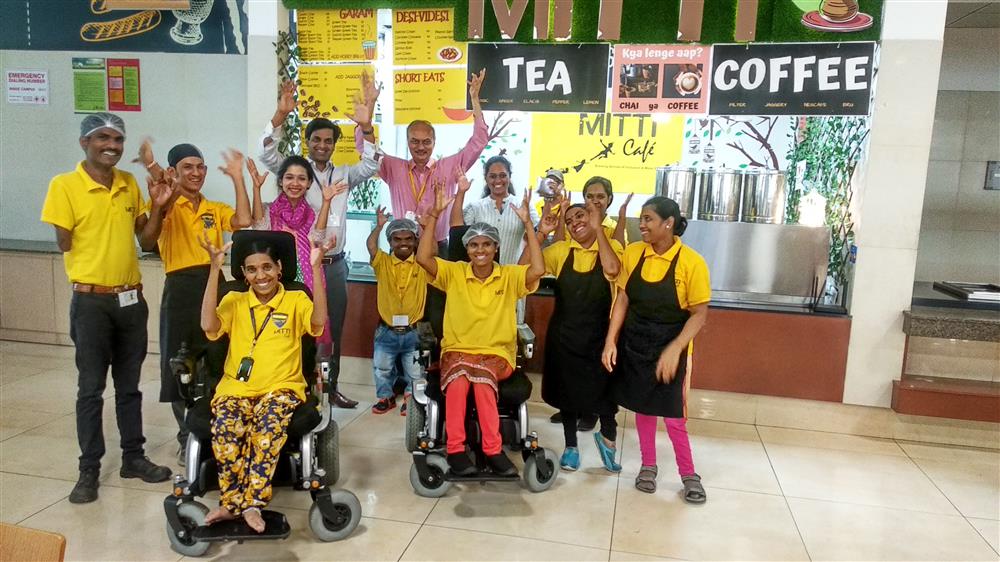 The team at one of the 13 MITTI Café locations.
Videos
Downloads
THE STORY OF THE MITTI CAFÉ, INDIA
"Have courage and be kind. For where there is kindness there is goodness, and where there is goodness there is magic"
Country of Implementation
India