A Disability Card to Support Equal Access
Solution

EU Disability Card Implementation

Organization

KVPS - Service Foundation for People with Intellectual Disability

Country of Implementation

Finland

Region

Europe

Subregion

Northern Europe

Start Year

2016

First published

31.01.2019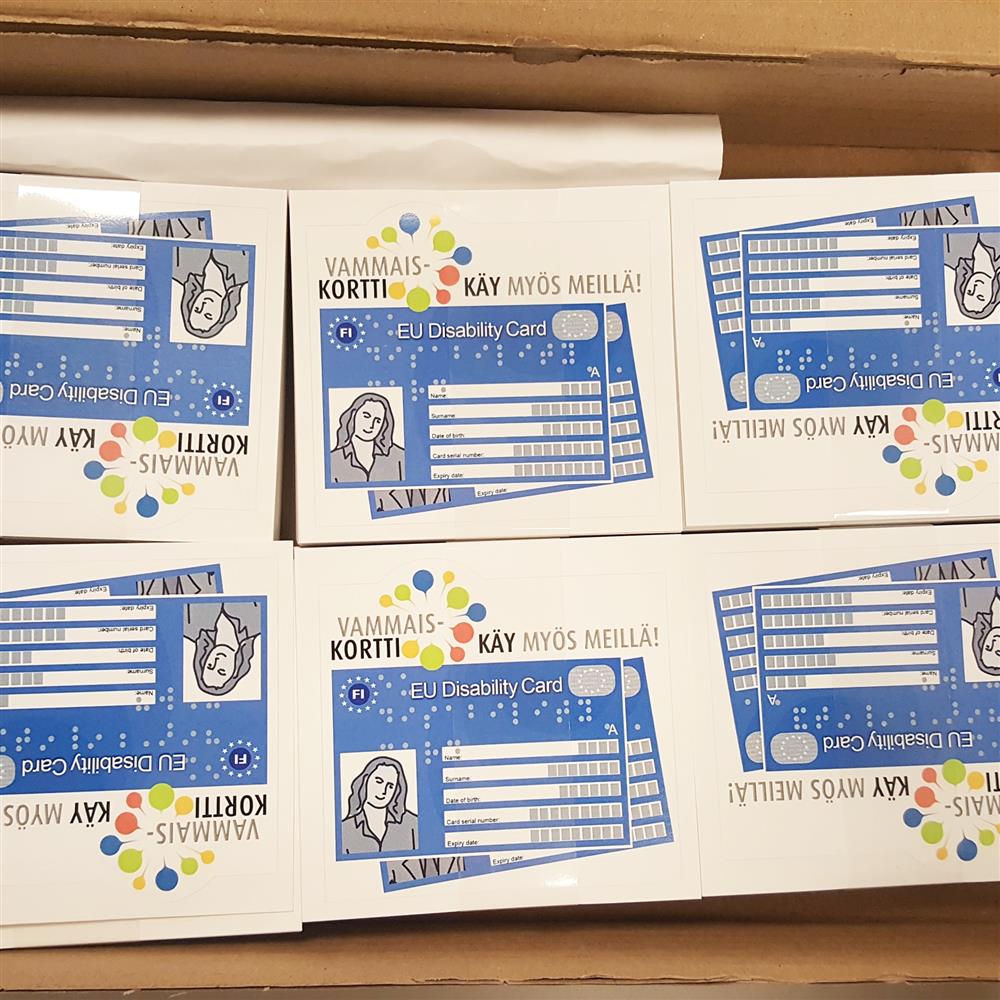 "For us it was natural to be an EU Disability Card service provider. Disabled people are an important client group and we have been improving our services in cooperation with NGOs for years already." Pia-Mari Sotavalta, Head of Services, VR Group (the Finnish railway company)
The European Union launched an 'EU Disability Card' pilot in eight countries in 2016, which is a universally recognized way for people with disabilities to communicate their needs and access support. Finland is participating in the pilot, and the Finnish Service Foundation for People with an Intellectual Disability (KVPS) is coordinating implementation of the national trial from 2018 to 2020. KVPS collaborates with government ministries, NGOs, the Finnish Disability Forum and other key services, such as cinemas, leisure centres, and the national railway operator. Between June and October 2018, over 4,000 people with disabilities have requested the card in Finland.
Problems Targeted
Finland had no national disability card, and national disability cards are often not recognized in other countries, making it difficult for people with disabilities to access support abroad.
Solution, Innovation and Impact
In 2015, KVPS led Finland's application process to participate in the pilot, and now manages the project's national implementation. KVPS coordinates the national working group of seven NGOs, the Ministry of Social Affairs and Health, and the National Institute for Health and Welfare. It also works closely with other NGOs, the Finnish Disability Forum and the Social Insurance Institution of Finland to promote and implement the card. This leadership by NGOs and disabled people's organizations, and the collaboration with other agencies, has been key to successful implementation. The EU Disability Card has a photo and Braille text. In Finland, people can choose symbols on the back of the card to indicate the assistance they may require and can also add a QR code. This might link to information about the individual's condition or the 'What Matters to Me' app, developed by the Finnish organization Bestser in partnership with people with disabilities. The app allows people to store information about their support needs, which they can then share when necessary. Participation by services is voluntary; but as of October 2018, 148 partners in Finland had committed to promote accessibility and inclusive customer service. KVPS has also held six events across Finland to promote the card to service providers, NGOs, and people with disabilities.
Funding, Outlook and Transferability
The trial period in Finland runs until 2020, during which time the eligibility criteria and other elements will be refined in partnership with people with disabilities and NGOs. The current funding from the Finnish Funding Centre for Social Welfare and Health Organisations, which is itself funded by the Ministry of Social Affairs and Health, will continue beyond 2020. This security of funding has been critical to support implementation. KVPS will evaluate the Finnish implementation of the card in partnership with the Finnish Disability Forum in 2019. At the EU level, an evaluation is also planned for 2019 to decide whether the pilot will be extended.
Pictures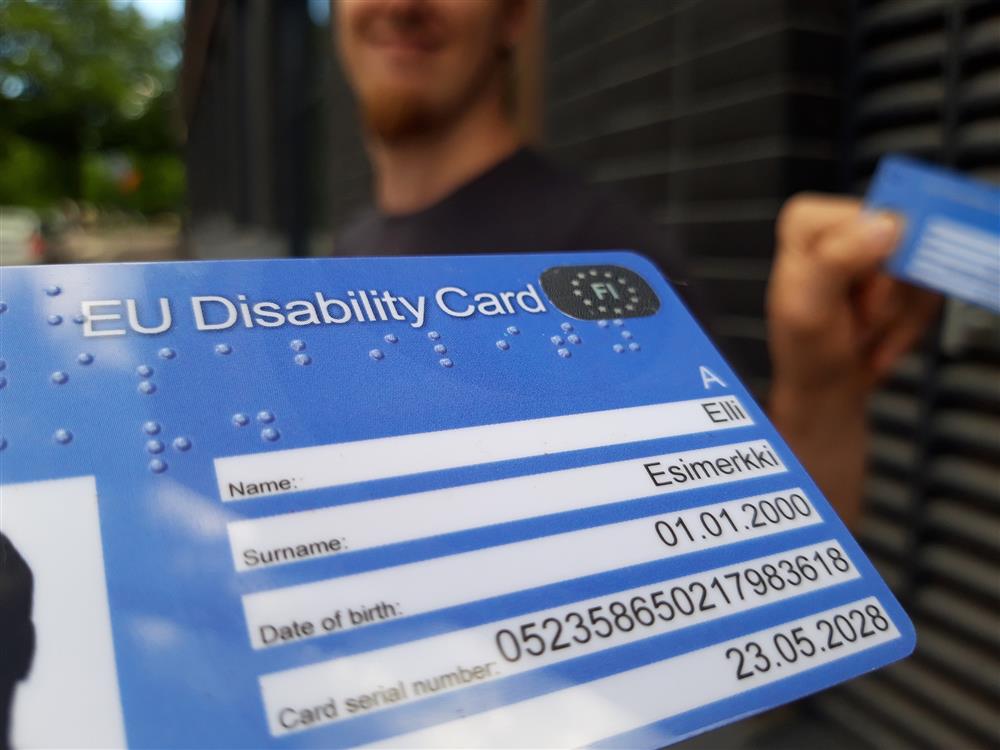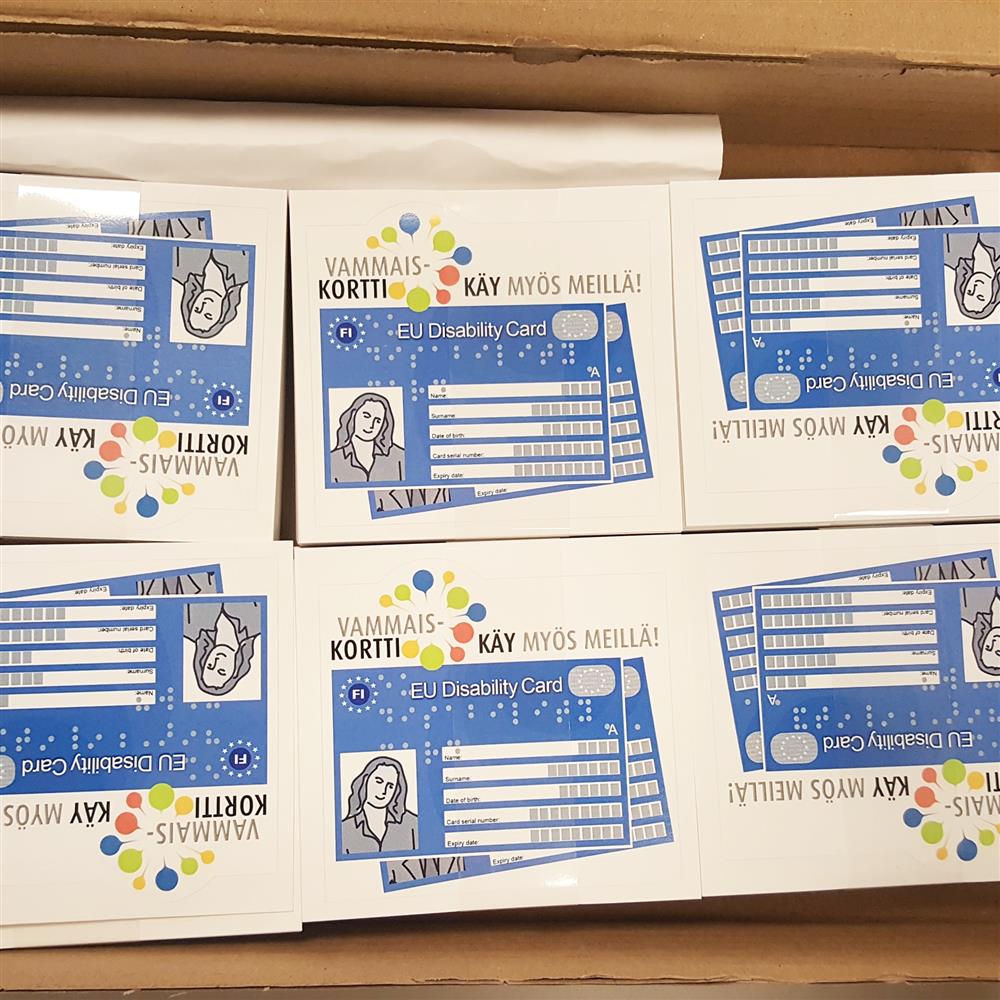 Stickers help service providers to promote the EU Disability Card.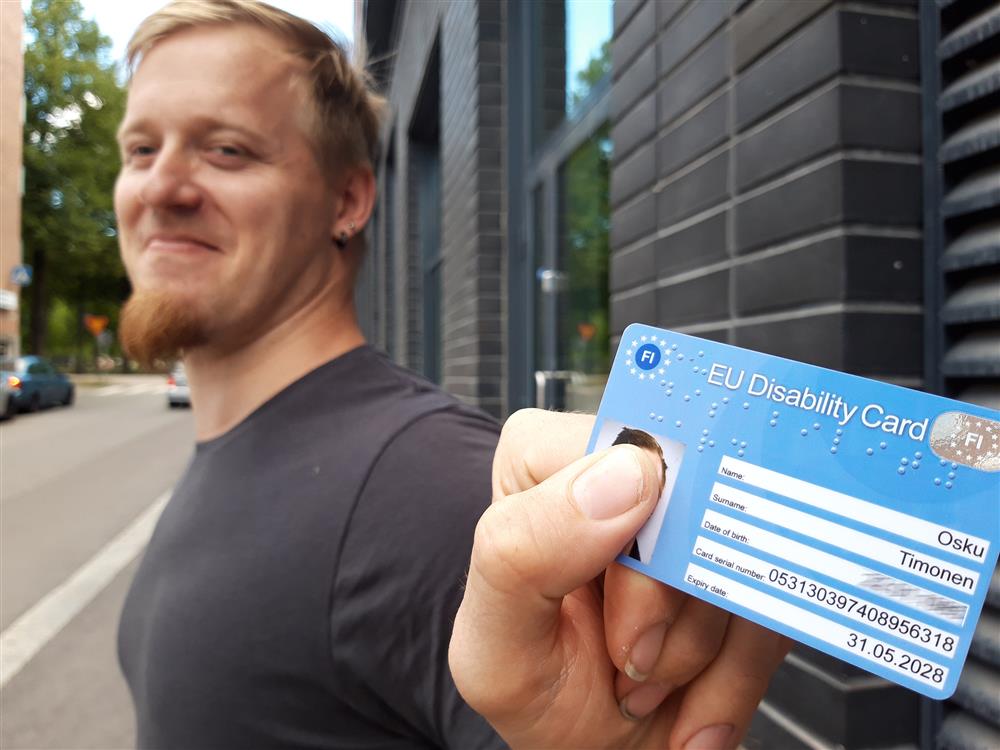 Videos
Downloads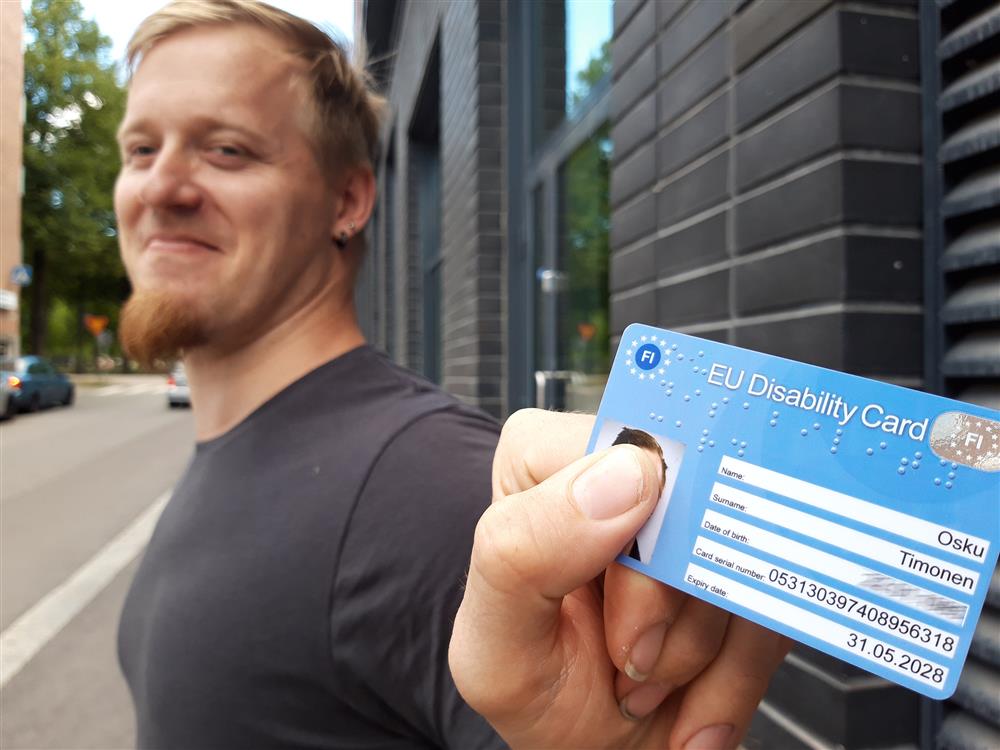 THE STORY OF OSKU TIMONEN, AN EU DISABILITY CARD USER
"I could enjoy the music on an accessible platform and with a good view."
"I could enjoy the music on an accessible platform and with a good view."