IT training for people with disabilities
Solution

Information Technology Training Programme (ITTP)

Organization

CRS - Catholic Relief Services

Country of Implementation

Vietnam

Region

Asia & Pacific

Subregion

Southeast Asia

Start Year

2007

First published

31.01.2017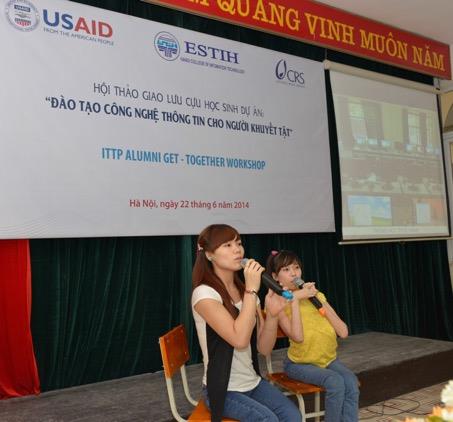 "A year of learning in the ITTP programme has equipped me with the important initial IT foundation that will help me to go further in my career development." Mr. Le Thi Le, a programme beneficiary with mobility disability.
Catholic Relief Services (CRS), the international Catholic Relief and Development Agency of the United States Conference of Catholic Bishops, has established an Information Technology (IT) training programme in cooperation with three training institutions in Viet Nam. CRS has also created a network of alumni whereby past members of the programme cooperate among themselves and support the current trainees through sharing their professional experience, job opportunities, and ideas for start-ups.
Problems Targeted
Vocational training programs in Viet Nam usually do not attract people with disabilities, as they are often not designed to provide the prerequisites for the inclusion for people with disabilities.
Solution, Innovation and Impact
Since 2007, CRS - jointly with three training institutions in Viet Nam - has been offering IT courses to people with disabilities in the fields of software engineering, graphic design, architectural engineering design, and web management. Businesses and employers have been involved in the curriculum design, in providing internships, in organizing exposure visits to get students familiar with various working environments, and in recruitment (which is vital for the training outcomes). The programme also offers courses in soft skills, such as communication, teamwork, how to prepare a job application, as well as gender-based violence prevention. In addition, ITTP has created an alumni network, which provides graduates of the programme the opportunity to cooperate with and support one another. The involvement of organizations of persons with disabilities together with the alumni network promotes self-confidence, self-help networks, and social inclusion as well as job opportunities.
Funding, Outlook and Transferability
The ITTP has received funding from the United States Agency for International Development and from CRS, as well as cost shares from the three training institution partners. Since 2015, ITTP has been self-financed by the training partners using funds raised from businesses and philanthropists. Families of youth with disabilities are requested to contribute to living costs. Youth with special economic difficulties still receive support from the training institutions. For example, the six-month training course costs US$300-450, and a 12-month course costs US$ 1,200-2,000. Costs include study materials and equipment, as well as support for studying in English.
Pictures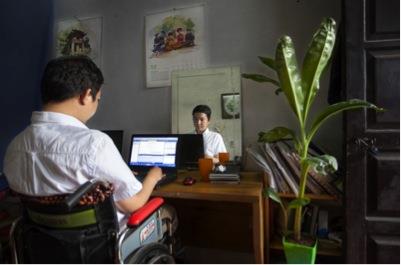 Offering IT courses in software engineering, graphic design, architectural engineering design, and web management. © United States for International Development (USAID) Mission in Vietnam.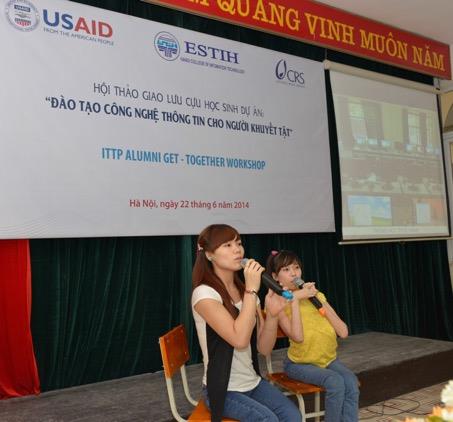 Downloads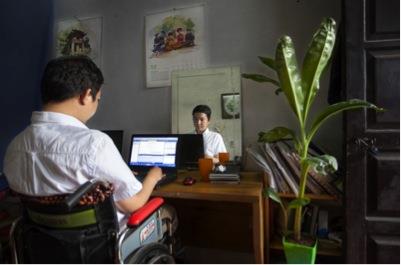 THE STORY OF NGUYEN VAN GIAP, OWNER OF ONEDAY IT SOLUTIONS
Being treated as a talented staff member in designing, analysing, and coding IT systems.
Nguyen Van Giap owns the OneDay company, providing IT solutions through website development, software engineering, and other IT services to support persons with disabilities and other disadvantaged people. A 2010 graduate of the USAID-funded Information Technology Training Programme (ITTP) specializing in software engineering, was working as a key programmer at Viettotal, Ltd., an IT company, until early 2016. There he demonstrated his great passion for IT and his ability to collaborate well with his non-disabled colleagues. At Viettotal he was treated as a talented staff member regardless of his being confined to a wheelchair. His daily job involved designing, analysing, and coding IT systems, as well as training clients in the use and maintenance of such systems. Each year he would run four to five major projects on the management of software, which required advance IT techniques and team-work, and which were aimed at a large number of users. _x000D_Giap's life has changed since he joined ITTP. He is no longer dependent on his family for support, and he has more friends with and without disabilities. He has been recognized by employers and colleagues as a committed, competent, and loyal staffer. More recently, and with great support and encouragement from his employer, Giap set up OneDay – realizing his vision to expand the abilities of persons with disabilities.