Replicating fully accessible and inclusive playgrounds throughout the country
Solution

Friendship Park

Organization

Beit Issie Shapiro

Country of Implementation

Israel

Region

Asia & Pacific

Subregion

MENA

Start Year

2006

First published

31.01.2018
"I really feel that Friendship Park was the breakthrough for inclusion for Avital." Ilana Grunberg, mother of Avital
Beit Issie Shapiro (BIS) is a non-profit organization that develops and provides innovative therapies and services for children with disabilities and their families. BIS is not only a service provider but also a social change agent, aiming to scale up its solutions through changing attitudes, training and impacting legislation. Based in the city of Ra'anana, Israel, in 2006 the organization developed Friendship Park, the country's first accessible and inclusive playground, and it has developed a methodology to replicate them all over Israel. Today, the model has been replicated in 30 municipalities throughout the country.
Problems Targeted
Israel was lacking accessible public play spaces that could give children with disabilities and their families the opportunity to enjoy leisure activities.
Solution, Innovation and Impact
The playground was developed involving all relevant stakeholders, including people with disabilities, who followed each development stage to ensure that all perspectives and needs were addressed. The uniqueness of Friendship Park and the key to its success is the integration of physical accessibility together with structured social accessibility. Physical accessibility is ensured by the topography of the playground itself, the restrooms, and each piece of equipment. Realizing that physical accessibility is not enough for true inclusion, however, BIS developed the playground as a platform for social change, structuring social and educational activities that reach children with and without disabilities, their families, and teachers. Social inclusion takes place through programmes that aim to raise awareness and teach children how to play together. The playground is open to spontaneous play, but also offers a variety of initiated activities, including inclusive get-togethers of families of children with and without disabilities, and inclusive holiday festivals.
Funding, Outlook and Transferability
In 2010, BIS received a five-year grant to develop two additional playgrounds based on the Friendship Park model, and both now have active social programming and are under the responsibility of their respective municipalities. Since then, the model has been replicated in 30 municipalities throughout Israel. Since Friendship Park was developed with the intention to be replicated, the work process was documented thoroughly from start to finish. In addition, the model also takes cultural sensitivities into account. BIS has presented Friendship Park at the United Nations and international conferences, as well as shared the model in countries in Africa and South America and in the United Kingdom. The initial establishment of Friendship Park was funded by the National Insurance Institute of Israel, the Welfare Ministry, the Ra'anana municipality, and foundations, totalling $1.26 million. Today, the Ra'anana municipality is responsible for the ongoing maintenance and upkeep of the playground, as well as the social programming. In 2016 the municipality's budget for the playground was $170,000: 20 per cent for the maintenance and 80 per cent for the social and educational programmes.
Pictures
Friendship Park playgrounds are not only about physical accessibility but are also platforms for structuring social and educational activities.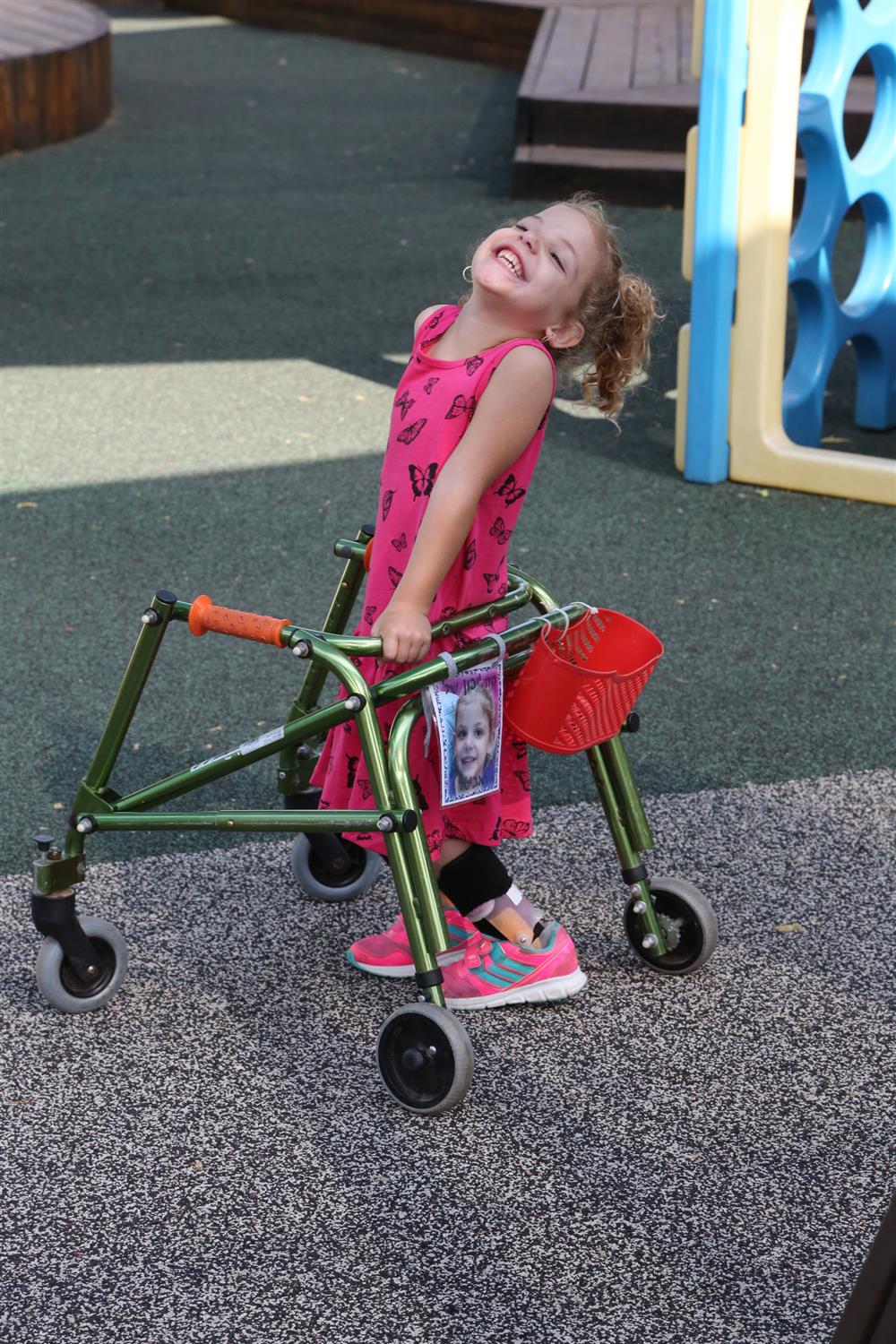 Videos
Downloads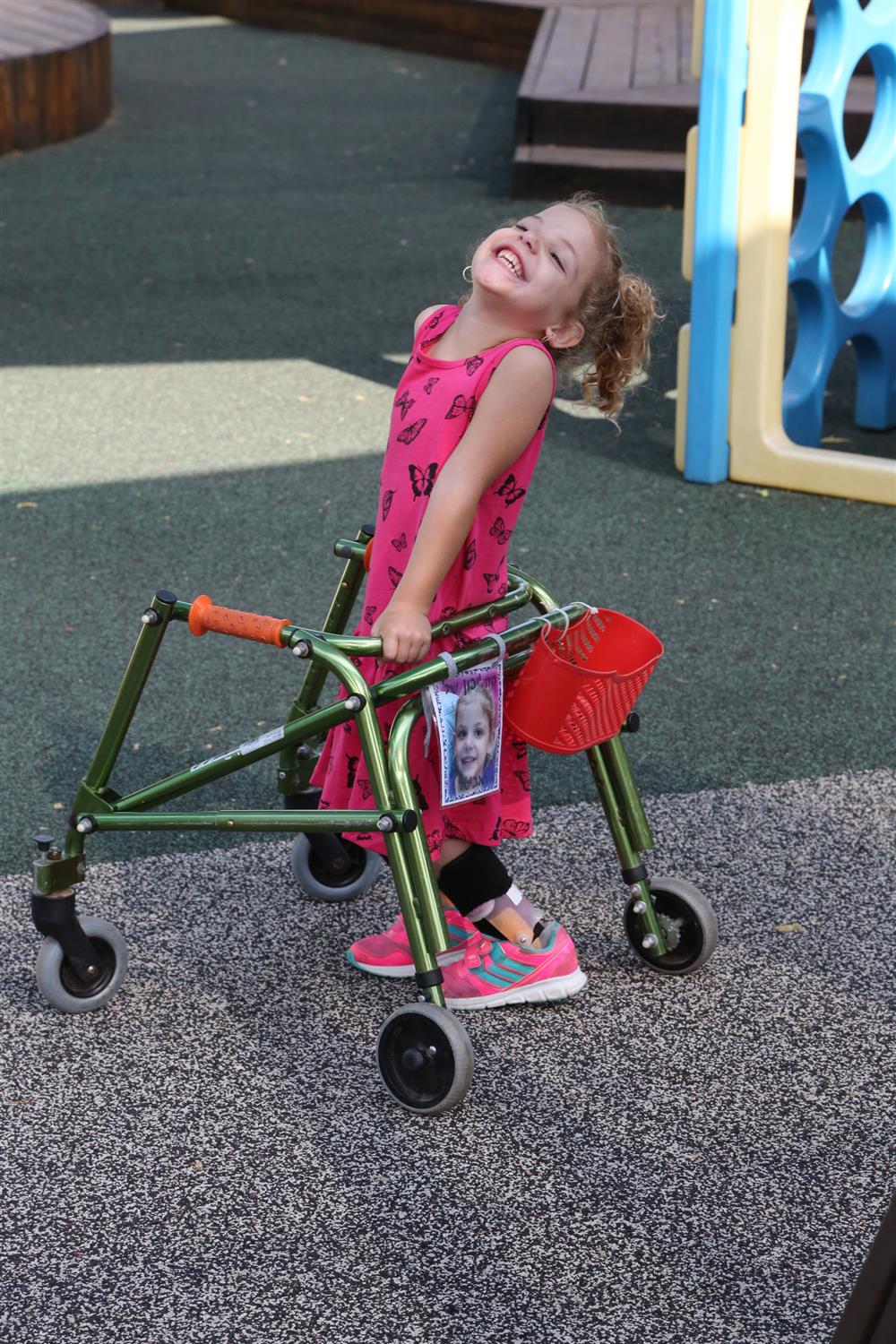 THE STORY OF ILANA GRUNBERG, MOTHER OF AVITAL AND USER OF FRIENDSHIP PARK
"I really feel that Friendship Park was the breakthrough for inclusion for Avital."
My name is Ilana Grunberg and I am the proud mother of seven-year-old twins Avital and Ayelet and their sister Maya, who is ten. Avital is very bright and tri-lingual (English, Hebrew, and Dutch), and in her free time she loves to paint, bake, and play with her friends at Friendship Park in the main city park in Ra'anana. She is known for her gorgeous smile, which captures everyone's heart. Avital also has cerebral palsy and uses a walker and a wheelchair. She attends second grade at a normal primary school and goes to Beit Issie Shapiro daily for therapeutic treatment and afternoon activities, where she meets with other children with cerebral palsy. When Avital was in kindergarten she participated in one of Friendship Park's social and educational inclusion programmes. Together with her typically developing peers, she learned about different types of disabilities and how to make the environment accessible to children and adults with diverse disabilities. Avital participates in all the social community events that take place at Friendship Park, and what her experiences at the Park have taught her is that trying again, speaking to everyone, believing in the good in people, and believing in herself builds a community that is inclusive of everyone. I really feel that Friendship Park was the breakthrough for inclusion for Avital. Through this community project we learned that we have many friends who join us in making our city a place for everyone.