Sign language relay service with a successful scaling strategy
Solution

DeafTawk

Organization

DeafTawk

Country of Implementation

Pakistan

Region

Asia & Pacific

Subregion

South Asia

Start Year

2018

First published

13.01.2021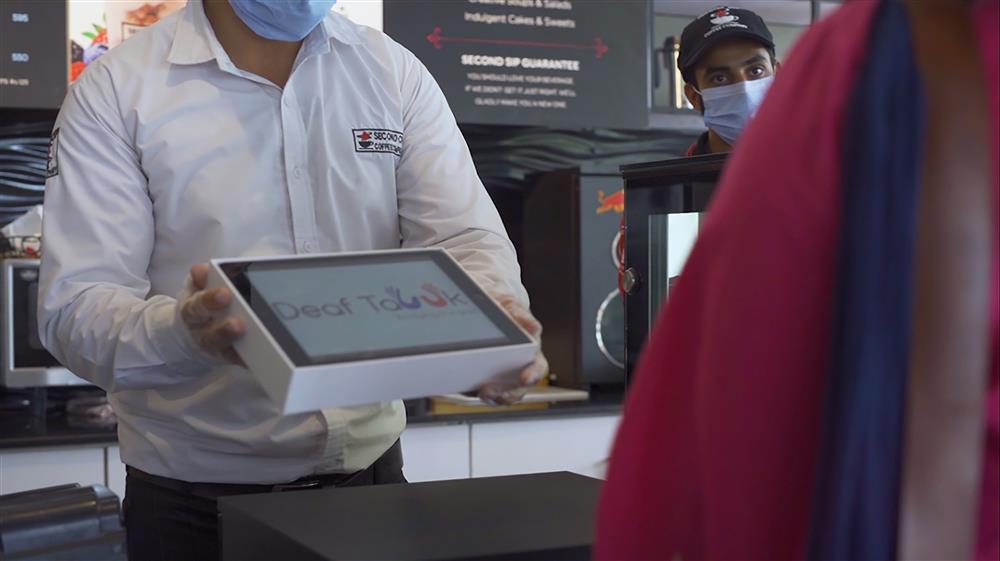 "Through DeafTawk I can now easily narrate my words and feel empowered to be part of society." Maria Zia, a DeafTawk user
DeafTawk is a for-profit start-up technology company based in Islamabad, Pakistan. It has developed a mobile application that connects deaf users with certified sign language interpreters in real time through video calling, used by individuals and businesses. Available on both IOS and Android platforms, DeafTawk has now been replicated in Singapore. Between 2018 and 2020 it has provided 94,000 hours of sign language interpretation to some 18,000 users across both countries.
Problems Targeted
The general public is largely unfamiliar with sign language and there are shortages of qualified sign language interpreters.
Solution, Innovation and Impact
Through the DeafTawk app, users can either choose 'book now' for instant interpretation via a video call, or 'book later' to schedule a specific time. With this option, users can specify the purpose of the call and choose an interpreter with relevant expertise. The service is available 24/7 for individuals, businesses, and institutions (e.g., educational institutes and hospitals). Organizations can book interpreters online and are matched to subject experts. Between 2018 and 2020, DeafTawk provided approximately 94,000 hours of interpretation in Pakistan and Singapore. Through the service more than 500 deaf users have gained employment and 79 have been enrolled in higher education. DeafTawk employs over 1,100 interpreters and offers services in ten languages. To work with DeafTawk, interpreters must have at least two years' experience and undergo a three-day training workshop. Interpreters are based online and can work anytime, anywhere per their availability.
Funding, Outlook and Transferability
DeafTawk's revenue from July 2019 to June 2020 was US$175,000. US$110,000 came from monthly subscriptions from businesses and institutions offering the service. The remaining US$65,000 was from on-demand services offered to individual users.   After expanding in Pakistan following a pilot, DeafTawk launched in Singapore in partnership with SG Enable and Enterprise SG, and with funding from Accelerating Asia. It aims to further expand in Asia, with a target of three additional countries in the next five years. DeafTawk is currently looking to launch an Artificial Intelligence feature to translate into 26 languages and is also improving the app's machine learning functionality.
Pictures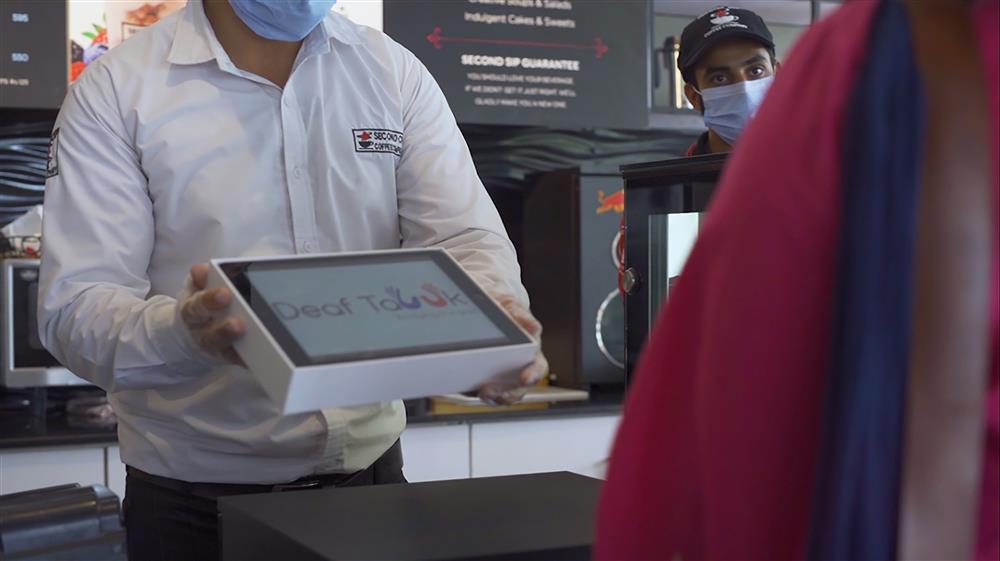 A deaf woman uses DeafTawk to place her order at a coffee shop.
Videos
Downloads
THE STORY OF HAREEM: A DEAF PERSON BECOMES AN ENTREPRENEUR
"Finally, I felt connected with the world."
Our world is not designed for people with different abilities. Being a user of sign language, I have always faced major barriers in communication. A minor disease for most people meant something different to me. The anxiety of not being able to properly communicate my symptoms left me unsatisfied with the doctor's diagnosis. Even though I would visit a doctor when I felt unwell, I used to be traumatized by afterthoughts. What if he didn't get all of my symptoms? What if there is a major disease undetected as a result of our communication barrier? The mere possibility would give me stress. Then I attended a seminar of young entrepreneurs and came across a startup called Deaftawk, and connecting with them made me instantly feel at home. Finally, I was no longer in a foreign land; these people could understand me and had solutions for me. Getting acquainted with Deaftawk opened up a number of opportunities for me that had felt impossible before. I finally felt connected to the world.