Long-term inclusion in the open labour market, state-wide
Solution

Supported Employment Programme of 1983
Department of Disabilities, Aging and Independent Living, Agency of Human Services, Vermont, USA

Organization

University of Vermont, Center on Disability and Community Inclusion

Country of Implementation

United States of America

Region

North America

City

Vermont

Start Year

2002

First published

31.01.2017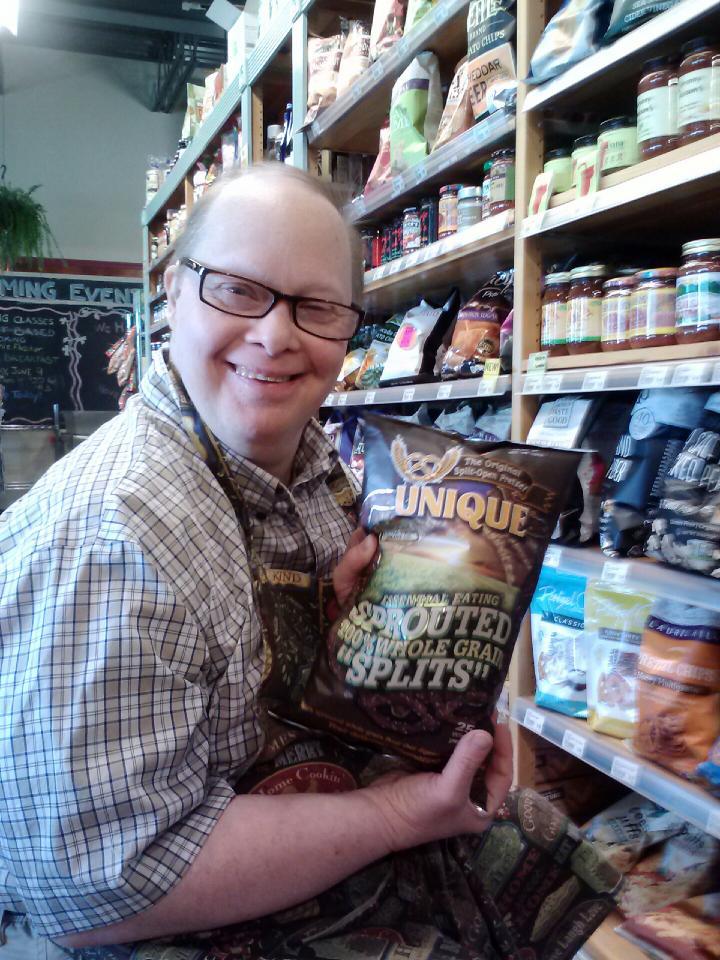 "Employment in Vermont is the cornerstone for enabling individuals with disabilities to be included in the full fabric of living and participating in one's community." William Ashe, E.D., Upper Valley Services, Inc.
By offering a broad spectrum of support that ranges from full job-site support to the occasional follow-up with more independent workers, Vermont's Supported Employment Programme facilitates the shift from sheltered employment settings to more inclusive employment for people with developmental disabilities. In 2015 almost half of all individuals in Vermont receiving developmental disabilities services were employed.
Problems Targeted
Vermont's Supported Employment Programme of 1983 is providing state-wide a full range of services that enable people with developmental disabilities to access and succeed in integrated competitive employment, including person-centred planning, meaningful job matches, full inclusion in the workforce, and creative strategies that broaden employment opportunities. By 2002, Vermont had closed all sheltered workshops. Today, 48 per cent of Vermonters receiving developmental disabilities services are employed in the regular workforce, all of whom are paid at Vermont minimum wage or higher.
Solution, Innovation and Impact
Believing all people can work 
The programme pro- vides individually tailored support and thoughtful job matches by which people with intellectual disabilities can contribute like others to the regular workforce. 
Overcoming fear and conflicts 
As the first U.S. state to close workshops, Vermont had to overcome significant issues that emerged in the conversion process. Embracing this change was not easy for families. 
Contributing to self-advocacy 
 In 1994 a statewide self-advocacy network – Green Mountain Self-Advocates – was formed. Run by people with developmental disabilities, it hosts an annual conference and has developed a training on converting sheltered workshops.
Funding, Outlook and Transferability
According to research, the cumulative costs of supported employment are dramatically less than sheltered workshops (US$6,618 compared to US$19,388 per person per year). Staff members from Canada, China, Ireland, Italy, Singapore, and the United Kingdom have visited Vermont to study its programme. In 2012 the National Council on Disability included Vermont in its recommendations to U.S. President Barack Obama.
Pictures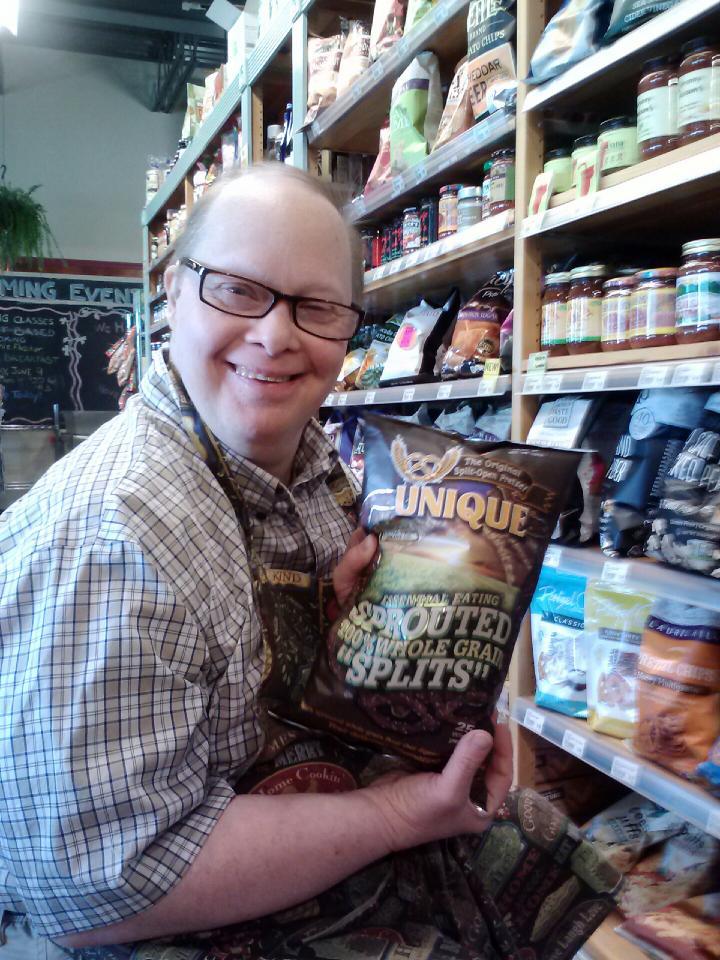 Bill enjoys his work as a stocker at Sweet Clover Market. 1.     Caption: With a certificate in Business from Castleton University, Kate became employed helping to manage a Yoga Studio. – Copyright/credit: © Lauren Merritt, College Steps Program 2.     Caption: Leah working at the Marche Café with her co-workers. – Photo credit: © Think College Vermont 3.     Caption: Stirling in her vocational internship with co-workers at WCAX News Station. – photo credit: © Think College 4.     Caption: Bill enjoys his work as a stocker at Sweet Clover Market. – © Michelle Paya 5.     Caption: 24 years in child care made Mary well-known for her inherent skills and compassion with children. – Copyright/credit: © Diane Chandler —> FOR LIFE STORY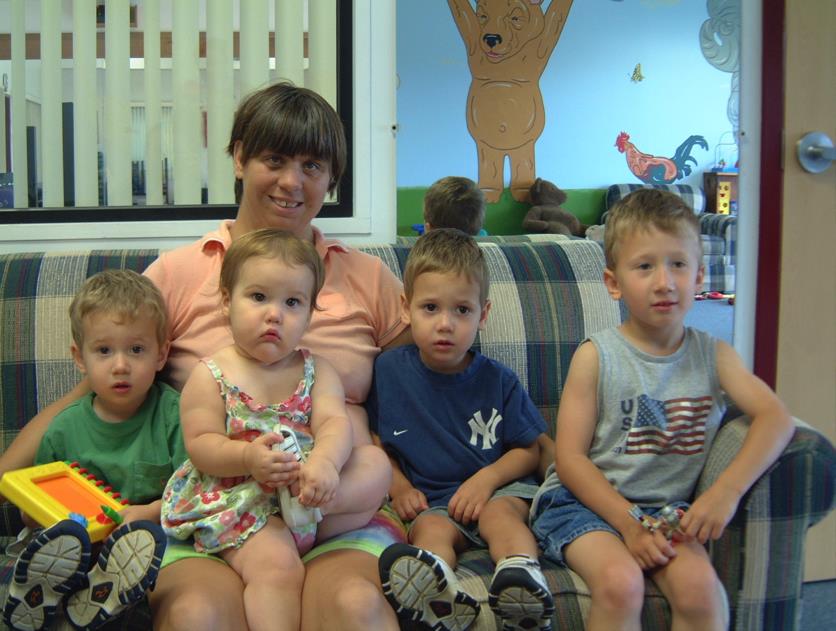 Downloads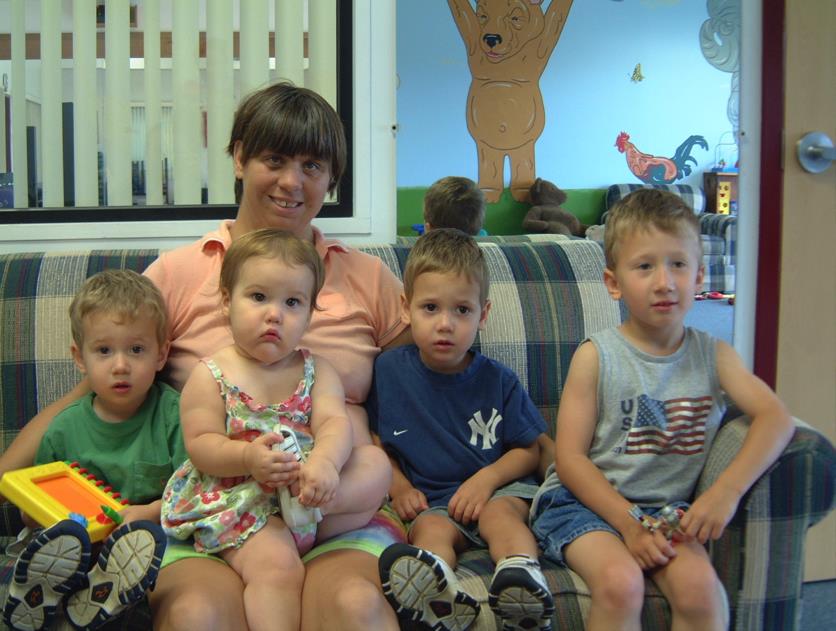 THE STORY OF MARY, CHILDCARER
"I never gave up my passion or my abilities regardless of what I was told by others!"
For 24 years I was employed in childcare, where I was known as trustworthy and loving by parents and kids alike. Sadly, I was forced to leave this job due to Vermont's credentialing of child-care staff. With no certification, I was unable to keep my job as a primary care provider, a huge loss to my employer and to me. Determined to save my career, I explored accreditation classes, but the faculty assumed my disability would prevent my successful completion. Again, I was distraught and I felt disrespected. I lost a career where I excelled! I moved to a janitorial job, but never stopped believing in myself and my love of children. I babysat on the side and could often be seen around town with my small charges. What came next is due to my resolve to hold onto my dreams. Hearing of my child-care skills, Middlebury's Parks and Recreation Department hired me for their 'Tot Time' programme. I quickly advanced to the summer camp programme, where I was re-united with a child I had cared for years earlier but who was now to be my co-worker! I advanced in my position, and was key in helping create the Special Olympics Young Athletes programme, in which I am a mentor. My dedication to childcare rings clear in the words of my director: "Mary is very reliable, she never says no, is always early for work, and often stays late. Dustin and Mary are two peas in a pod, always laughing and joking with each other. Everyone loves Mary and we are never going to let her go!" Although forced to leave a job in which I expected to retire, I re-shaped my career with a team where I am respected and loved. I never gave up my passion or my abilities regardless of what I was told by others!