The first mobile bathroom for people with complex physical disabilities
Solution

Disability Pride Belfast & Vehicles for Change

Organization

AccessoLoo

Country of Implementation

United Kingdom

Region

Europe

Subregion

Western Europe

Start Year

2016

First published

31.01.2019
"Mobiloo is game changing when it comes to events. It's the difference between us having a life over staying at home constantly." Aisling McNiffe, parent and caretaker to 13-year-old Jack
Mobiloo – a Northern Irish social enterprise active throughout Ireland and the United Kingdom – has created the first mobile bathroom for people with complex physical disabilities. Until now, outdoor events provided only traditional "portaloos," which are small and generally unhygienic. In addition to a clean toilet, Mobiloo bathrooms provide changing tables, hoists, and adequate space for large wheelchairs and/or a personal assistant. In the first months of 2018, Mobiloo's facilities were utilized by some 3,000 event-goers with disabilities.
Problems Targeted
Toilet facilities for persons with disabilities at outdoor events are usually too small for people needing larger wheelchairs or those requiring the support of a personal assistant.
Solution, Innovation and Impact
A group of individuals from Northern Ireland with various disabilities felt that a product was needed to fill the gap in sanitary facilities at outdoor events. Collaborating with various organizations for research and development, Mobiloo's founders produced an accessible mobile bathroom suitable for everyone. The result was a social enterprise providing a service that allows people with disabilities to attend concerts, markets, and festivals, or even go to the beach. Mobiloos are versatile mobile bathrooms with heating for cold weather, electric ceiling hoists for those who may need to be lifted, changing tables with a variable height adjustment, hot and cold running water, and even a shower. In addition, each mobile bathroom is staffed by an attendant who cleans the facility after every use. Currently, there are four operational units; and the number of people benefitting from them has risen from 314 in 2016 to over 5.000 in the summer of 2018.
Funding, Outlook and Transferability
In 2016, private funds were used to establish Mobiloo at an initial cost of €100,000. Income that first year was €128,514, it rose to €289,997 in 2017, and Mobiloo estimates the figure will be more than €400,000 by the end of 2018. The business is self-sustaining, covering all employment costs of three full-time and two part-time employees. The Irish Government has hired Mobiloo to cover its open-air events, as has the city of Belfast and the South Dublin City Council along with the BBC, the English Premier League and The National Trust. Due to high demand throughout the United Kingdom as well as requests from other countries such as Australia and the United States, a franchise model is being developed. Mobiloo is also working on further products to make outdoor events even more accessible.
Pictures
Mobiloo bathrooms allow people with disabilities to attend concerts, markets, and festivals, or even go to the beach. © Craig Halkett Photography, 2 Cairnwood Drive, Airdrie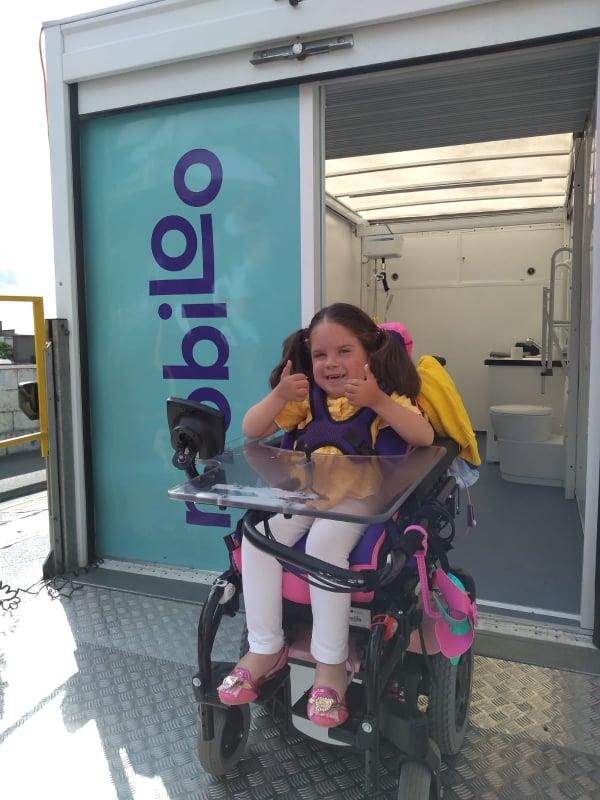 Mobiloo bathrooms allow people with disabilities to attend concerts, markets, and festivals, or even go to the beach. © Craig Halkett Photography, 2 Cairnwood Drive, Airdrie
Videos
Downloads