Training Disability Representatives to work with local district officials
Solution

CDR and VDR

Organization

Light for the World Austria

Country of Implementation

Cambodia

Start Year

2016

First published

31.01.2019
People
"Before there was a CDR, there was no information, Now we have a list of persons with disabilities in our community. We also go to the community to talk to people." A Commune Disability Representative
Light for the World – a global disability and development NGO working primarily in low-income rural communities – has set up a programme in the Pursat province of Cambodia to create and train Commune and Village Disability Representatives (CDRs and VDRs) to advocate for inclusive policies. Local people are trained on advocacy, disability, and meeting facilitation; they then meet with and collect data from persons with disabilities; and they then go on to represent these individuals in commune and district meetings. As of 2018, 251 persons have been trained and their roles have led to policy changes, including access to free health care and assistive devices.
Problems Targeted
Cambodia has a decentralized government where issues are first brought up by citizens at the village level and then move up to commune and district meetings. Persons with disabilities often lack the communication and advocacy skills necessary to introduce their issues into the government system.
Solution, Innovation and Impact
VDRs and CDRs are trained on advocacy, disability awareness, and meeting facilitation in order to advocate for inclusive policies and annual budgets. VDRs are residents chosen by a vote from each village community, and CDRs are current staff members of the Commune Councils who are selected to represent persons with disabilities as part of their existing roles. VDRs and CDRs meet with persons with disabilities and their families individually or via village planning sessions (local government meetings where input is sought from residents) to collect information on their needs. They then attend planning meetings at the commune and district level to represent persons with disabilities and to input the collected issues into annual investment plans and budgets. The project aims for persons with disabilities to become self-sufficient in implementing inclusive policies and change, thus moving away from reliance on foreign NGOs. Between 2016 and 2018, 22 CDRs and 229 VDRs were trained, and their input has led to successful policy outcomes such as access to free health care and free assistive devices for persons with disabilities.
Funding, Outlook and Transferability
The project is funded by Light for the World Netherlands and implemented via Disability Development Services Programmes, an NGO located in Cambodia's Pursat province. The cost of the project between 2016 and 2017 was $29,617 and covered implementation in the 229 target villages and 22 communes. Representatives are currently active in half the villages in the province, and the project is being expanded to the remaining half. In 2017, the project hosted a learning visit from organizations working in Laos that are beginning to implement a similar initiative. The simplicity of the project makes for strong replicability potential in the context of similarly decentralized governments.
Pictures
Collecting data means meeting families is a starting point.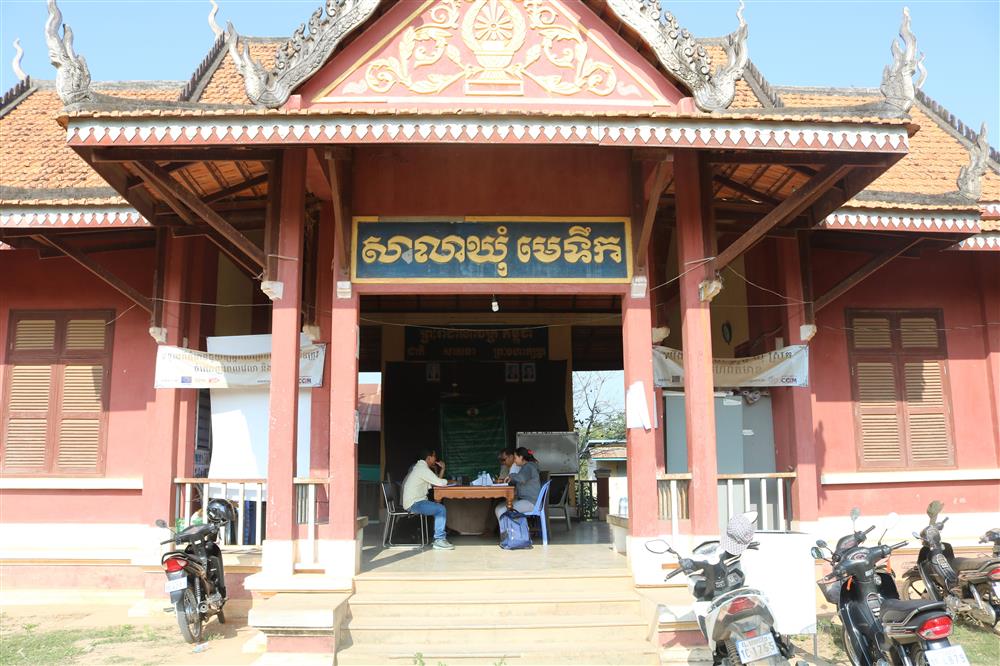 Videos
Downloads
THE STORY OF PRUM SARUM AND VEN CHOUEN, LANDMINE VICTIMS AND CDR BENEFICIARIES
"We now run a noodle shop and have started a new motorcycle repair shop."
My name is Prum Saroum and I live with my wife, Ven Chouen, in Srelvea village, which is located in Pursat province, near the Thai border. Our two school-aged daughters and their grandmother also live with us. Both my wife and I are missing one leg due to landmines. My wife and I did not have any regular income to support our family, so sometimes our oldest daughter had to help us earn money. This meant she could not attend school regularly. When there was no food, the children got sick and we had to borrow money from our neighbour. From time to time the loan increased and we didn't have the money to repay it. Our local Commune Disability Representative (CDR) met with our family during a community meeting, and then visited us at home. The CDR discussed our case at the commune council office and worked with us to develop a business plan. The CDR then proposed and advocated for this plan during commune, district, and provincial meetings. Authorities subsequently visited our family, and they provided funding for our small business. We now run a noodle shop, which earns us between 20,000 and 40,000 Riel a day ($5–10). Being able to save some money, we started another small business repairing and cleaning motorcycles, which earns us an additional 30,000 Riel a day. We paid back our outstanding loans and, more importantly, our daughters can now attend school regularly.