Large-scale campaign to identify and enrol children with disabilities in Senegal
Solution

Full Participation of Children with Disabilities in Education Programme (APPEHL)

Organization

Humanity & Inclusion Senegal

Country of Implementation

Senegal

Region

Africa

Subregion

Subsaharan Africa

City

Casamance (Ziguinchor, Kolda, Sedhiou)

Start Year

2012

First published

31.01.2020
"Thanks to training on deafness and sign language, I better understand the difficulties my son faces, and this has greatly improved my relationship with him!" Kardiatou, President, Pikine Parents of Children with Disabilities Association, and mother of Ameth
Humanity & Inclusion is an international development NGO based in France. In 2012, the country team in Senegal initiated the Promoting the Full Participation of Children with Disabilities in Education (APPEHL) programme, which works at multiple levels with individual children and families, with teachers and schools, and also in influencing policy regarding Inclusive Education. The programme, which is funded by public funding agencies, has trained over 2,000 teachers and supported 45 schools to be more inclusive.
Problems Targeted
For many children with disabilities in Senegal, mainstream schools are physically inaccessible, and their teachers do not receive the necessary training to support them.
Solution, Innovation and Impact
Programme staff work to identify primary schoolchildren with disabilities in rural and urban areas and refer them to health specialists. Identification of out-of-school children is done through awareness-raising campaigns run by local disabled peoples' organizations, along with home visits. Staff work with the children and their families, and take on the management of the social, educational, and health needs of those children who require the most support. To date, more than 1,500 children have received assistance, for example, with glasses, assistive devices, and physiotherapy. In addition, 224 parents of deaf children have been trained in deafness and sign language. The APPEHL programme also offers Inclusive Education training sessions, which have been delivered to over 2,000 teachers. This training uses the existing expertise of teachers in the specialist school system so that their knowledge can be used to make the wider school system more inclusive. Furthermore, APPEHL works to improve the physical accessibility of schools and provides adapted learning materials for children with disabilities in mainstream schools.
Funding, Outlook and Transferability
The project has been funded by the French Agency for Development since 2015, with co-funding from the Ministry of Foreign Affairs of Luxembourg since 2018. This €500,000 funding provided for Inclusive Education projects in Senegal, runs until the end of 2021. The practice has been replicated by other NGOs and associations working in various regions of Senegal, done in close collaboration with the Ministry of Education and its decentralized bodies. Future plans are to further extend the programme to all regions of the country.
Pictures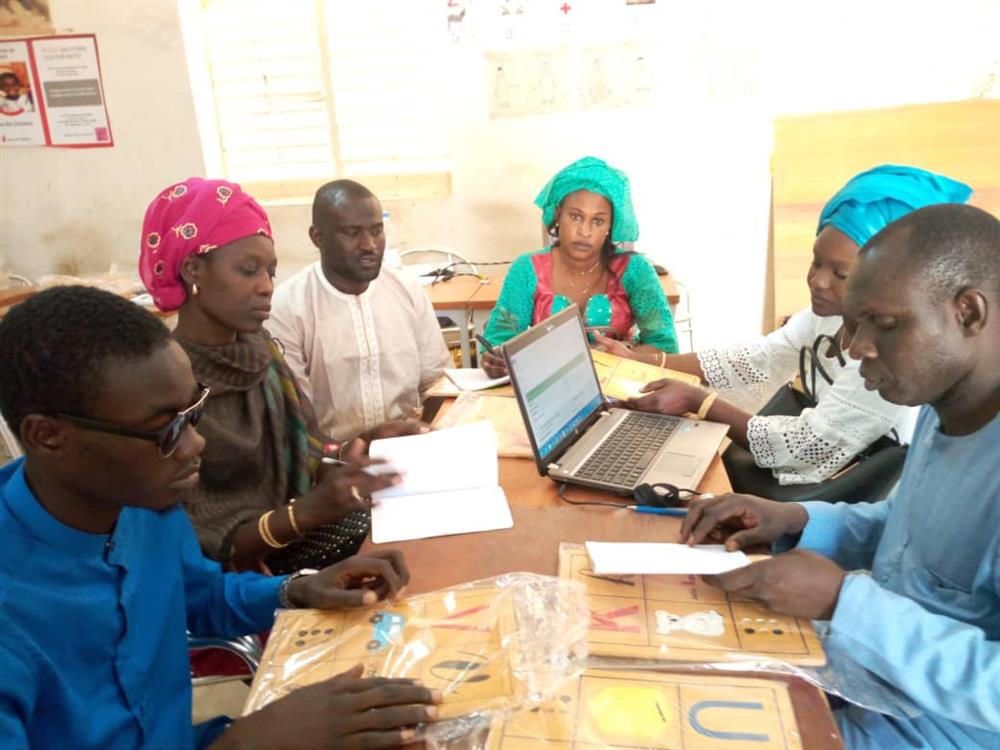 Sign language training for parents and teachers
Videos
Downloads
THE STORY OF MARIÈME (13), USER OF THE APPEHL PROGRAMME OF HUMANITÉ & INCLUSION
"I am studying in a mainstream school, working with a school assistant trained in sign language."
I am 13 years old and live near Dakar in Senegal. My parents and four of my six siblings are deaf, and I have been unable to hear since birth. Three years ago I was alone at home as I had to stop attending the only school in the area that offered literacy classes for deaf children. Now, with the help of Humanity & Inclusion, I am studying in a mainstream school. I have a school assistant trained in sign language who helps me in the classroom and with my homework. I love learning at school and was very proud to have completed my first year of school as the first in my class. I have just completed my third year (CE1) and am moving into CE2. When I grow up I want to graduate and go to work in the factory office where my father works as a handyman.
Region of Implementation
Africa