Increasing Access to Health and Education Services for Children
Solution

Inclusion Clubs

Organization

SEHATI Sukoharjo Community Group

Country of Implementation

Indonesia

Start Year

2011

First published

31.01.2019
"We attract families who will fight to improve things for children with disabilities, but we also work with the community and government as well. That makes us excited to continue." Listri Sedyaningsih, Manager of the Permata Hati Inclusion Clubs
SEHATI Sukoharjo, an NGO in the Sukoharjo district of Java, Indonesia, has developed an Inclusion Club model that uses existing local resources to support children with disabilities in rural villages. Inclusion Clubs bring together village officials, health and education professionals, and children with disabilities and their families to build local capacity and exchange skills, such as simple therapies and education exercises, so families can support their children at home. Between 2011 and 2018, SEHATI replicated the Inclusion Clubs in eight areas of Sukoharjo and had 224 children with disabilities enrolled.
Problems Targeted
Children with disabilities living in Indonesia's rural villages have limited access to health and education services, as these are usually expensive and based in cities.
Solution, Innovation and Impact
Before establishing an Inclusion Club, SEHATI carries out village data collection exercises with key local stakeholders to understand the needs of local children with disabilities. It then invites these children and their families together with local government, health and education representatives, as well as members of the community to discuss the data. Together, they develop local family disability forums, which meet monthly to build family confidence and increase family knowledge around child disability. These forums decide the activity of the weekly Inclusion Clubs, where local resources are mobilized to build capacity and develop skills in the community. Families are trained in early detection of disability and in simple therapies and educational exercises they can perform at home. Volunteer teachers and health professionals, such as physiotherapists and speech therapists, run training sessions and return to the Inclusion Clubs periodically to check in with families and monitor their progress. Each child has a record book to track the therapies he or she has received, to list any actions needed, and to record developments. The result has been improved health outcomes for children with disabilities, such as a reduction in seizures, improved speech and increased mobility, as well as improved literacy levels.
Funding, Outlook and Transferability
The Inclusion Clubs are mainly funded through individual donors in the community and some support from local businesses, with additional support from village government to cover some of the costs of health professionals and educators. Families attending the Inclusion Clubs also pay a membership fee of Rp 5,000 ($0.35) per month. SEHATI has replicated the Inclusion Club model in eight subdistricts in Sukoharjo. Key elements needed to replicate the programme are the collection of disability data in the area and the establishment of the local family disability forums. In Sukoharjo, the support of local government has also underpinned successful replication.
Pictures
Committed learning and mobility training in the Inclusion Club.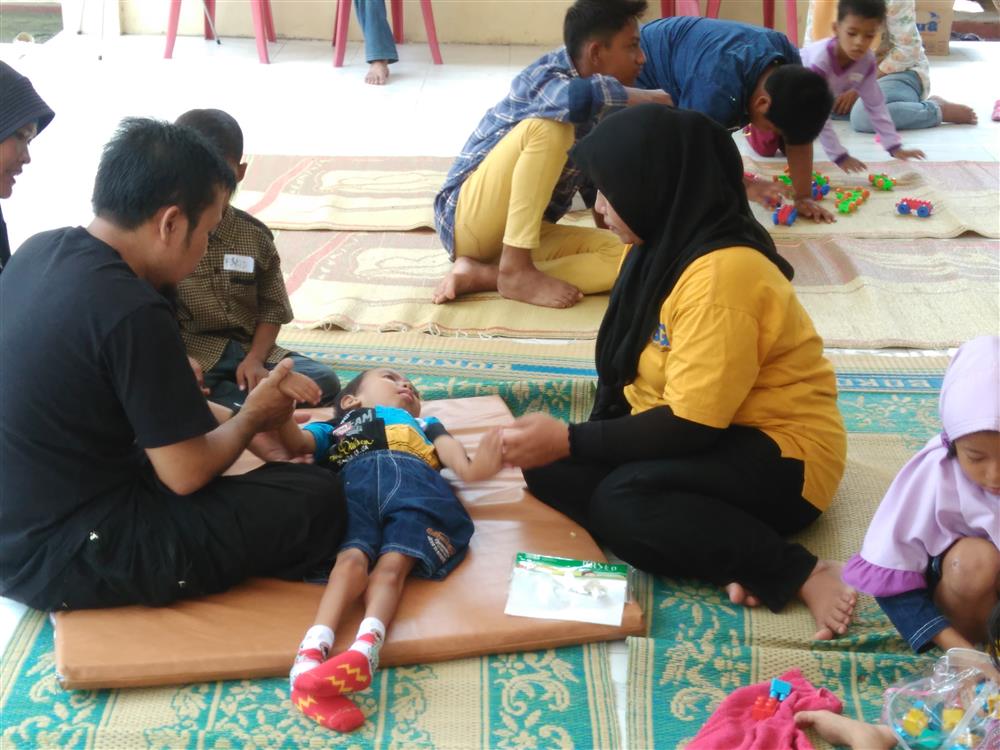 Videos
Downloads
THE STORY OF MUSLIKAH, MOTHER OF SEPTIANA AND A MEMBER OF THE PERMATA HATI INCLUSION CLUB
"The volunteer therapists have taught Septiana to sit, walk, colour, write, draw, and play with other children."
My name is Muslikah and I live in the village of Mranggen, located in the Polokarto subdistrict of Sukoharjo, Java. My daughter, Septiana, was born prematurely and had a delay in her motor development. I went to the hospital several times to get a therapist service, and one day I was invited to the Permata Hati Inclusion Club in Polokarto. At that time Septiana was three years old, but she could only sit up and still needed help. Every Saturday, Septiana practices and studies at the Inclusion Club. The volunteer therapists have taught her to sit, crawl, stand, and walk. She also practices colouring, writing, reading, and drawing, and she plays with the other children. In addition, the club volunteers have taught me how to practice with her at home. Now Septiana is five and she can walk 100 metres independently and even attends kindergarten.