App facilitating citizen reporting of accessibility barriers
Solution

Accessibility App

Organization

COCEMFE - Spanish Confederation of People with Physical and Organic Disabilities

Country of Implementation

Spain

Region

Europe

Subregion

Western Europe

Start Year

2014

First published

13.01.2021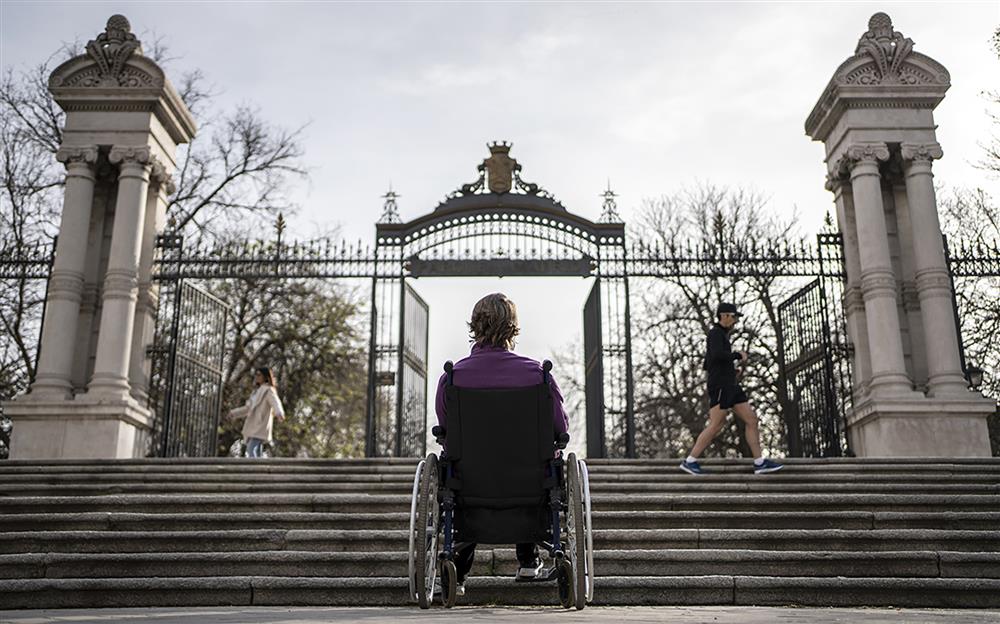 "Mobility must follow accessibility criteria, highlighting the importance of removing barriers." Anxo Queiruga, President, COCEMFE
In 2014, La Confederación Española de Personas con Discapacidad Física y Orgánica (COCEMFE), a Spanish non-governmental umbrella organization, and Vodafone Foundation developed AccesibilidApp, a mobile app enabling citizens to report accessibility barriers in any built environment to COCEMFE, and COCEMFE then mediates with the entities responsible for its management and maintenance. From 2019 and 2020 a total of 2,331 incidents have been reported by 1,355 users across Spain.
Problems Targeted
Despite a 2017 law requiring all public spaces in Spain to be accessible, compliance is low and there is no system to report barriers.
Solution, Innovation and Impact
AccesibilidApp is free and fully accessible through any computer or mobile device. To report an outdoor incident in a public area the user registers its location and postcode, classifies the type of barrier that has been encountered by using a predefined list (e.g., damaged pavement, poor lighting, faulty traffic lights), and adds a photo and description. Accessibility barriers can be reported across Spain. All incidents are received by COCEMFE, and a local COCEMFE organization mediates with the city council or other entity responsible for resolving the issue. Notably, the reporting person is kept informed about the process. A prototype was created in 2014, which was redesigned for better accessibility and usability in 2019. It is in use throughout Spain, and COCEMFE has cooperation agreements on the local, regional, and provincial level for the management, mediation, and resolution of incidents. In 2019 and 2020, 1,355 users have reported 2,331 incidents. Only 15 have been resolved.
Funding, Outlook and Transferability
The Vodafone Foundation financed the initial design and development of the app, which is now managed and maintained entirely by COCEMFE. Cooperation agreements have been signed with the city councils of Alcañiz (Teruel), Pamplona, Soria, Caspe (Zaragoza), and León. COCEMFE aims to establish more cooperation agreements with local authorities and COCEMFE-affiliated organizations across Spain for incident management. In response to COVID-19, COCEMFE adapted the app in April 2020 to be used to report accessibility barriers related to new public health measures, such as test station accessibility.
Pictures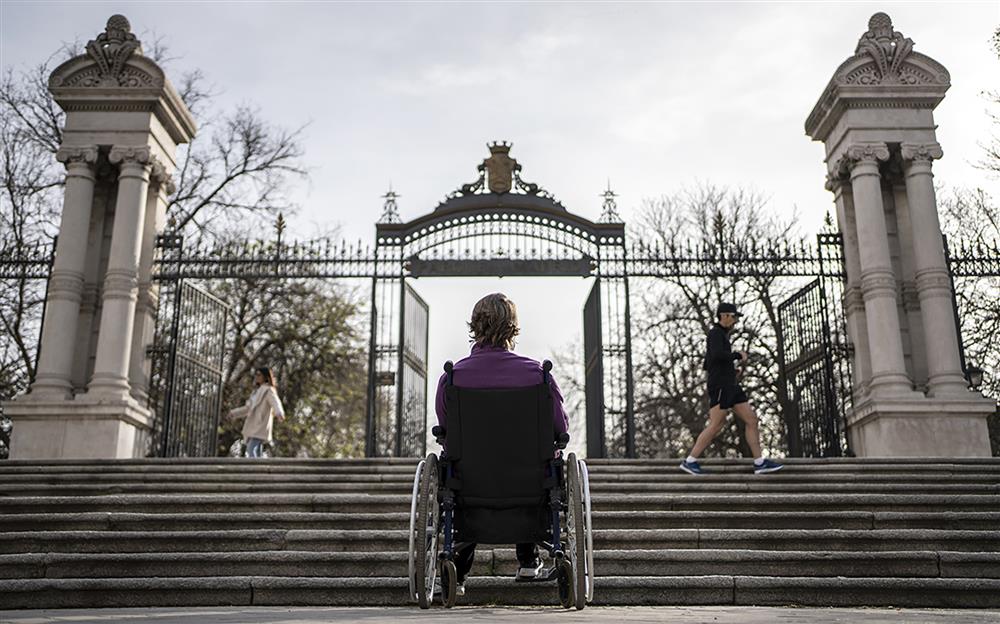 A woman in a wheelchair faces a flight of inaccessible stairs at Retiro Park in Madrid.
Videos
Downloads