One-year preparation programme for children with disabilities to enter mainstream schools
Solution

School Preparation Programme

Organization

Al Hussein Society - Jordan Center for Training & Inclusion

Country of Implementation

Jordan

Region

Asia & Pacific

Subregion

MENA

City

Amman

Start Year

2009

First published

31.01.2020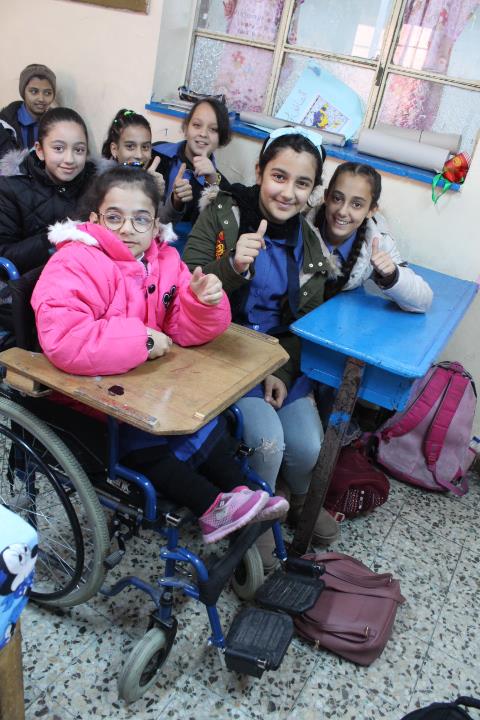 "Tears of joy started to fall when I entered the school because I never thought that my daughter could learn like everybody else." Mother of Tuleen
The Al Hussein Society is a leading Jordanian NGO that provides a range of rehabilitation and educational programmes and services for people with disabilities. Since 2009, the society has run an intensive one-year course to prepare children with disabilities for joining mainstream schools. A multidisciplinary team provides services such as tuition and therapy, followed by an assessment. Since the beginning of the program until 2019, 111 children with disabilities enrolled in the program, with 77 admitted to mainstream schools.
Problems Targeted
Children with disabilities who are not exposed to environmental and educational stimulants might not be accepted in mainstream schools based on below average IQ assessments.
Solution, Innovation and Impact
The one-year intensive programme provides children aged 6–10 and their families with a tailored programme to support their learning via such services as occupational therapy, assistive technology, and support from special education specialists, along with the creation of individual education plans. The services are designed to help children to prepare for and pass the entrance exam, which students with disabilities must take in order to be admitted into grade 1 of mainstream schools in Jordan. Since the programme began, the Al Hussein Society has been successful in integrating an average of 65 per cent of children into mainstream schools, with a rate of almost 85 per cent in the latest academic year, 2018/19. Aside from its focus on school admittance, the programme improves students' behaviour, participation in society, and social skills development.
Funding, Outlook and Transferability
Funding for the Society comes mostly from its implementation of developmental and humanitarian projects using international donations, which provides 70 per cent of the project budget. The rest comes from contributions by caregivers and government funds. Additional income is derived from the Society's gift shop, events, and donations. Replication of this practice is possible if the same circumstances can be created, for example, a suitably trained network of rehabilitation and therapy professionals, plus parents willing to support their children in learning the skills necessary for first grade. In the future, the Al Hussein Society plans to share the model and results of the practice with all institutions, associations, schools, and decision makers in Jordan and the wider Arab world.
Pictures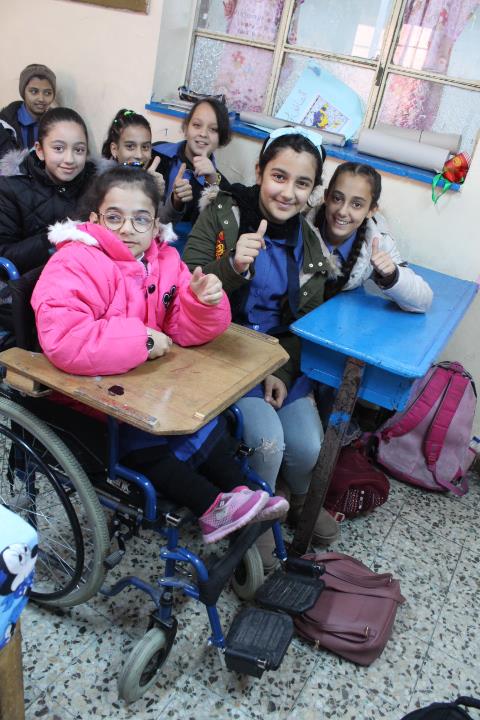 All services are designed to support children with disabilities to pass the school entrance exam.
Videos
Downloads
STORY OF TULEEN AL MASRI (12), USER OF AL HUSSEIN SOCIETY PROGRAMMES
"She now takes part in all the school's activities, such as playing, studying, and communicating."
Tuleen Al Masri is a 12-year-old girl with a physical disability (congenital malformation plus osteoporosis) and currently a sixth-grader at a public school in Amman, Jordan. When she was five her father submitted an application for Tuleen to attend the Al Hussein Society (AHS) school. Her grades did not allow her to join in the first grade, but she was enrolled in a preschool skills class. One year later, she got a much better grade when she re-applied for the IQ test. Tuleen was extremely shy and didn't know how to communicate with her classmates. When she first entered the preschool skills class, she used to take her sandwich and eat it without any company. But all that has changed. AHS runs classes that aim to empower all personalities, helping them to share ideas and talk with each other. After AHS, Tuleen moved to a nearby public school and now takes part in all school activities, such as playing, studying, communicating, and much more – including with friends without disabilities. All the teachers, students, and classmates love her and are very cooperative.
Country of Implementation
Jordan
City of Implementation
Amman