Mobile phone-based information sharing service about accessible opportunities in rural India
Solution

Namma Vaani

Organization

Enable India

Country of Implementation

India

Region

Asia & Pacific

Subregion

South Asia

Start Year

2016

First published

31.01.2018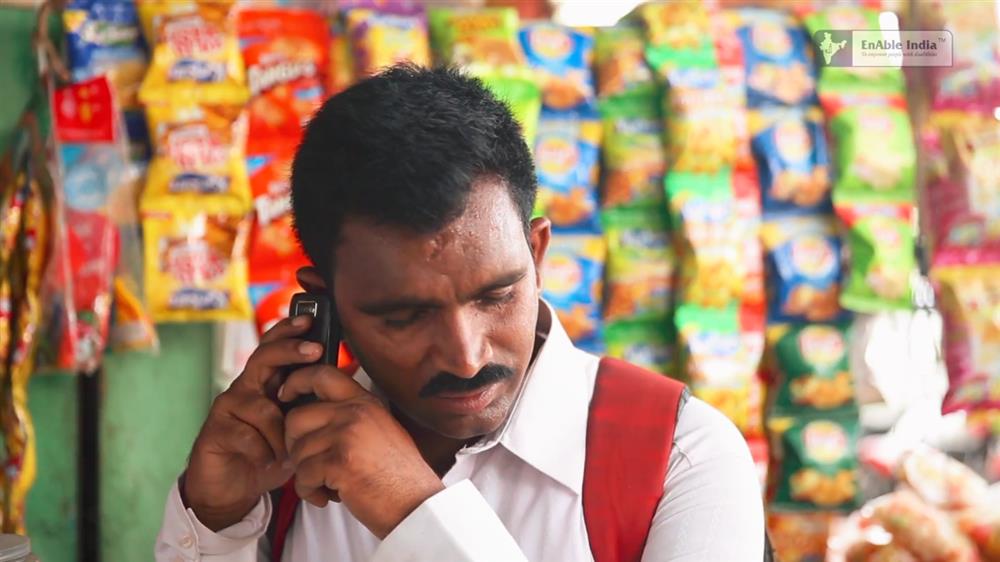 "I call Hamari Vaani at least seven to eight times a day, and I learn a lot from each and every call." Kalicharan, a person with vision impairment, Madhya Pradesh
Enable India is a non-profit organization based in Bangalore, India, active in 28 Indian states and working towards economic independence and dignity for people with disabilities. The organization has developed a mobile phone-based information sharing service called Namma Vaani, which allows users to listen and respond to recorded voice messages from the disability community regarding education and employment opportunities, workplace solutions, enhanced life skills, and more.
Problems Targeted
Persons with disabilities living in India's rural or marginalised areas have little or no access to information that could help improve their lives, such as finding suitable education and employment opportunities, new life skills, and government assistance schemes.
Solution, Innovation and Impact
Namma Vaani (meaning "our voice") is a voice-based social network, where information is shared via mobile phones (no smartphone and web-access needed) for the disability community in rural and marginalised areas of India. NGOs, private companies, persons with disabilities, parents, and other enablers record and upload voice messages, which are then accessed by the system users. The content is managed centrally by Enable India staff, who moderate and publish the information to the service. The information relates largely to employment opportunities, but also includes messages such as education and training opportunities, workplace solutions, life skills, government schemes, and inspiring stories. This allows information to be spread easily, quickly, and at a low cost. Those who are interested in the opportunities can record a reply message into the phone. Use of the system has spread to all 30 districts of the Karnataka state in western India. As of mid-2017, Namma Vaani has received over 218,000 calls from 15,500 unique callers who have recorded over 12,000 inspiring personal stories.
Funding, Outlook and Transferability
Namma Vaani was first launched in Kannada, the official language of the Karnataka state, and a Hindi version (Hamari Vaani) was introduced in mid-2017 in Hindi-language states. In the first month of operation, Hamari Vaani received more than 2,500 calls from over 1,000 unique callers. Both Namma Vaani and Hamari Vaani receive corporate funding, which covers the cost of producing the two systems and their annual operation (approximately $ 50,000 US Dollars per system). Corporate funding is provided as part of the requirement that businesses in India with annual revenue of over 1.5 million US Dollars give 2 per cent of their profits to charitable causes. The ongoing maintenance of the systems requires only basic interactive voice response technology plus a few employees to monitor and moderate messages.
Pictures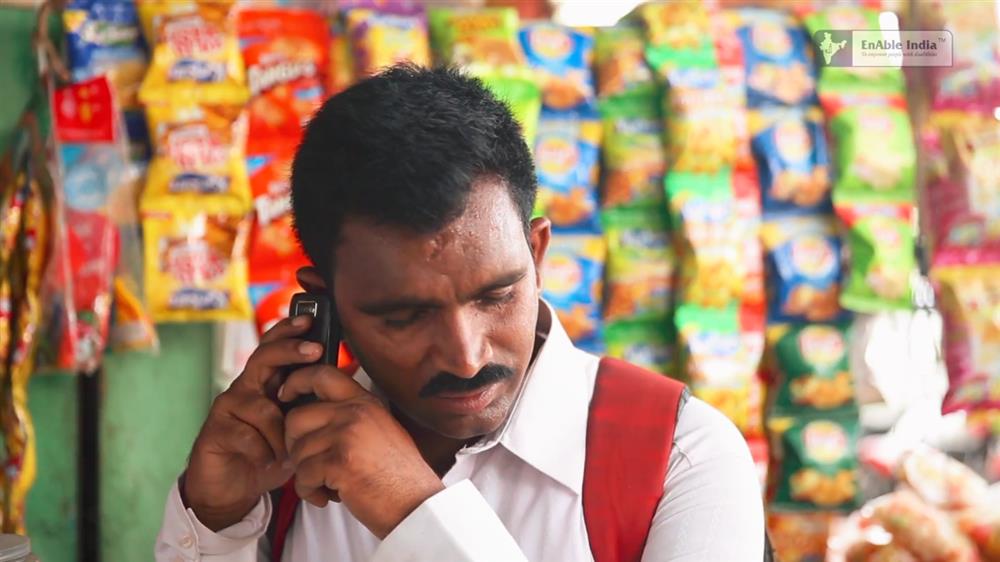 Using mobile phones (no smartphones needed) to share, learn, and inform, moderated by the Namma Vaani staff.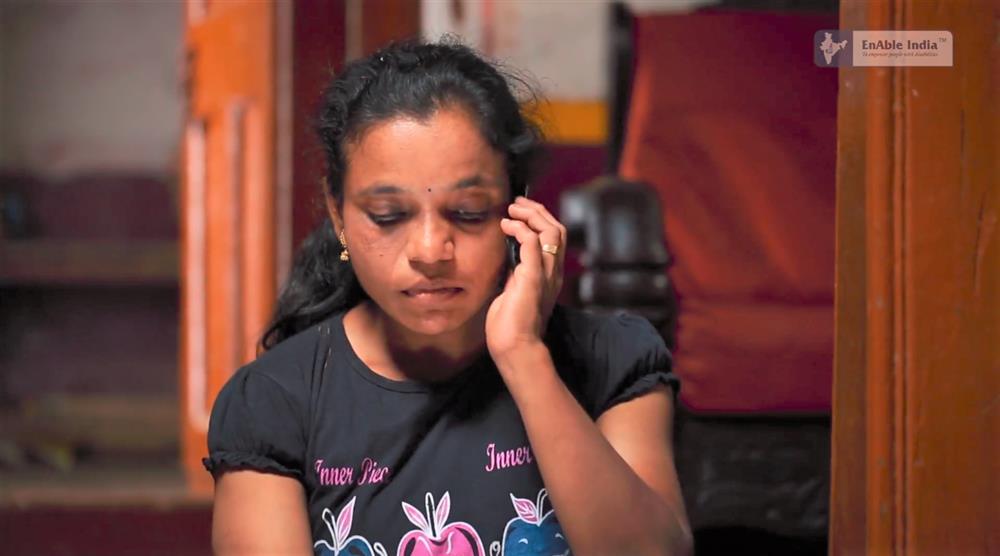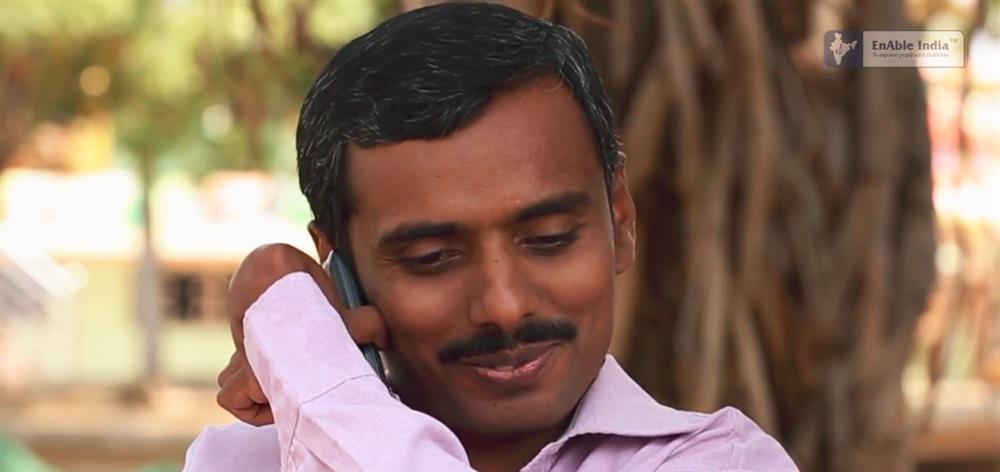 Videos
Downloads
THE STORY OF RAMU, NAMMA VAANI USER
"I am not only earning money, I found dignity."
I am Ramu, and I run a musical troupe along with my wife and my three brothers (who are also blind, like me). We've never received any formal education, but we have all learned music. We formed this troupe last year, when our father, a daily wage labourer, passed away and we were not able to run the household with the disability pension we received. The music troupe has helped us to utilize the skills we'd developed over many years. However, we had no idea where we'd perform, so we would per- form on roadsides, and people would pay us whatever they thought fit. We got only a few hundred rupees – not enough for all of us. When I told my friend about this problem, he made me call Namma Vaani, and I knew I had found the right platform for me and my family. Through Namma Vaani, I heard stories of other persons with disabilities who had found solutions to overcome their barriers and had become financially independent, and I received advice on how my brothers and I could live a life of dignity and independence. When I decided to record a clip about my troupe, offering to perform at events, I wasn't expecting much out of it. Imagine my surprise when we booked six events within one month – all through Namma Vaani! We earned 30,000 rupees, finally enough money to arrange for a critical operation for my niece, who was rapidly losing her eyesight. I still post frequently on Namma Vaani. We have five more events lined up, and I'm sure we'll get many more in the future. I started this journey thinking that as long as I could earn money, I would be fine, but I found something much bigger – dignity. I now have a platform where I can speak and be heard, and I now actively seek out the opportunities I want, instead of waiting for opportunities to be given to me.