Providing accessible books and learning materials to blind students
Solution

Audiobook Programme

Organization

YPSA - Young Power in Social Action

Country of Implementation

Bangladesh

Region

Asia & Pacific

Subregion

South Asia

City

Chittagong

Start Year

2013

First published

31.01.2020
"With this initiative, YPSA came a bit closer to its dream of building a fully accessible and inclusive society where people with disabilities can live independent lives." Vashkar Bhattacharjee, Team Leader, YPSA
Young Power in Social Action (YPSA) is a Bangladeshi NGO that supports poor and vulnerable populations, mainly in the city of Chittagong. In 2013, YPSA started a project to make books available in accessible formats for students with visual and print disabilities. The project uses globally accepted standards for audiobooks and open source technology to convert books into audio formats, while also partnering with international organizations to make existing audiobooks available. As of 2019, YPSA has created some 1,000 audiobooks and made a further 500,000 already existing audiobooks available to students in Bangladesh.
Problems Targeted
Students with visual impairments in colleges and universities of Bangladesh have difficulties in studying due to a lack of accessible books and study materials.
Solution, Innovation and Impact
The project uses international publishing standards, such as Digital Accessible Information System (DAISY), Electronic Publishing (EPUB 3.0), and open-source technology, to convert textbooks into accessible formats. College and university students can access either e-books that are readable through any screen reading software, or audio versions of books, making it a cost-effective solution for accessing educational reading material. The project is run by a team composed of over 80 per cent people with disabilities. YPSA also works closely with Bookshare, a virtual library of accessible books (another Innovative Practice of the Zero Project 2020), and the Accessible Book Consortium, a global alliance of organizations working to make books accessible to persons with disabilities. Through this global cooperation, the project has created an immense library of already-accessible books available to students in Bangladesh, benefiting more than 10,000 people. The organization has also made suggestions to the National Curriculum and Textbook Board on accessible publishing.
Funding, Outlook and Transferability
There is no charge to the end user for the books as the project is funded by external donors, most notably the World Intellectual Property Organization (a body of the United Nations) and the Accessible Book Consortium. YPSA also received technical assistance and training from the DAISY Consortium and a2i (Access to Information) of the Bangladesh Government. YPSA plans to make more books accessible and to make them more widely available. The Government of Bangladesh funds many such initiatives under the banner of Digital Bangladesh. YPSA is also working to establish a National Accessible Library to make more books available to everyone.
Pictures
Recording an audio book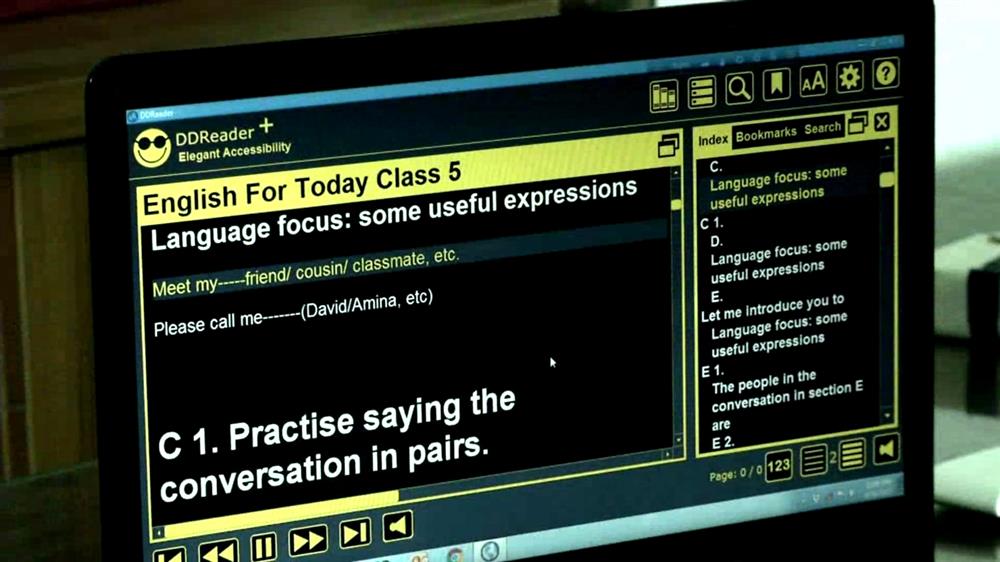 Videos
Downloads
THE STORY OF UMME SALIMA CHOWDHURY, BENEFICIARY OF YPSA'S CAPACITY-BUILDING INITIATIVE
"Using DAISY digital books helped me find a goal in my life."
My name is Umme Salima Chowdhury. I have three sisters, and all four of us are blind since birth. However, I am from a prosperous family. During my time at the Muradpur government school for the blind and later during my college life, like other visually impaired persons in Bangladesh, I faced tremendous obstacles regarding my studies. At that time the reading materials were not available apart from a few Braille books, and there were never enough copies. Reading materials in Daisy, E-Pub, accessible audio, or digital Braille were out of the question. Eventually, I passed the SSC level exam in 2006, and two years later I passed the HSC exam from Chittagong Government City College. Later, I completed my Master's degree in 2015 from the department of Sociology of the University of Chittagong. In the meantime, I came in contact with YPSA and I became one of the hundreds of beneficiaries of the organization's capacity-building initiative. It was also the turning point in my life, because after being involved in this project I found my life's goal, which is to become a teacher. I feel much more confident, and I have enrolled for my BA in Teachers Training College, Chittagong. This project has changed the lives of hundreds of visually impaired persons like me by producing and distributing DAISY digital talking books along with relevant training.