Workplace adaptations for the blind as a business service
Solution

Workplace Adaptation

Organization

VIDEBIS GmbH

Country of Implementation

Austria

Region

Europe

Subregion

Western Europe

Start Year

2016

First published

13.01.2021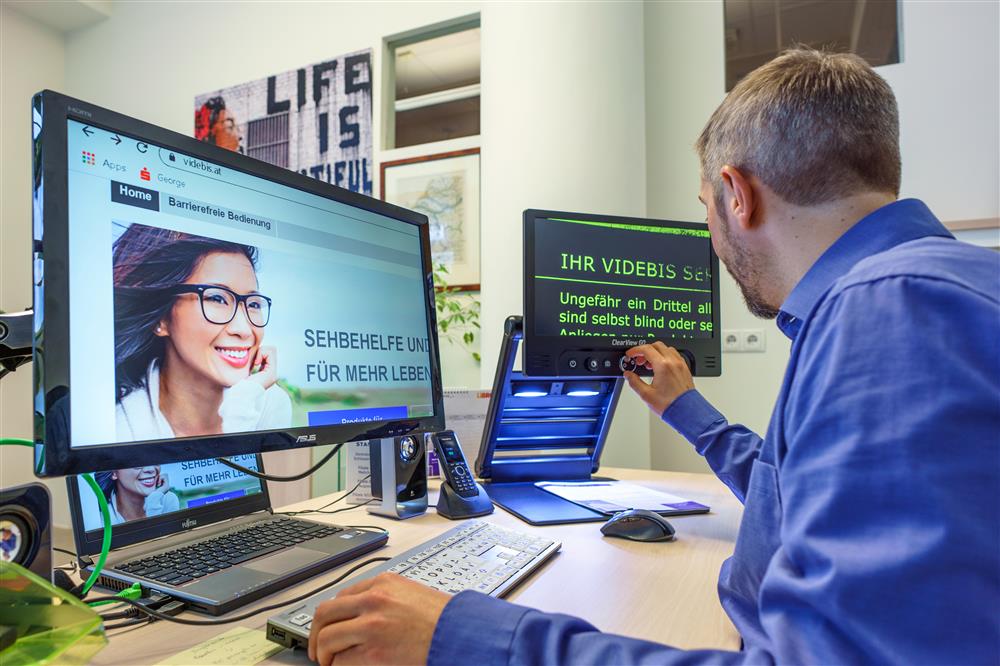 "I am very comfortable in the course of your care and support." Kristina Ivanovic, a Videbis client
Videbis Gmbh, an Austrian company launched in 2000, provides visual aids, products, and software solutions tailored to the individual needs of persons with low or no vision. Through its hardware and software solutions, companies can create an accessible workplace for its employees, and jobseekers can find employment based on their actual qualifications. From 2016 to 2019, Videbis has equipped a total of 1,082 workplaces for persons with visual disabilities.
Problems Targeted
People with visual disabilities in Austria have difficulty finding and/or retaining employment due to the lack of accessible equipment in the workplace.
Solution, Innovation and Impact
Videbis has a broad team of experts, such as specialized opticians, Braille system specialists, and software technicians, who work with clients to determine the best suitable solutions for them. They also assist in finding the best means to finance the devices and even provide the option to rent equipment. Depending on the solution and intervention, the client undergoes training to use the software or hardware in the state of the art Videbis headquarter. The range of products includes barrier-free lighting, electronic aids, software adaptation, and suitable work glasses, among others. In 2020 there are nine Videbis employees who are blind or with low vision. They are involved in the development of the company's solutions, and thus use their own experiences in the application of assistive technologies. From 2016 to 2019, Videbis adapted approximately 350 workplaces per year and supported over 2,000 persons with disabilities in their workplace.
Funding, Outlook and Transferability
In 2018 and 2019 combined, Videbis generated over € 2.2 million in sales from its workplace equipment. The company has opened three additional branches and is now operating in Vienna, Linz, Graz, and Innsbruck. New headquarters were opened in 2019, hosting a showroom in which equipment can be tried out as well as seminar facilities. Videbis is following the latest trends in ICT developments, and employees often adapt the required software to the specific needs of the visually impaired/blind user. The company also advises some software manufacturers on accessibility. Videbis aims to maintain existing jobs for blind and visually impaired people and create new jobs for the young.
Pictures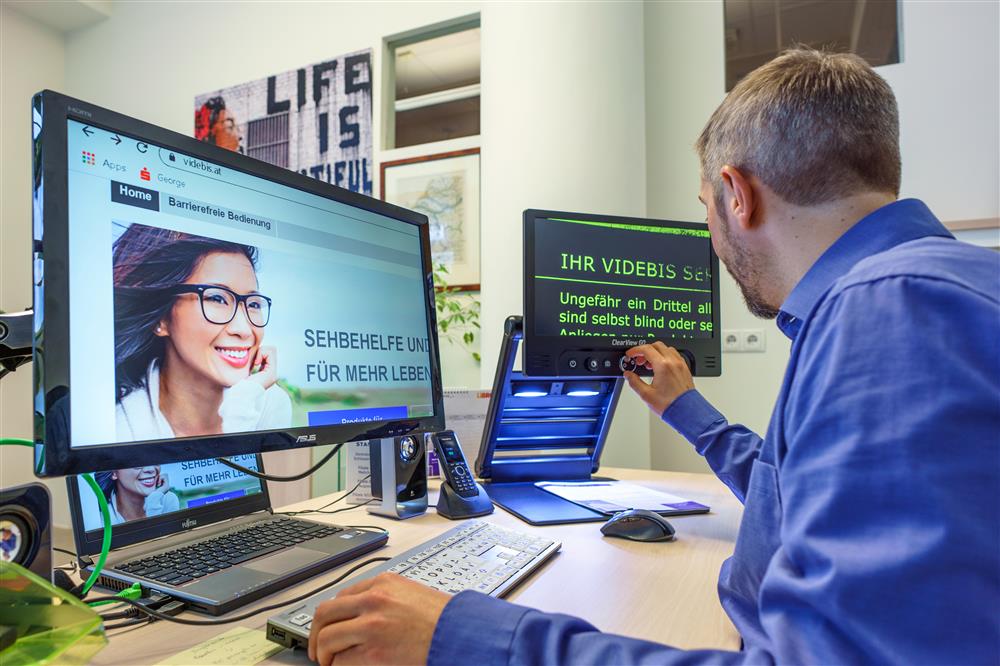 A working station is prepared for a visually impaired person.
Videos
Downloads