Grassroots self-advocacy for children through self-created comics
Solution

Grassroots Comics

Organization

CHAI - Catholic Health Association of India

Country of Implementation

India

Region

Asia & Pacific

Subregion

South Asia

City

8 states

Start Year

2015

First published

31.01.2020
"An innovative, cost-effective, and replicable method that provides great opportunity for direct representation of children and youngsters with disabilities." Vishal Gupta, Senior Programme Manager
The Catholic Health Association of India (CHAI) is the largest non-profit health care provider in India after the Indian Government. CHAI joined Grassroots Comics in a project that teaches children with various disabilities how to develop and produce hand-drawn comics on paper as a medium for self-expression and a tool for self-advocacy. The Grassroots Comics movement was initiated by World Comics India, and CHAI has been trained to develop the grassroots comics. Since 2016, more than 1,000 Grassroots Comics have been created by children with disabilities in India each year.
Problems Targeted
Children with disabilities in India – especially those living in rural areas – lack access to education, housing, and sanitation; experience exclusion from families and communities; and have limited opportunities to express themselves.
Solution, Innovation and Impact
Grassroots Comics offers an alternative form of communication that allows children with disabilities to express their personalities and opinions. The children begin with four days of comic development training with attendants to help in translation, communication, and articulation of the issues. The training starts with a brainstorming session about the word "disability," and the children then learn some examples on how to draw the human head and how to make drawings more expressive by adding text balloons. After this initial training, children draw their own story on paper, including the various narrative elements such as an introduction, development, drama/plot twist, and conclusion. After the completion of training, children are encouraged to train other children with disabilities in their communities. The A3-sized (30 x 42 cm) comics are displayed in various locations in the children's communities; and CHAI compiles booklets of these comics, which are sent to government officials and other stakeholders. The number of comics produced annually has steadily grown, from about 1,000 in 2016 to 1,500 in 2018.
Funding, Outlook and Transferability
The cost of setting up Grassroots Comics in 2015 was $64,000, which included training sessions, producing the comics, a communications campaign, and monitoring. The Liliane Foundation covered about 90 per cent of the costs, and CHAI, as implementing partner, covered the remainder. Since then is has been integrated into CHAI´s regular budget, without requiring additional funds. The comics themselves are inexpensive to produce, using locally available resources such as pens, paper, and a photocopier machine. CHAI has trained other organizations to replicate the practice, and as of 2018 the project has been successfully undertaken with CHAI's partner organizations in eight out of 29 states in India. Going forward, the NGO plans to replicate the practice with 60 more partner organizations across India.
Pictures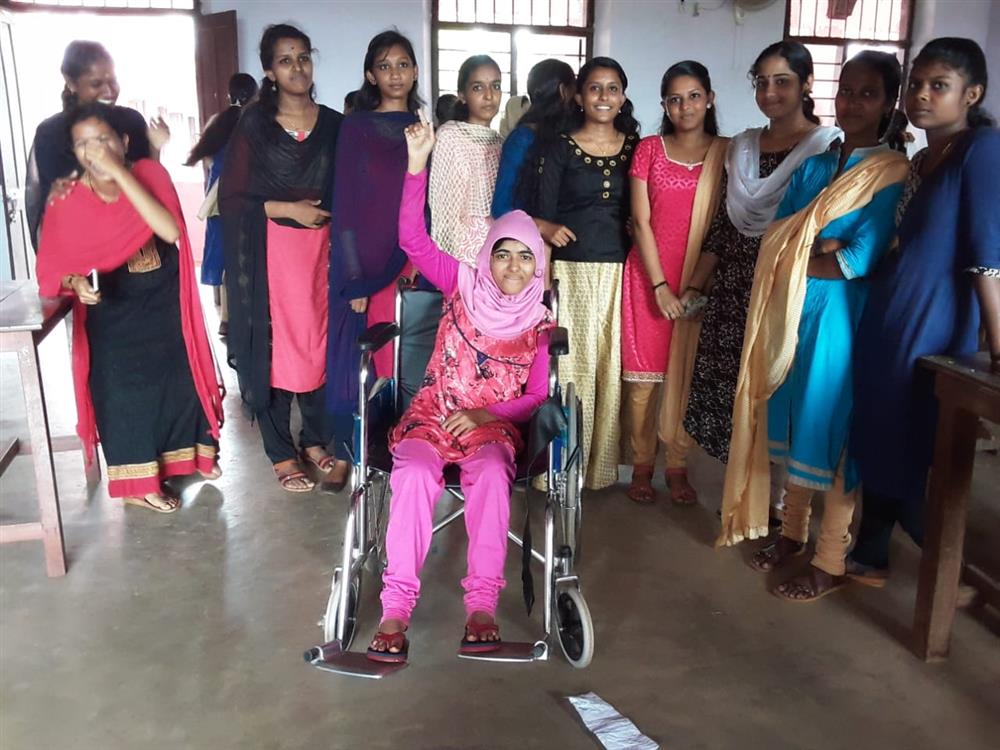 Drawing your own comics with peer support
Videos
Downloads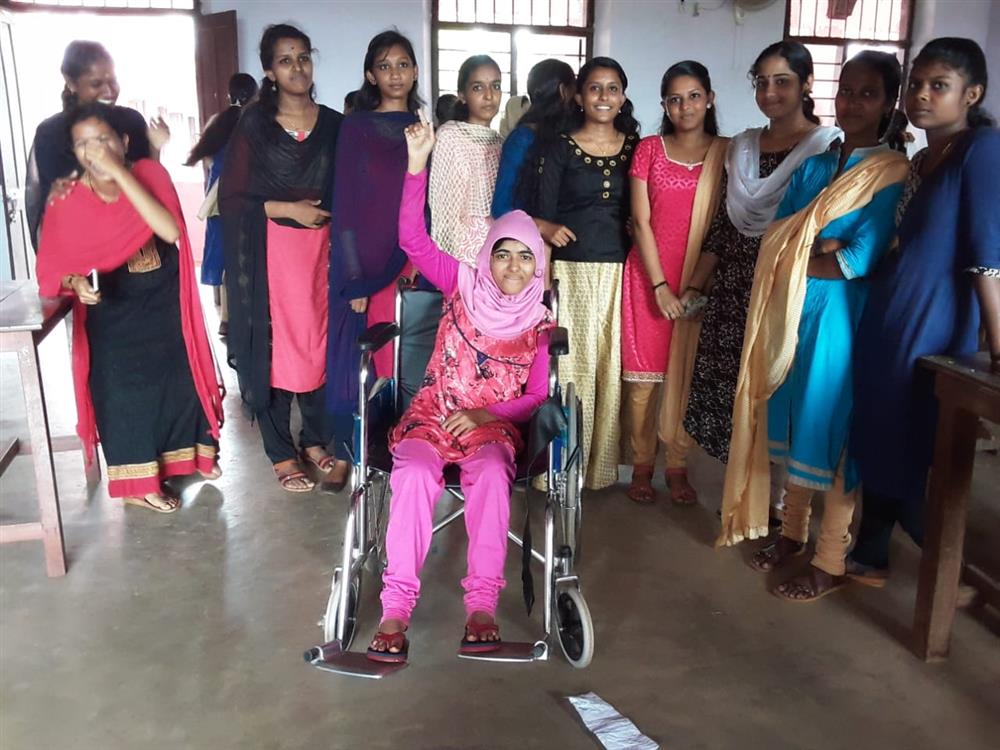 THE STORY OF FATHIMA SUBAIR (20), PARTICIPANT IN THE GRASSROOTS COMICS COURSE OF CHAI
"We drew comics about our lives and held an exhibition in the college."
My name is Fathima Subair, born with cerebral palsy and now using a wheelchair. My small family consists of my father, mother, and a sister. My father is a diabetic patient and he is unable to work. My mother does agricultural work and is engaged in goat rearing and backyard poultry farming. Currently, I am a second-year economics student in St. John's College, Anchal. Unfortunately, however, there is no ramp or lift to go to classrooms. Therefore, my classmates would carry me to the second-floor classrooms. I also faced difficulties in using the toilets. There are four other youngsters like me with disabilities at this college, all with similar difficulties. In August 2018, with the support of CHAI [Catholic Health Association of India] and its partner organization [Punalur Social Service Society], we all participated in a grassroots comics programme. We drew comics about our lives and held an exhibition in the college. As a result, the students and teachers came to better understand the practical and emotional difficulties of the students with disabilities. For example, the second-year economics classroom was moved to the ground floor, and modifications were made so that I can use the toilet with my wheelchair without any difficulty.
Country of Implementation
India