Alternative ways for successful job applications
Organization

ECDD - Ethiopian Center for Disability and Development

Country of Implementation

Ethiopia

Region

Africa

Subregion

Subsaharan Africa

Start Year

2013

First published

31.01.2017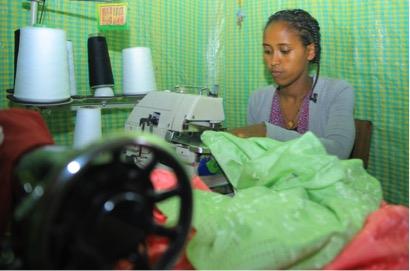 "My old self would not have been able to imagine where I am now. I have started writing a better story for myself and my family – with a new vision to be productive in leather production. I will be a model for others with disabilities." Ms. Roda Nersedin, an ECDD trainee
Problems Targeted
Employment opportunities in Ethiopia are very limited for persons with disabilities, especially in the private sector. The limited awareness of companies, lack of exposure of employers on hiring persons with disabilities, and the limited number of skilled persons with disabilities are some of the major barriers.
Solution, Innovation and Impact
ECDD collaborates on the ISTEP programme with public TVET institutions and facilitates inclusive vocational training opportunities. It has also collaborated with the company Info Mind Solutions to create a system that delivers job opportunity information to job seekers with disabilities via alternate dissemination methods, such as text messages. In the ISTEP programme, ECDD offers job-hunting training for job seekers with disabilities. Typical jobs for people with disabilities include metalwork, woodwork, welding, food preparation (restaurant), building-block production, tailoring, leather goods production, plumbing, laundry service, and hairdressing. All jobs are available in the open labour market and are paid at least minimum wage. Another effective strategy for ECDD to facilitate formal employment opportunities for new graduates with disabilities is through arranging internships. Sixty interns who were placed in private companies through the ECDD ISTEP project were later retained or hired by the host organizations.
Funding, Outlook and Transferability
ISTEP has been funded by the United States Agency for International Development with US$150,000 per year. Currently, ECDD is also participating in a flagship project known as "EmployAble," which is supported by Light for the World and is being implemented in Kenya and Rwanda as well.
Pictures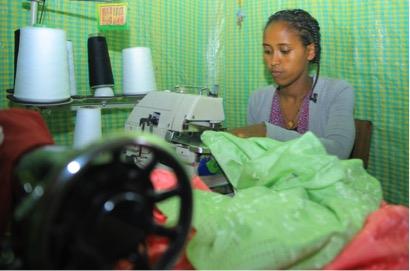 All jobs are available in the open labour market and are paid at least minimum wage. © Natenel G/mariyam, Ethiopia
Downloads
THE STORY OF LUKAS ZIDA, STUDENT COUNSELLOR
A blind shepherd boy, now with full employment at a high school
Lukas Zida was born and raised at Boditi Woreda, a short distance outside of Wolaita town. As a young shepherd boy, Lukas was attacked by an angry cow, which resulted in his total blindness. Although his father lost hope for the boy's future, by studying hard Lukas managed to graduate from secondary school, and then from Hawassa University with a degree in sociology in 2014. After graduation, however, Lukas was frustrated by lack of employment. He found it difficult to cover the cost of transportation and a personal assistant to apply for announced job vacancies. Worse, even when he did apply he was always turned down by recruiters because of his disability. Fortunately, it was at this moment that Lukas was recruited by the Ethiopian Centre for Disability and Development to be a beneficiary of its Inclusive Skills Training and Employment Programme, funded by the US Agency for International Development. The programme offered Lukas three days of job search training before placing him in an internship in a government bureau for six months. During the internship, Lukas was provided with an allowance to meet the cost of transport and a personal assistant. The training and internship helped Lukas develop his work capacity by equipping him with both theoretical knowledge and on-the-job training in a formal working environment. After successfully completing his internship and passing an exam, Lukas is currently employed at Otana High School as a student counsellor. As he reports, when he returned to his village for the first time after being employed, the residents were amazed at his success.