Hotel employment and training for persons with psychosocial disabilities
Solution

Wesenufer Hotel & Seminarkultur an der Donau

Organization

Pro Mente Oberoesterreich

Country of Implementation

Austria

Region

Europe

Subregion

Western Europe

Start Year

2008

First published

10.02.2023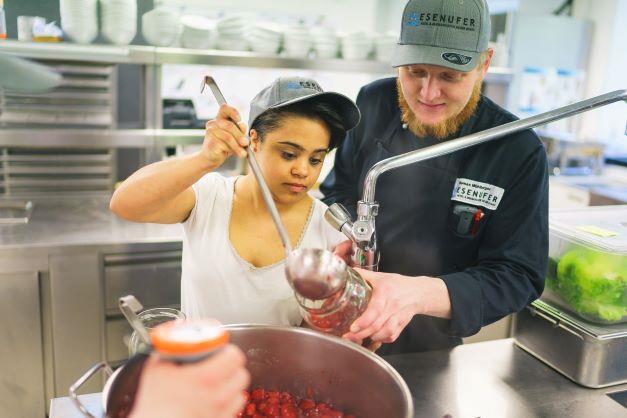 "Every person should be given the opportunity for meaningful employment according to their individual potential." Margarete Durstberger, Manager, Wesenufer Hotel & Seminarkultur an der Donau, pro mente OÖ
Pro mente, an NGO based in Upper Austria, opened the Wesenufer Hotel & Seminarkultur an der Donau in 2008. Wesenufer Hotel is a medium-sized seminar hotel that employs persons with psychosocial disabilities and trains and supports them in a multi-professional manner, often leading to full employment. Due to the expansion of the hotel, the number of employees with a psychosocial disability has grown from 20 to 54 by September 2022. The project has received multiple awards in Austria.
Problems Targeted
Persons with psychosocial disabilities in rural areas often lack support structures and opportunities for training and employment.
Solution, Innovation and Impact
The Wesenufer Hotel offers seven work models to persons with psychosocial disabilities, including vocational trainings apprenticeships and temporary or permanent jobs. Employees work in all aspects of the establishment's hotel, restaurant, and conference services, during which time they develop their professional and social skills. An interdisciplinary team of social workers, pedagogues, and personal coaches support them, all of whom also offer life-skills trainings, such as personal hygiene. Temporary workers and apprentices often go on to be hired as permanent employees. In 2019 the hotel expanded its capacity to 96 beds. Along with its five conference rooms and restaurant, this expansion allowed the hotel to more than double its number of employees with disabilities, from 20 to 54. The Wesenufer Hotel is the first and only hotel in Austria that offers this model of employment, skills development, and support to persons with psychosocial disabilities.
Funding, Outlook and Transferability
The Wesenufer Hotel is 75 per cent self-financed by revenues from the hotel and restaurant. The remaining 25 per cent is covered by public-sector clients, such as the State of Upper Austria and the Public Employment Service of Austria, for the purchase of services, as the training courses within the different employment models are called. The hotel aims to further promote the employment of persons with psychosocial disabilities in decent service industry jobs and to raise awareness of its model. The project can be replicated in other locations in Austria and abroad, as long as it is adapted to the local context and provides specialist support.
Pictures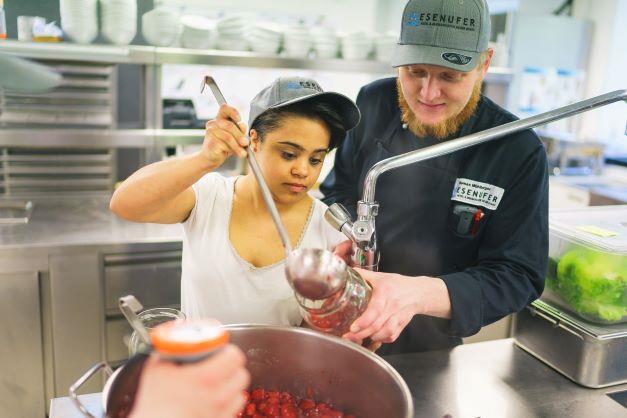 The Wesenufer Seminarhotel employs and trains people with psychosocial impairments.
Downloads