Inclusive job preparation and placement in the media & entertainment sector
Solution

Ability Enhancement Programme

Organization

AIMS Media Pvt. Ltd.

Country of Implementation

India

Region

Asia & Pacific

Subregion

South Asia

City

Bangalore, Chennai, Hyderabad, Jaipur, Jammu, Kolkata, Lucknow, Mumbai, and New Delhi

Start Year

2012

First published

13.01.2021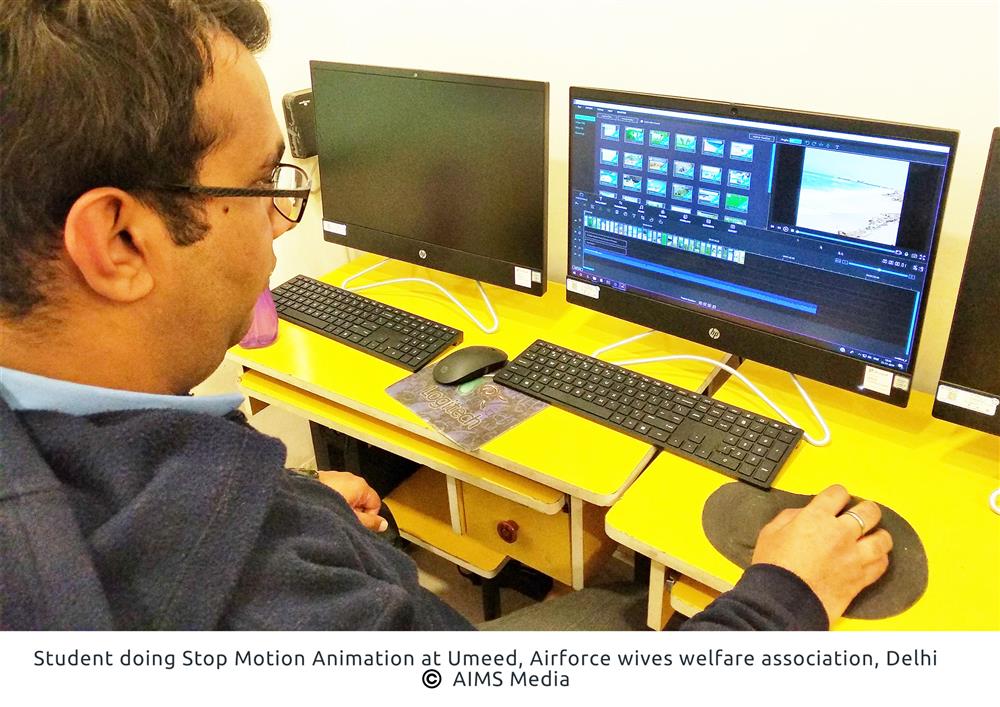 "In the era of a digital world the use of AEMP will go a long way in providing sustainable livelihoods." Dr. Hemlata Tomar, Centre for Disability Studies
Aims Media is an Indian advisory and consultancy company based in New Delhi that is supporting schools, colleges, and special schools with inclusive learning materials. The Ability Enhancement Multimedia Programme (AEMP) offers a range of courses on the subjects of technology, multimedia, and art, with the aim of placing graduates in the media & entertainment industry. From 2012 to 2020 some 5,000 persons with disabilities have been trained or have undertaken ability tests.
Problems Targeted
The media & entertainment industry in India is huge, with a great many employment opportunities, but they are rarely open to persons with disabilities.
Solution, Innovation and Impact
AEMP´s educational efforts are focussed on the media & entertainment industry, which outsources many tasks to freelancers. It aims to empower people with disabilities to build sustainable and independent livelihoods through a range of vocational programmes that teach digital and creative skills. Trainings are delivered at educational facilities, at one of AEMP's learning centres, or online. Students learn to develop their 'thinking skills', e.g., by drawing and graphic design. The project also supports and trains parents and professionals, while also offering Multimedia Workstations – a support system to connect with potential employers or clients. Training is delivered largely to people with intellectual or learning disabilities, but also those with physical disabilities and hearing impairments. AEMP has an in-house team of academics and other experts that design the training programmes. AEMP is geared towards the open labour market, and alumni find jobs in media and IT. From 2017 to 2020, AEMP has partnered with 120 educational organizations and trained more than 100 professionals.
Funding, Outlook and Transferability
AEMP is funded through the profits made selling services to schools and other establishments. The 200 association schools or institutions pay a monthly fee, and students are charged on a monthly or quarterly basis. In the coming years AEMP is aiming to deliver an art-based therapeutic programme to around 1,800 to 3,000 professionals and students to practice art as a tool for overcoming professional challenges. In addition, the project is working on a touch-screen device that will sync educational content for people with different abilities.
Pictures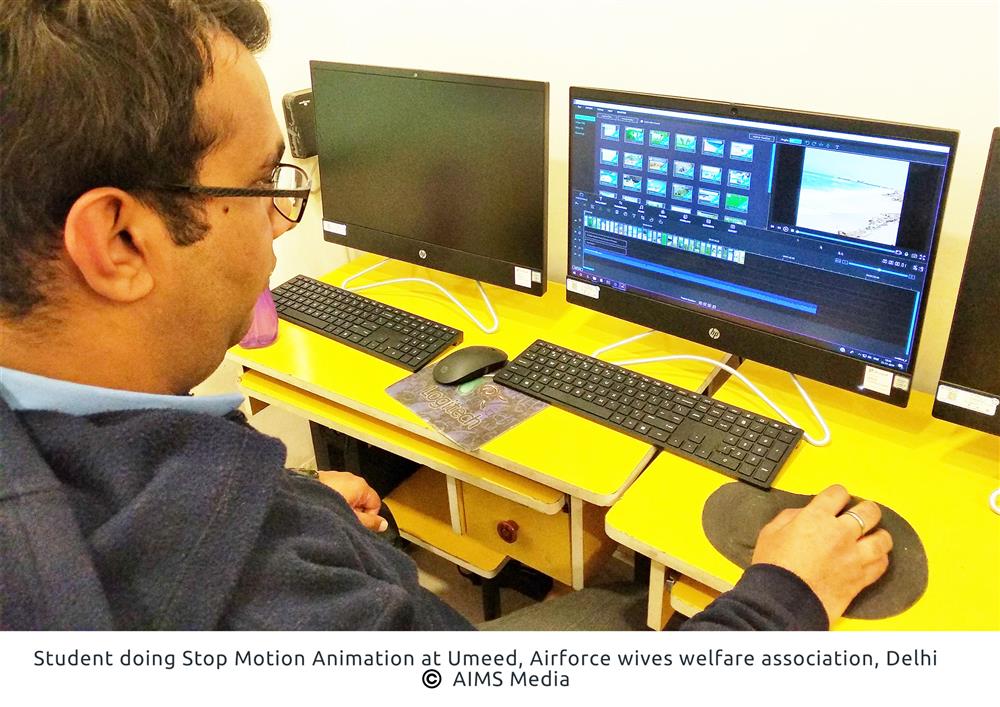 A student works at creating a stop-motion animation.
Videos
Downloads
Country of Implementation
India