Large-scale support for employers who have to meet a quota of employees with disabilities
Organization

Helm

Country of Implementation

Egypt

Region

Africa

Subregion

MENA

Start Year

2014

First published

31.01.2017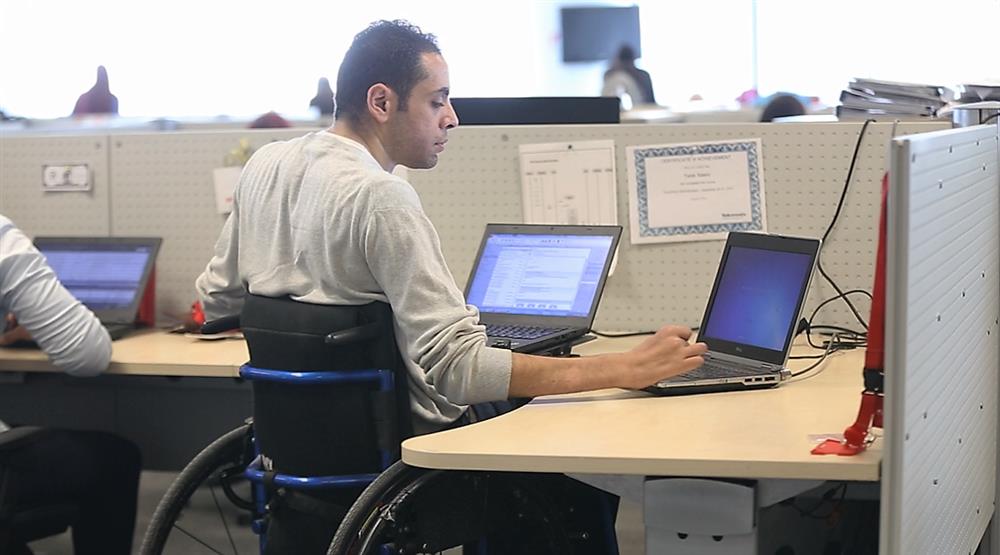 "I wish people could believe that I can live and work just like anyone else!" Ms. Nabila Yahia, a 27-year-old Egyptian woman who was born blind and is now working in the HR department of Vodafone
Problems Targeted
According to Egyptian law, companies that exceed 50 employees must meet a minimum quota of 5 per cent employees with disabilities. Yet most companies end up either paying the fine, as is the case in many other countries in the world, or even hiring a person with disability on paper, paying them a tiny salary without letting them do any work.
Solution, Innovation and Impact
To date, Helm has supported around 1,500 persons with disabilities by providing them with various opportunities to use their existing skills and to meet the needs of the open labour market through: 
 ·  Assistance in setting career goals 
 ·  Access to training opportunities 
 ·  Job placement services that best suit each individual skillset 
 ·  On-the-job training and regular follow-up with both the employee and employer 
Helm also works to change the stereotype of "typical jobs" for people with disabilities by placing its clients as HR specialists, marketing and sales professionals, and IT managers and executives, among other positions. 
At the same time, Helm has assisted some 300 employers by short-listing suitable candidates, identifying the required accommodations, and ensuring that employees with disabilities maintain their positions. Helm targets HR managers, marketing managers, and other top management 
 personnel in companies – especially those who have to apply the 5 per cent rule. Helm Foundation also makes public locations such as restaurants and hotels accessible and creates apps and websites that enable people with disabilities to find accessible places Helm's team audits each premises based on international standards of accessibility. The organization was able to assess 300 locations, making 200 of them accessible in less than a year.
Funding, Outlook and Transferability
Helm has a total budget of US$281,500 per year and has obtained civil society funding until 2017. Moreover, the organization earns revenues from companies for its services. Helms is working towards a self-sustaining enterprise after the end of its initial funding period.
Pictures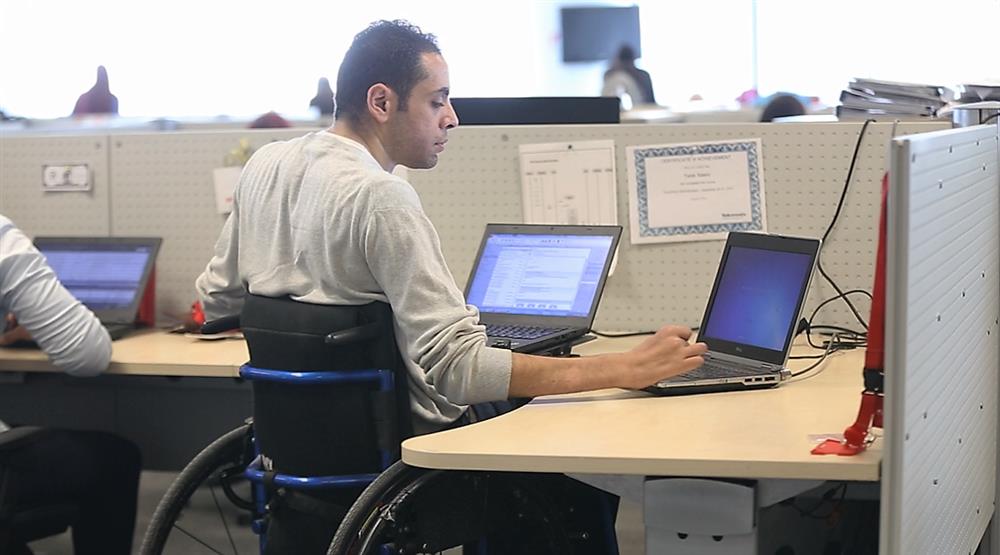 Helm assessed 300 locations, making 200 of them accessible in less than a year.
Downloads
THE STORY OF NABILA YAHIA, HUMAN RESOURCES COORDINATOR
Trusted employee, but also dedicated volunteer
Nabila is a 27-year-old woman who was born blind. Despite her disability, however, she used to work as a telesales executive at a non-profit foundation in Egypt from May 2011 till November 2015. Her dream was to become a trainer, but her goal was obstructed by her employer's misperceptions regarding persons with visual impairments. As a result, none of the vacancies she applied for gave her a chance to prove herself. Through the recruitment efforts of the Helm Foundation, Nabila now works as a coordinator in the Human Resources Department of Vodafone Egypt, a position she has held since November 2015 – and making her the first blind candidate to hold a position in the history of the company. According to Nabila, the Helm Foundation not only supported her professionally but morally as well. Nabila is now a Helm "ambassador" and one of the foundation's most dedicated volunteers. Nabila was first introduced to Helm through joining one of its scholarship programmes, which included soft skills and English language, and after that she received technical courses in the field of human resources. At the end of her programme, the foundation helped Nabila get interviewing opportunities with multiple organizations, ultimately landing her current job with Vodafone. Over the past year she has shown her direct manager and colleagues that she can perform all the required tasks of her position just like everyone else despite her disability. Over time, and through her hard work, determination, and dedication, not only was Nabila able to gain her manager's trust but she was able to change her fellow employees' views towards disability as well.