Inclusive Education rolled out throughout Ghana
Solution

Inclusive Education Policy

Organization

Ghana Education Service, Special Education Division

Country of Implementation

Ghana

Region

Africa

Subregion

Subsaharan Africa

In cooperation with

Ministry of Education

First published

31.01.2016
"Inclusive Education is not a tragedy. Ignorance is." Hon. John Majisi, Member of Parliament, Krachi Nchumuru Constituency, Ghana
Despite an overall increase in school enrolment in Ghana, some children continued to be left behind, particularly children with disabilities, who went either to segregated boarding schools or were not enrolled at all. In 2009, Inclusive Education was piloted in the Central, Greater Accra, and Eastern Region, and by 2011 it was implemented in 529 schools. To roll-out these activities, UNICEF, the Ghana Blind Union, and Inclusion Ghana commenced discussions with the Ghana Education Service, the Ministry of Education, and other stakeholders to develop a policy framework. The involvement of non-state actors was key to the policy's adoption, along with an accompanying implementation plan.
Problems Targeted
Ghana's Inclusive Education Policy, together with its comprehensive implementation plan (2015– 2019), has introduced Inclusive Education in schools countrywide. The programme has expanded from 29 districts in seven regions in 2011 to 48 districts in all ten regions by 2013.
Solution, Innovation and Impact
Social justice & cost-effectiveness 
Inclusive schools are the most effective means to combat discriminatory attitudes and to improve cost-effectiveness of the entire education system._x000D_
Sensitization & training
Ghana's policy works well in a low-income context because it sensitizes parents, communities, and staff; trains teachers in early detection techniques; and sets up support services._x000D_ 
Tracking of success 
Monitoring and evaluation is undertaken at all levels: All annually reviewed planning documents of educational institutions have to include Inclusive Education issues, including an Education Management Information System. 
  Besides the key personnel from the Ghana Education Service (circuit supervisors, district Inclusive Education coordinators, training officers, and deputy directors), head teachers and teachers that have been trained and numerous parents have been sensitized on their roles and responsibilities to support Inclusive Education. 
  Addressing the lack of data, UNICEF recently conducted an impact assessment, soon to be published. 
  A 2014 doctoral thesis noted that there is evidence of acceptance of children with disabilities into mainstream schools in Ghana, but that a number of challenges remain.
Funding, Outlook and Transferability
Inclusive Education has been or is being adopted by most members of the United Nations. Before implementing Inclusive Education on a national scale, Ghana first piloted the policy and learned what works and what does not work. Other countries of the Global South can easily decide to follow Ghana's approach.
Pictures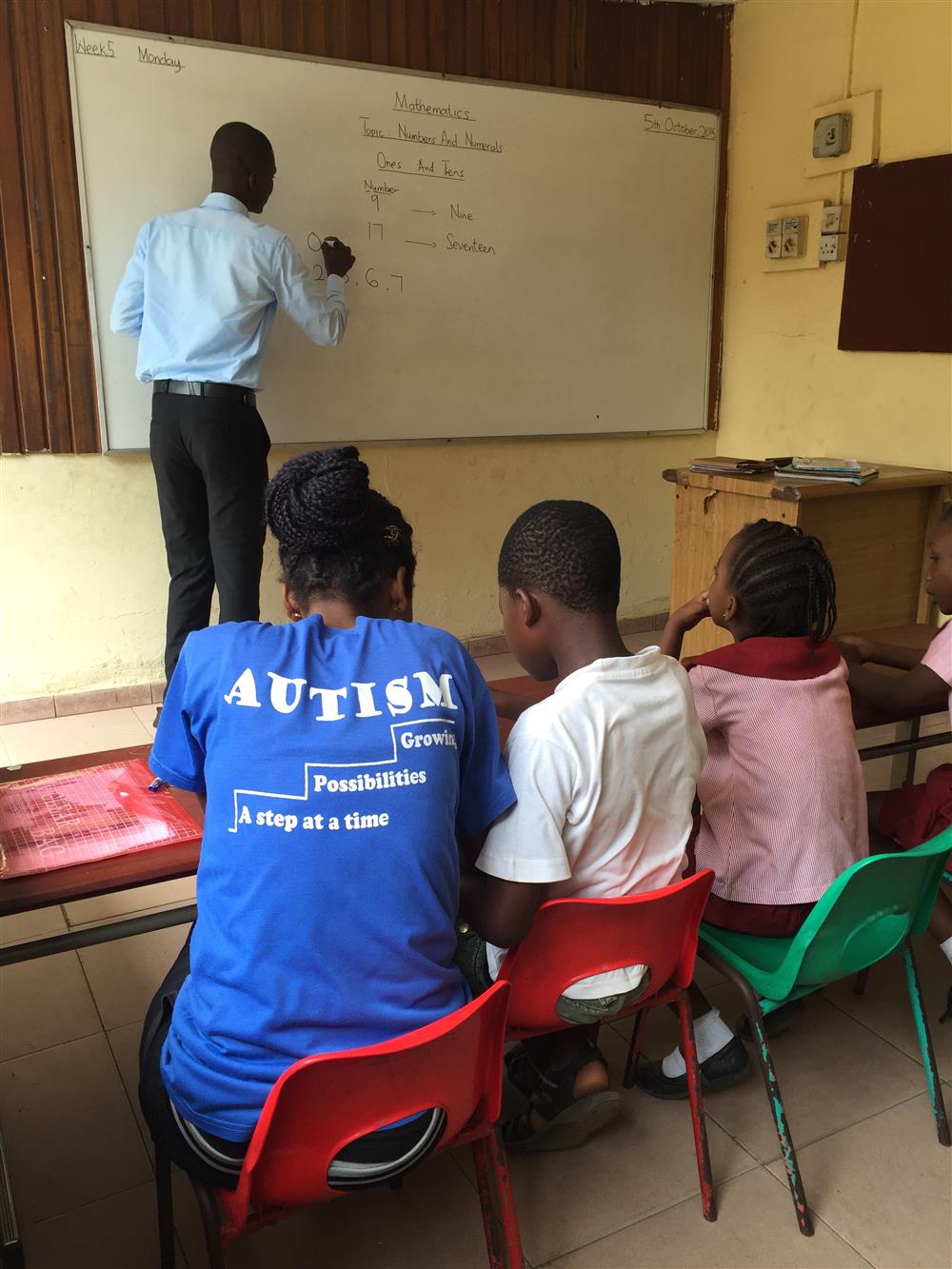 A learner with autism supported by a caregiver, participating in mainstream school. © Inclusion Ghana
Downloads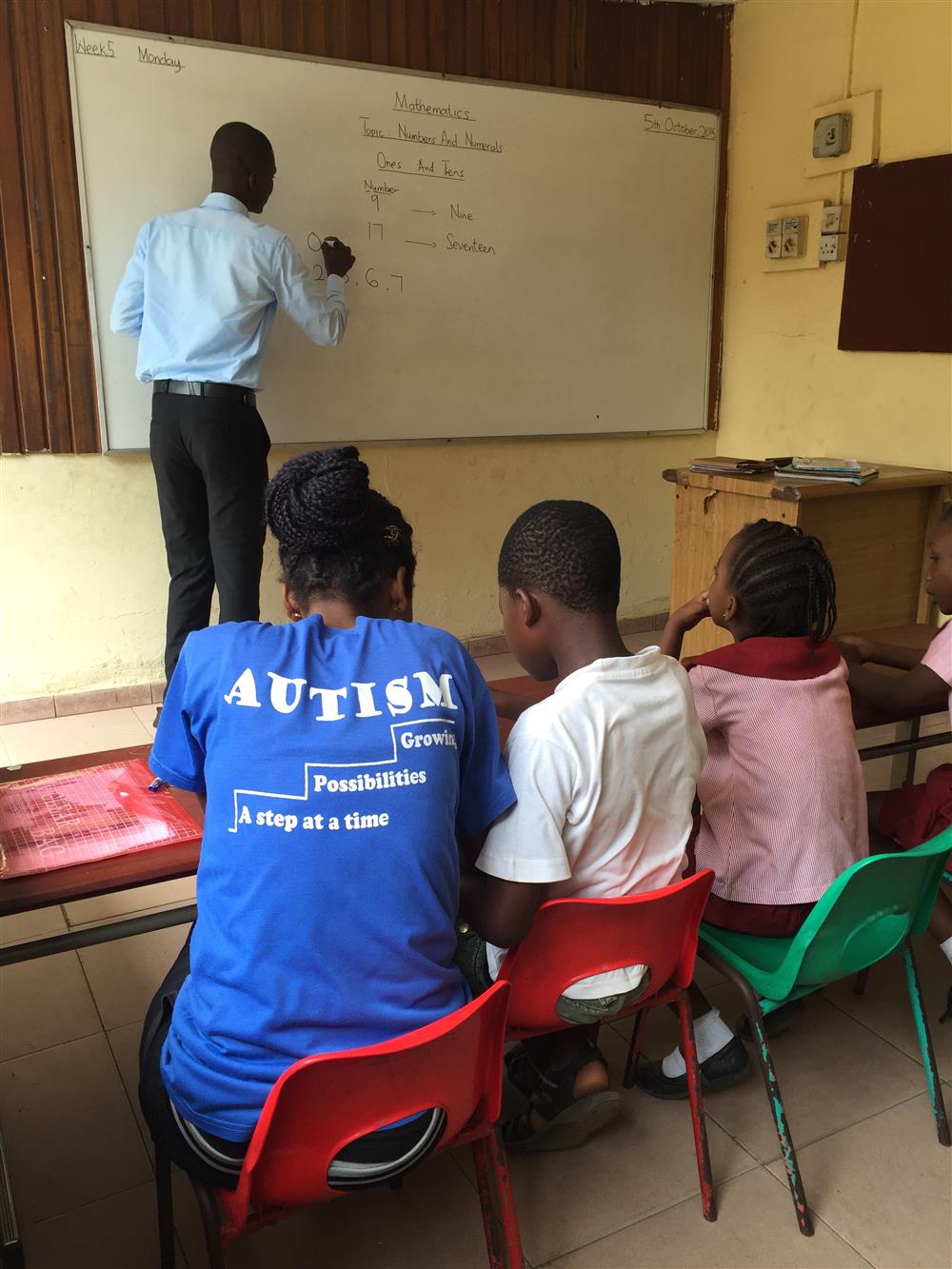 THE STORY OF KOFI
"My class became a virtual sea of pictures."
On weekends I reflect on my weekly activities. While reminiscing, my thoughts turned to a particular student who had caught my attention. I had not realized how long I had been serving as a special educator at the Anglican Primary School till my encounter with a young boy who was using a hearing aid. He approached me and we had a bit of a conversation. As I reminisced, in my mind's eye I could see him as he shyly walked into class with his head low and his face expressionless. I remembered the confusion in his eyes and his state of utmost isolation because he could not hear well while I taught the day's lessons. Gradually, I developed techniques to coax him out of his shell and to help him with his studies. My class became a virtual sea of pictures, as I used a lot more images to communicate. I recalled how I vehemently opposed the administrative decision to send him out of the school. My insistence led to the admission of a few other students like him, and soon my class had become inclusive. Other teachers learned from my example and more children like Kofi had the chance to become educated. Today, he stands before me a beneficiary of Inclusive Education. He had come to express his gratitude after learning how instrumental I was in getting him an education at the fundamental level.