Vocational training and seed capital to support entrepreneurs with deafblindness
Solution

Income Generation Activities for Persons with Deafblindness

Organization

Sense International India

Country of Implementation

India

Region

Asia & Pacific

Subregion

South Asia

Start Year

2014

First published

13.01.2021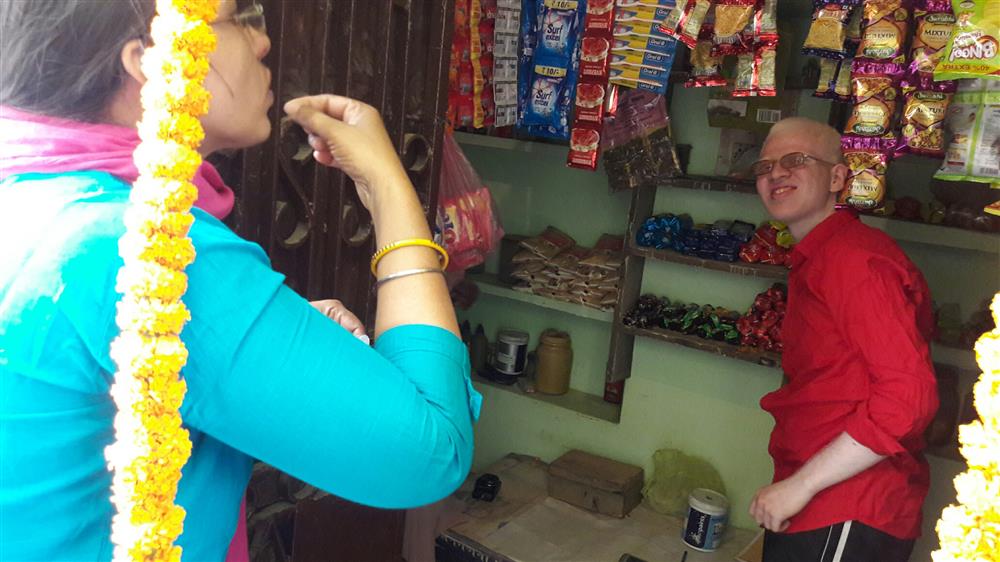 "I am delighted that my son has been employed, which has brought him excitement and satisfaction." Ramesh Kharote, parent of a child with deafblindness
Sense International India is a national NGO supporting people with deafblindness. Sense India provides vocational training and seed capital to adults with deafblindness to launch micro-enterprises in their community. It also adapts vocational training curriculum and trains vocational instructors to better respond to the needs of persons with deafblindness. Since 2014, 600 adults have been trained and 130 have received seed capital to start their own ventures.
Problems Targeted
There are limited opportunities for persons with deafblindness to acquire vocational skills or to launch their own enterprises.
Solution, Innovation and Impact
Sense International India trains participants in various trades, such as rearing cattle or retail, to help them find work or set up their own micro-enterprise. The organization works with government training agencies to adapt 12 vocational courses, and has trained 150 vocational instructors to teach adapted curricula. Adaptations include alternative communication formats, such as Braille, large print, or tactile drawings, and ensuring that assistants are available for industry visits. Trainers are informed about nonverbal communication methods, accessible learning environments, and teaching strategies. From 2014 to 2020, Sense International India has provided 130 people with seed funding, 60 per cent of whom have turned their micro-enterprises into successful ventures. It also trains families and communities to support these new businesses. Entrepreneurs report they have gained confidence and strengthened their skills.
Funding, Outlook and Transferability
The project is funded through grants from trusts, foundations, and corporations. To date, Sense International India has implemented the practice in 23 of India's 28 states. It has also been replicated in Bangladesh, and the feasibility of launching in Nepal is being explored. Sense International India wants to increase the number of women with deafblindness accessing training and seed capital. It plans to offer financial management training to adults with deafblindness and their families and to train more vocational instructors. It will also conduct a market assessment to better understand what opportunities exist for persons with deafblindness to be competitive in the open labour market to ensure training remains demand driven.
Pictures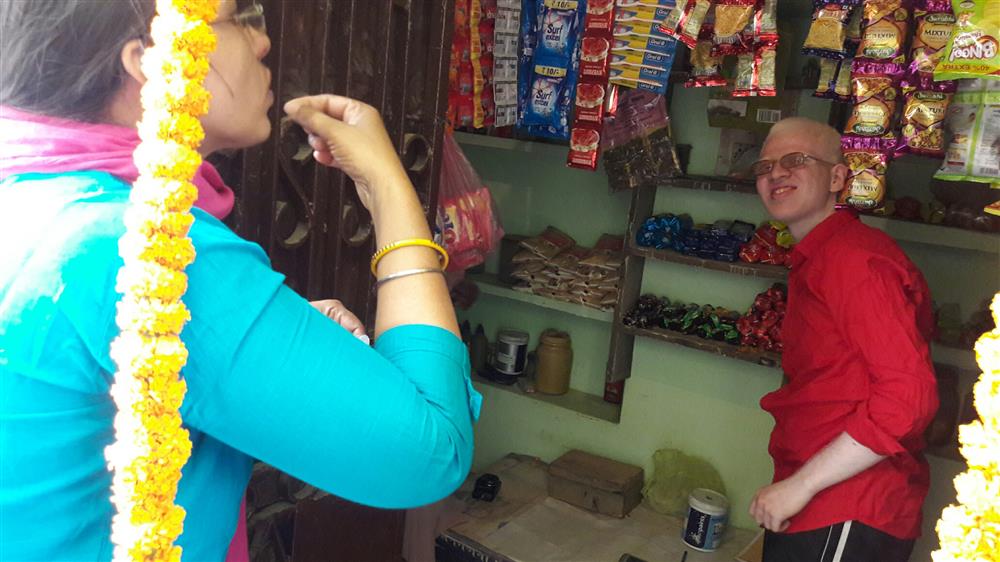 Ashish Kumar from Bihar welcomes a member of the Sense International India project team in his shop.
Videos
Downloads
THE STORY OF SANA MANYAR: ENTREPRENEUR AND ROLE MODEL
A deafblind girl starts a beauty parlour business
Loved by everyone, 19-year-old Sana Javid Khan Manyar has become a role model for the girls within her community, and is providing the services of her beauty parlour at a reasonable cost to women and girls. Sana is deafblind with a partial hearing impairment. Among all her siblings, she was best at drawing, and as a child she would often make paper lanterns and decorative items for her home. She would also practice drawing henna designs on the back pages of her school notebook. Though initially it was difficult for the vocational trainers to communicate with Sana because of her dual sensory impairment, it was Sana's determination and keen observation that allowed her to follow the instructions, complete the course work, and receive a certificate upon completion of the training. Seeing a girl with disability completing the course not only inspired other girls, community members, and trainers but it also gave them the confidence to work with other candidates with multiple disabilities. In 2019, after setting up her beauty parlour, Sana soon received her first booking for bridal makeup. She is also happy that she can support her family financially, and is now looking forward to expanding her work by offering costume jewellery for sale.