Returning Malaysians with acquired disabilities to work
Solution

Job Placement & Employment Support Services of 2008 (Return to Work Programme)
Social Security Organisation (SOCSO), Malaysia

Organization

Social Security Organisation Malaysia

Country of Implementation

Malaysia

Region

Asia & Pacific

Subregion

Southeast Asia

Start Year

2007

First published

31.01.2017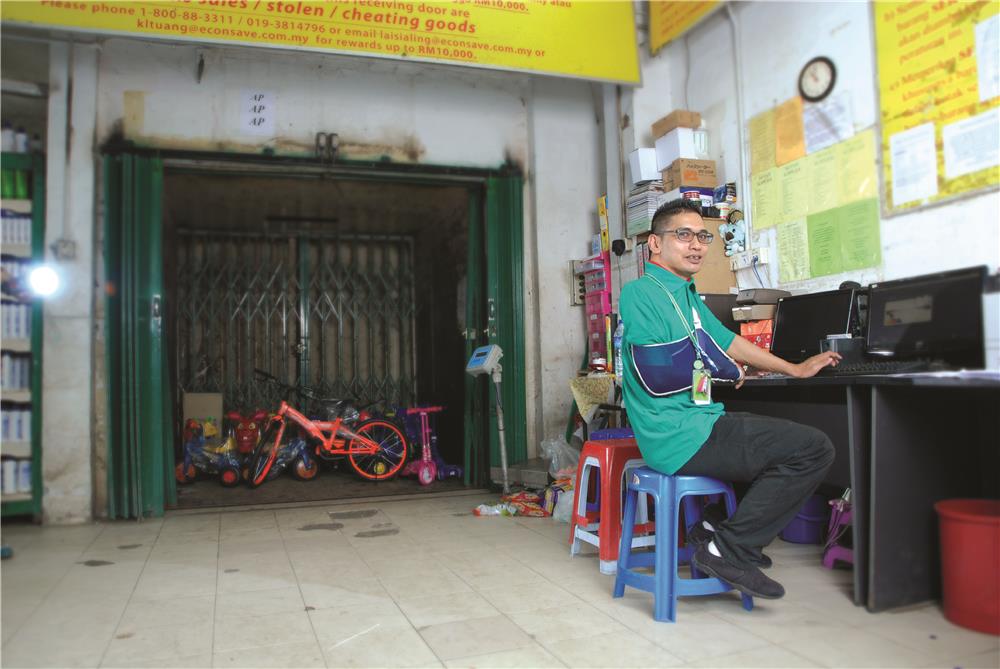 "This programme is very meaningful for those who are going through a rough time in their lives and for employers it is a social responsibility." Ms Hasiah Mohd Dom, Human Resource Executive, Mydim Mohamed Holdings Berhad
By providing job placement and employment support for workers who have acquired disabilities and, at the same, by challenging the conception of the term "not able to work," Malaysia's Job Placement & Employment Support Services initiative is promoting the return to work, and has placed 3,072 people in new jobs to date.
Problems Targeted
Under the auspices of Malaysia's Social Security Organisation (SOCSO), the Job Placement & Employment Support Services (JPESS) initiative is a component of the national Return to Work (RTW) programme, which offers comprehensive physical and vocational rehabilitation to employees suffering from injuries or invalidities. The RTW programme is the first to provide such services to those who are unable to return to their previous employers, including job placement assessments, job matching, and counsel- ling – all using a case management and multidisciplinary approach. From 2007 to 2015, SOCSO engaged with more than 10.000 companies.
Solution, Innovation and Impact
Individualised support SOCSO is the only organization that provides individualized job placement services countrywide for employees with injuries or illnesses and that builds close ties with employers, which together result in placement success.
Adequate monitoring The programme's follow-up pro- cess helps to ensure that the candidate has gained employment and is able to continue to be productive and to contribute to the economy.
Bringing everyone on board
The success of JPESS is due to the commitment of all stakeholders, including the medical staff, employers, job candidates, case managers, and job placement officers.
Funding, Outlook and Transferability
The JPESS initiative has an annual cost of €54,000– 75,000. In 2012, SOCSO was awarded the International Social Security Association's Good Practice Award (Certificate of Merit) for Asia and Pacific for its Return to Work programme and its Commuting Accident and Prevention Plan.
Pictures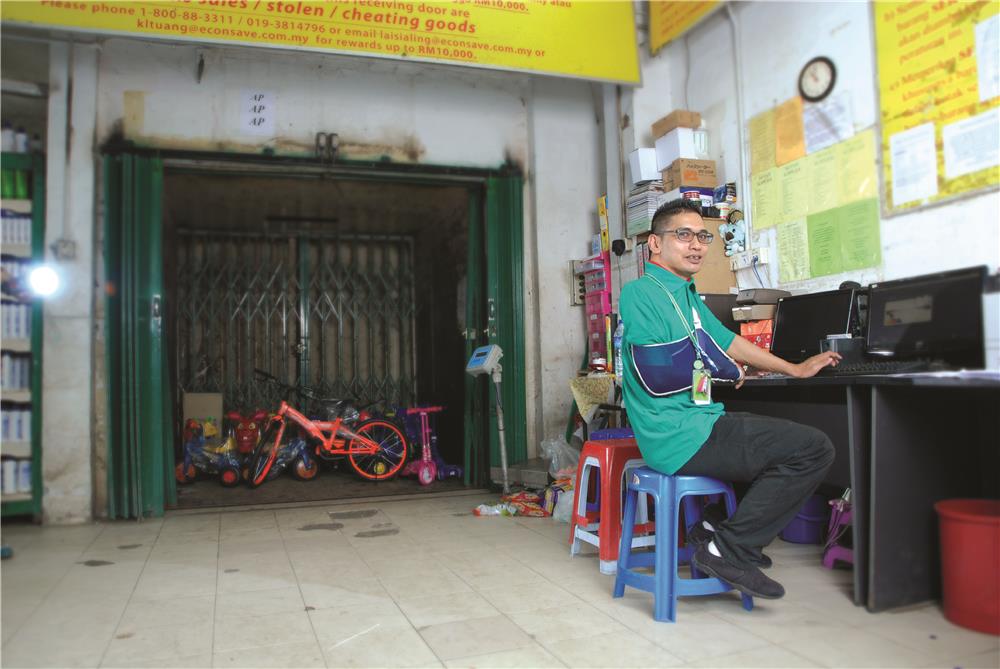 Thousands of persons with disabilities are benefiting from the Return to Work programme. © Social Security Organisation, Malaysia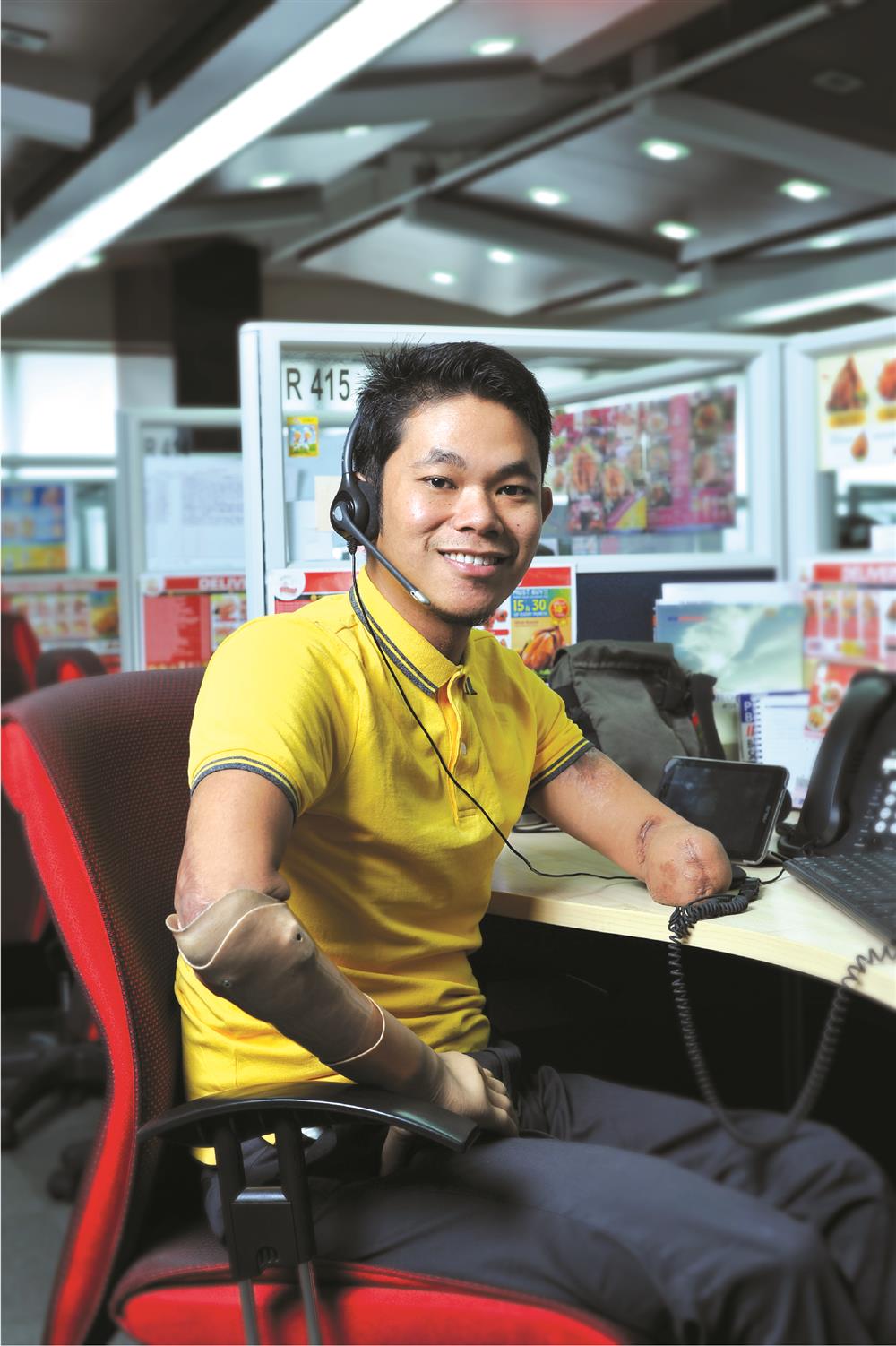 Downloads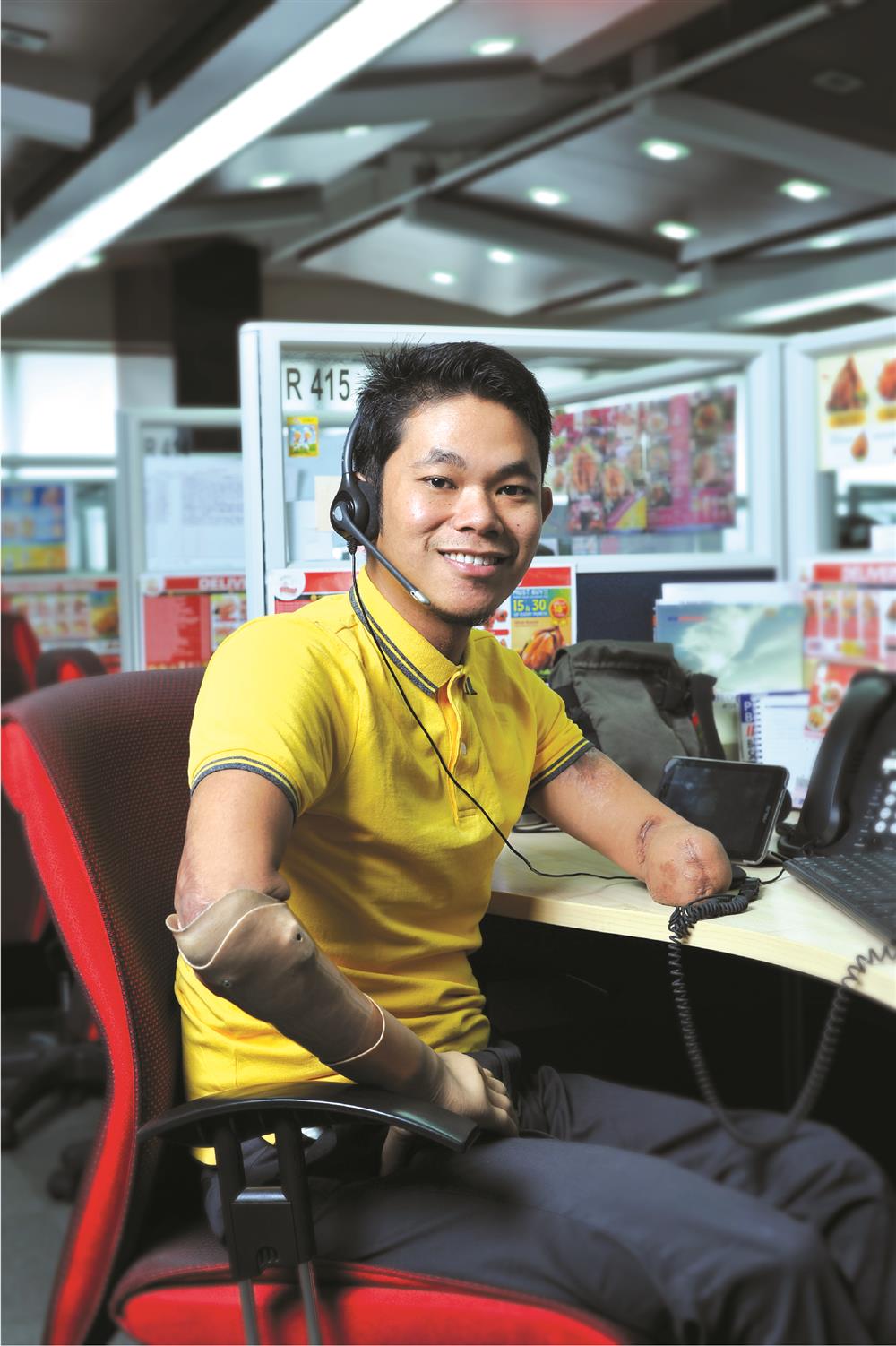 THE STORY OF HAIRUMAN, CUSTOMER SERVICE OFFICER
"My return to work experience was bliss to me."
The palm oil estate where I worked was a second home to me and my brother ever since we were orphans, having to take care of two disabled sisters. Work was as usual until one day, while plucking the palm fruits, I was thrown unconscious, having been struck by a high voltage wire. Both my hands were amputated up to the elbow. I was subsequently transferred to the Kuala Lumpur General Hospital for further treatment when one of my blood vessels burst in my left leg, requiring an amputation up to the knee. At the Kuala Lumpur General Hospital, the rehabilitation specialist advised me to participate in the national Social Security Organization's (SOCSO) Return to Work Programme, as she felt that with the right prosthesis and proper management I might be able to find employment. Two years after my injury, treatment, and the fitting of all the prosthesis I attended a job fair organized by SOCSO, and there I participated in several interviews. Happily, I was successful, and I now work as a customer service officer at Efinite Value Sdn Bhd, a furniture manufacturing company. Because the company is a very supportive employer, my return to work experience was bliss to me, which I still cherish to this day. A year later, and on my own initiative, I embarked on a study of Information Technology, and recently I successfully completed and received my IT certificate. I have also applied for a disability car license so to be able to drive and to integrate even further into society.