Promoting innovative assistive technologies internationally
Organization

University of Applied Sciences Technikum Vienna

Country of Implementation

Austria

Region

Europe

Subregion

Western Europe

First published

31.01.2016
"The AsTeRICS Academy creates open source ICT-based accessibility solutions and makes these tools available to the public via construction sets, build instructions, and workshops." Mr. Miguel Gomez Heras, Chairman, AsTeRICS Academy
Problems Targeted
It is often difficult for people with disabilities to use non-accessible tools or to get available accessible tools at an affordable cost. This is especially a problem in low-income countries, in which the necessary technological infrastructure is often inadequate, and for families with a low household income. Moreover, the expertise for the application of ICT-based tools is often not available.
Solution, Innovation and Impact
The AsTeRICS Academy for Cross-Cultural Education and Research in Assistive Technology conducts product development, user evaluations, networking, and internationalization based upon the available AsTeRICS framework (the Assistive Technology Rapid Integration and Construction Set). AsTeRICS enables accessibility solutions involving techniques like face-or eye tracking, bioelectric signal processing, speech recognition and environmental control, which can be tailored to individual user needs and preferences. The project has created and developed a set of affordable open source tools that enable people with physical disabilities to use computers and smartphones easily. The tools are provided as construction kits during hands-on workshops organized in cooperation with partners from other countries; and demonstrations are given on how to use and build the tools on a local basis. "The FLipmouse" is a joystick to allow people with reduced physical capabilities to control a mouse cursor and a computer keyboard. The "FABI (Flexible Assistive Button Interface)" is a computer interface whereby up to six switches can be attached and assigned to cursor movements, key inputs, mouse clicks, scroll wheel activity, or other functions. To be affordable in low-income countries, these tools can be adapted by providing a rechargeable power supply or cell-phone compatibility, for example; and the usage of the most affordable electronic components and construction manuals make it possible to build one's own version of the offered tools.
Funding, Outlook and Transferability
The project will be finalized in September 2016, and the team is currently planning strategies to gain funding from sources other than the Municipality of Vienna. Further, to encouraging partners to use their resources to manufacture the tools locally, the project website is emphasizing the importance of crowd sourcing. Currently, the project team is working to improve the tools and to offer the construction kit online. At that point, the FABI device will cost about 15 Euro to build and the FLipMouse about 90 to 100 Euro, and could be built or recreated locally on a global basis. The AsTeRICS Academy project is partly funded by the Municipality of Vienna, MA23, Project Number 14-02.
Pictures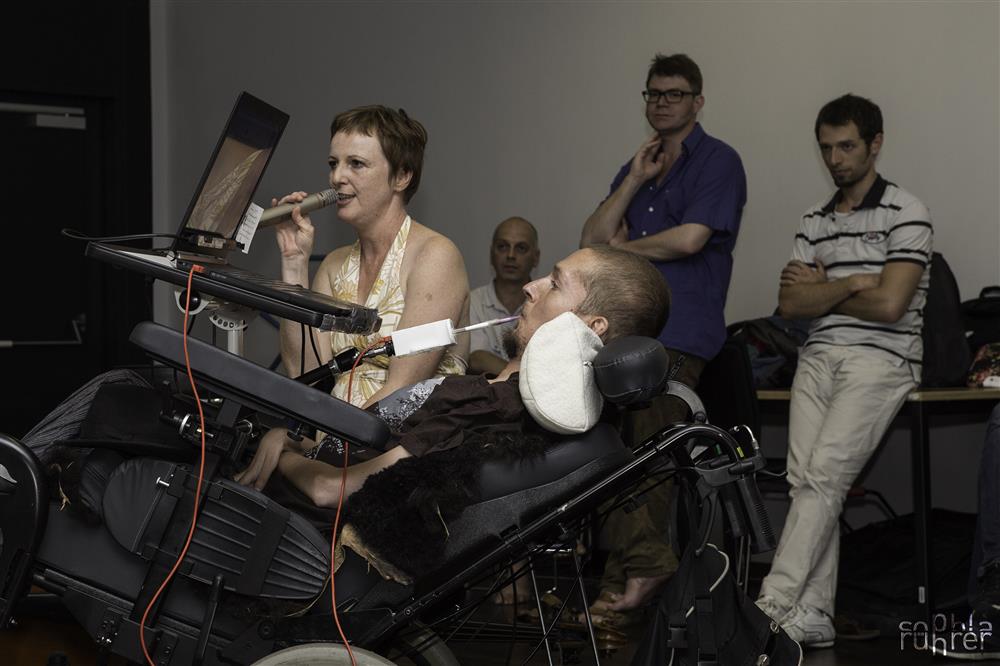 Downloads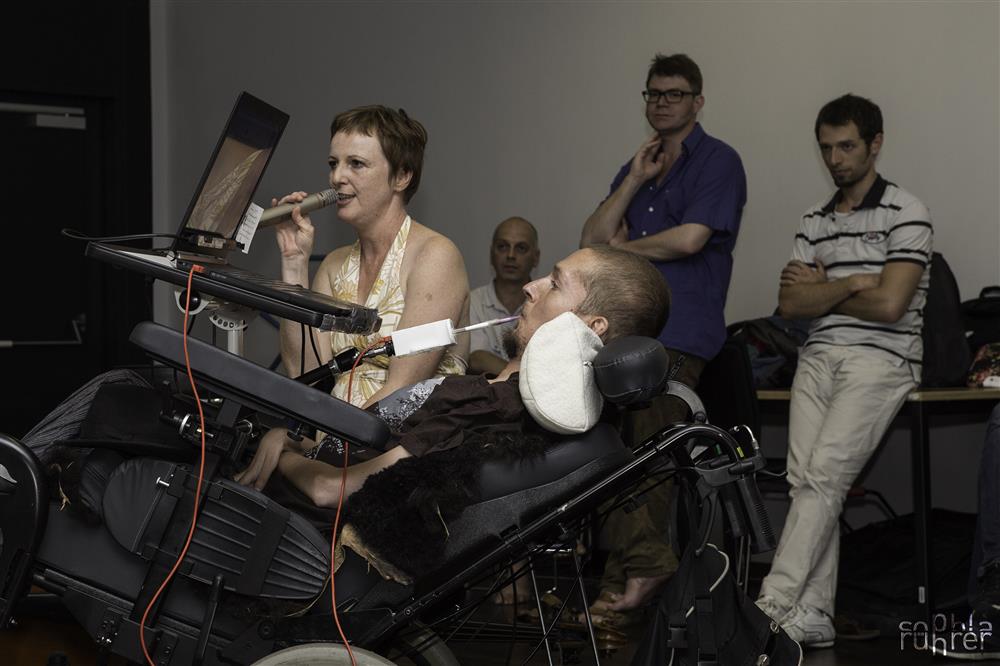 THE STORY OF HARRY HÖTZINGER, MUSICIAN!
"I am now playing with the Jazz band that I listened to in the audience!"
My name is Harry Hötzinger, and I am 35 years old and live in my own apartment in Vienna. I consider myself a cineaste, and I love music and travelling. Due to my physical challenges (I cannot move my head or limbs due to muscular dystrophy) I rely on my personal assistants to help me accomplish everyday tasks and activities. When I met the guys from the AsTeRICS Academy team at a jazz concert in Vienna in 2013, they asked me if I wanted to participate in the development of their special input devices, and I agreed. I was equipped with a "Lipmouse"-sensor which allows me to control a computer via lip movements and sip/puff actions. Since then I have
been able to use my computer autonomously for reading or writing emails, browsing the web, playing games, and much more. I can also control my home entertainment equipment via infrared remote. In 2014 we developed the idea that I could learn how to play a computer-based musical instrument. An eye-tracker was added to my setup, which allows me efficient selection of notes or chords in a graphical user interface. The system worked so well that I started playing keyboards in a band – the same Jazz band that I listened to in the audience two years ago! Since early 2015 we have had three public concerts in Vienna and we have further developed the capabilities of the musical system. I want to share my story because this technology was a real game-changer for me.