Video-interpreting service for sign language and foreign languages
Organization

VEASYT - Digital Services for Breaking Down Communication Barriers

Country of Implementation

Italy

Region

Europe

Subregion

Western Europe

First published

31.01.2016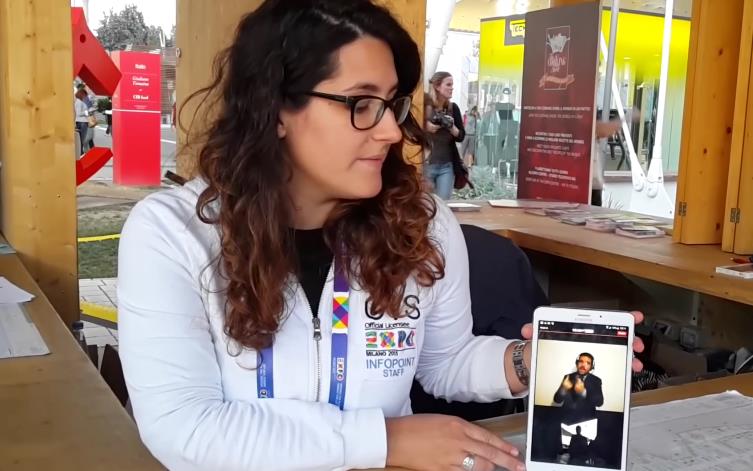 "We help people to communicate in a better way, to build a better world." Mr. Enrico Capiozzo, Head of Project
Problems Targeted
The Italian deaf community continues to collaborate with VEASYT on such operational activities as improving the platform and the study of more and new features to be implemented. This collaboration has been crucial to the first stages of development, which included service only in Italian sign language and was later expanded to include other spoken languages. The support of Italian deaf sign language teachers and university professors has also been very important in developing the project, as well as the contribution of deaf collaborators who tested the service during construction of the platform.
Solution, Innovation and Impact
VEASYT Live! is a service developed by VEASYT srl, a spinoff of Ca' Foscari University of Venice. The university offers classes in some 40 languages and is the only university in Italy to provide a complete (five-year) training in Italian sign language. As a university spin-off, VEASYT develops digital services to break down communication barriers and foster accessibility. VEASYT Live! has been developed following an intensive analysis of client needs in the linguistic field. A pilot project phase was tested at a hospital in the province of Treviso; and thanks to this partnership of the university and hospital, the VEASYT staff had the opportunity to enhance and test the service, making it ready to market in spring 2015.
Funding, Outlook and Transferability
Whereas it began with the purpose of supporting public entities to communicate with deaf or foreign people in an advanced way, it will soon be available to companies to help them to communicate with their partners, customers, or employees (deaf or foreign). As a next step, the platform will include a special feature to use it during small and medium-sized conventions where people from different countries will be attending, without the necessity of an onsite interpreter.
Pictures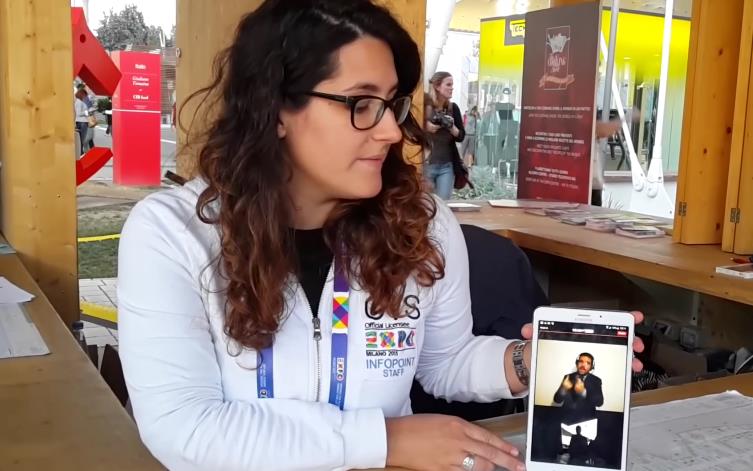 Online interpretation via VEASYT Live!
Downloads
THE STORY OF PAOLA AND MARCO
"In just a few minutes, all misunderstandings with the doctor were solved."
In the first months of operation "VEASYT Live!" has helped numerous people to communicate in a better way, in both small situations and in critical ones. And many more people will be helped in the near future. One example of the programme's success is Paola and Marco – a wonderful couple who are both deaf. Paola is pregnant and, like any woman, has begun to receive medical examinations in the local hospital, often with Marco. They usually use Italian sign language (LIS) to communicate with their families and their deaf friends, but they can also speak a fair level of Italian thanks to good linguistic studies. They use Italian in the hospital when an LIS interpreter is not available, but this can sometimes run into complexities, and even a small misunderstanding can be dangerous. As the result of a check-up the doctors found that Paola had a high level of glycaemia. Fortunately, it was nothing too risky, but a little thing can become dangerous if neglected. Trying to use basic speaking and writing communication, the doctor explained to her that she needed to avoid sugar until the baby was born. But at that basic level of communication, the couple did not completely understand the importance of the situation and that it was necessary to avoid sugar completely, for instance, also when drinking a coffee. That's why the situation started to become a problem – that is, until a friend recommended the use of VEASYT Live! on their own tablet. At the following hospital visit the doctor was initially sceptical about having "another person" involved in a videoconference. Nevertheless, once he understood it was a professional interpreter, he went ahead with the examination, and VEASYT Live! supported him via the tablet. In just a few minutes everything was clear to the couple, and the misunderstanding was solved.