Video emergency line for the hearing-impaired
Organization

HCD - Higher Council for Affairs of Persons with Disabilities

Country of Implementation

Jordan

Region

Asia & Pacific

Subregion

MENA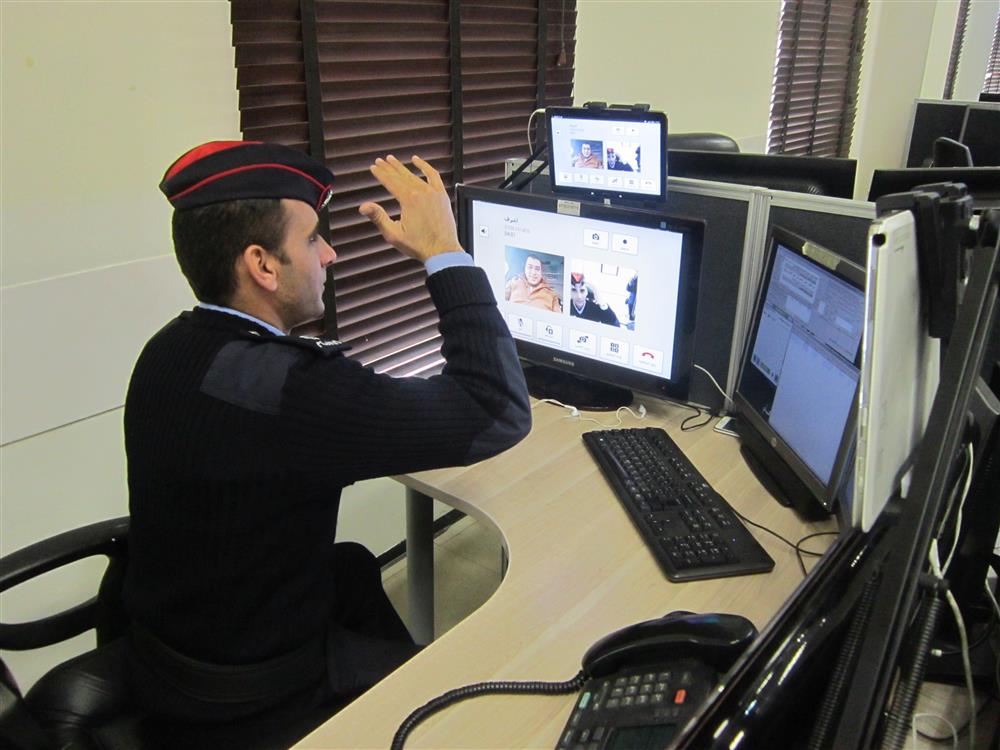 People
Alia Harran Yacoub ZUREIKAT
"The video emergency line has changed both my life and the lives of others like me. For the first time, we feel equal, safe, and reassured!" Mr. Faisal Al Sous, video emergency line user
Problems Targeted
Sign language is not widely known within the Jordanian community, which means that persons with a hearing impairment must be accompanied by sign language interpreters if they want to communicate. However, during an emergency it is difficult for them to call the national emergency hotline, as the operators cannot communicate via sign language and interpreters may not be available at the time the call for help is made.
Solution, Innovation and Impact
The project, which was initiated by a cooperation of the Higher Council of Affairs of Persons with Disabilities and the Public Security Directorate, includes the training of JCCC officers to communicate using sign language and the development of an ICT system that enables the JCCC to accept video calls via a newly established special emergency line. In addition, a media campaign was conducted to spread awareness of the new line and to train the hearing-impaired on how to make use of it.
Funding, Outlook and Transferability
Since most deaf people in Jordan have a smart phone and have begun using video calls when communicating among themselves, the emergency line made use of this same kind of communication tool. Going forward, all phone network companies in Jordan will be incorporated into the project, and more officers in the JCCC and other governmental institutions will be enrolled in sign language training. In addition, two people with hearing impairment will be appointed to the JCCC to ensure the sustainability of the training and the maintenance of the overall system. YouTube Video https://www.youtube.com/watch?v=XZ2kuwIwArE
Pictures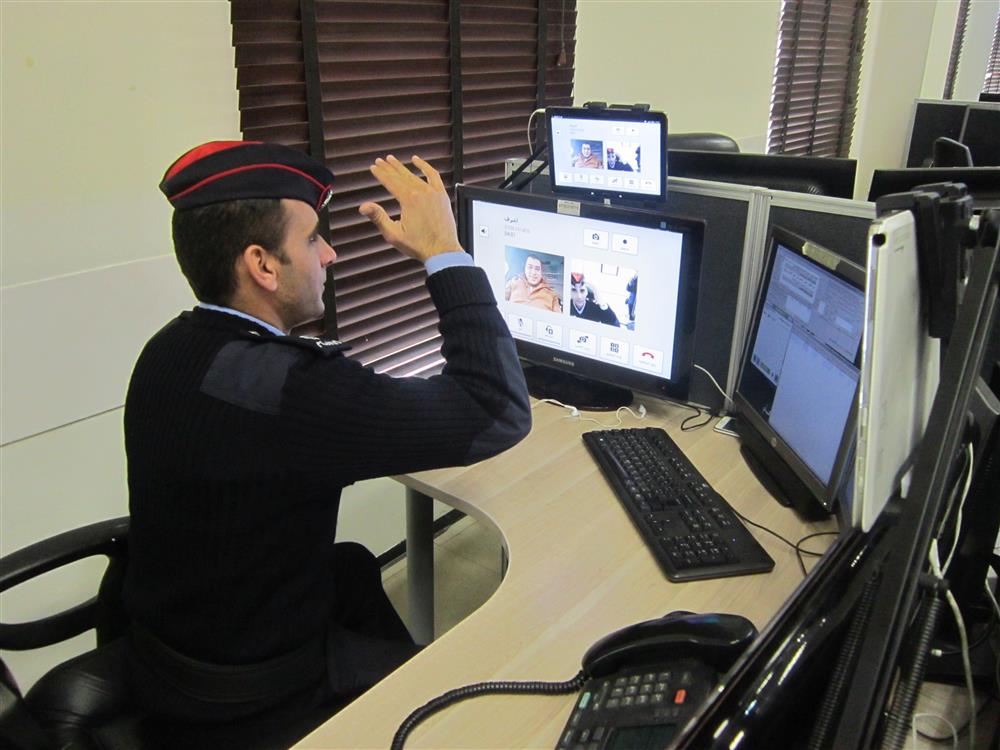 Officers at the Jordan Command and Control Centre are trained in sign language.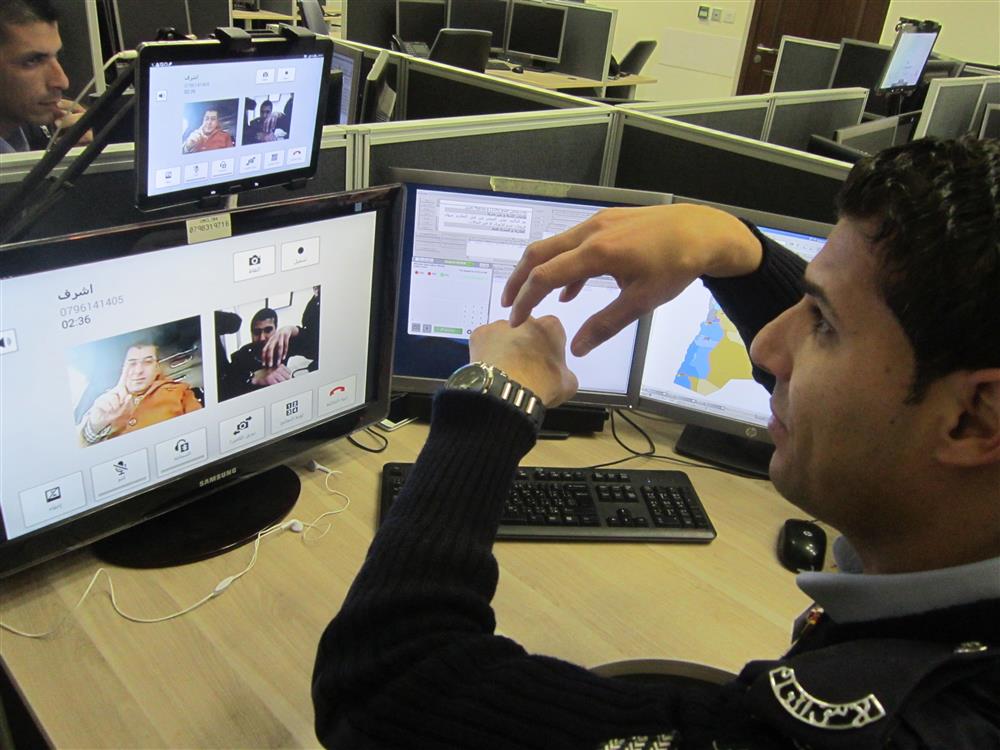 Downloads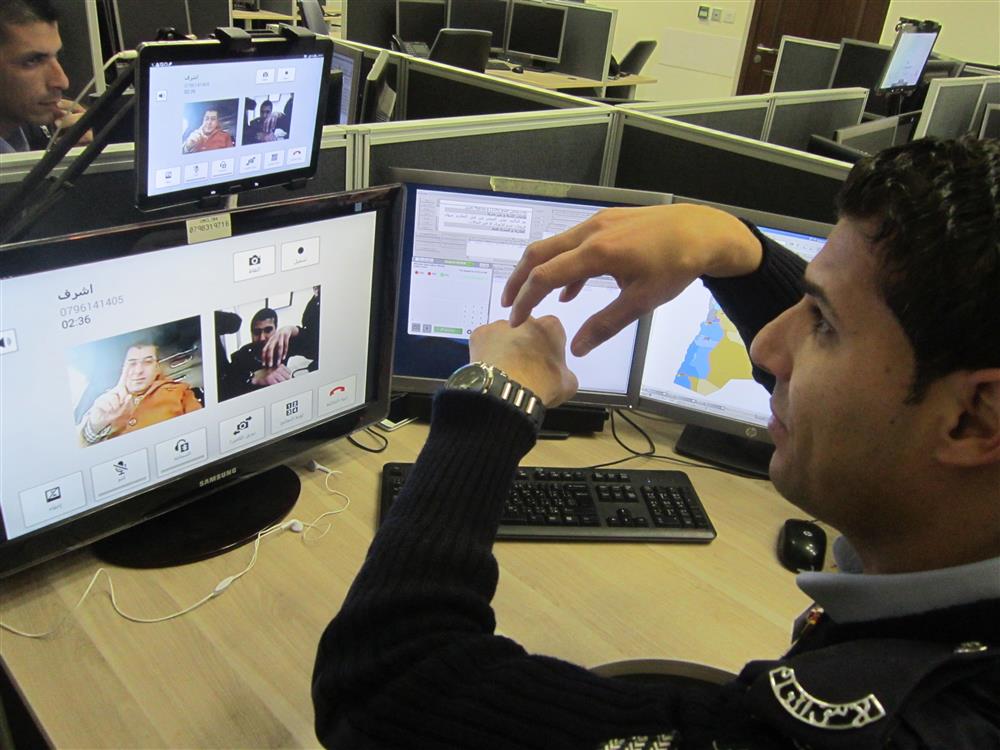 THE STORY OF HOW THE 114 EMERGENCY HOTLINE SAVED LIVES
"They contacted the hotline using sign language!"
A group of people with hearing impairments were on a safari trip in Wadi Rum, the desert area in the south of Jordan, when a collision between two vehicles occurred resulting in one person suffering a fractured hip. Immediately, the group contacted the 114 emergency hotline using sign language and reported the accident. Public security officers in the responded very efficiently and professionally, sending an ambulance with paramedics who administered first aid while corresponding with the team at the JCCC. Both the injured and the paramedics were viewed at the JCC via cameras, and interactions between them were recorded by way of an officer trained in sign. The injured was then transported to the Prince Hashem Hospital in the governorate of Aqaba, also in the south of Jordan, for further treatment and intervention.